As someone who lives in a rural area with two adventurous dogs, there have been times when they have vanished into the undergrowth in search of something exciting and been missing for a fair amount of time.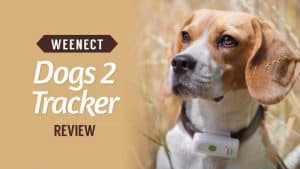 One of them is also incredibly independent and would likely run away if she saw something interesting enough. So how can I feel secure when walking my dogs?
The idea of a dog tracker was introduced to me recently, and I wasn't sure if it would actually be as effective as they claim to be. We decided to give the Weenect Dogs 2 tracker a try and I am excited to bring you my detailed and honest review.
Does it work? Is it accurate? All of these questions and more are about to be answered.
Weenect Dog Tracker Specifications
Size: 58x23x10mm
Weight: 0.25kg
Power: 550mAh
Battery Life: 72 hours
Charge Time: 5 hours
Waterproof: Yes
Silicone Case: Yes
Inside the Box
The packaging is very simple, which is part of the appeal. It came in a plastic box with all of the paperwork and cabled tucked neatly behind the main product. Opening it was simple enough (although scissors were required).
The contents included the tracker, a silicone case, the charging station, and the cables. It also comes with instructions and standard safety information. The packaging is all in French, but the instructions come in excellent English, so don't be alarmed.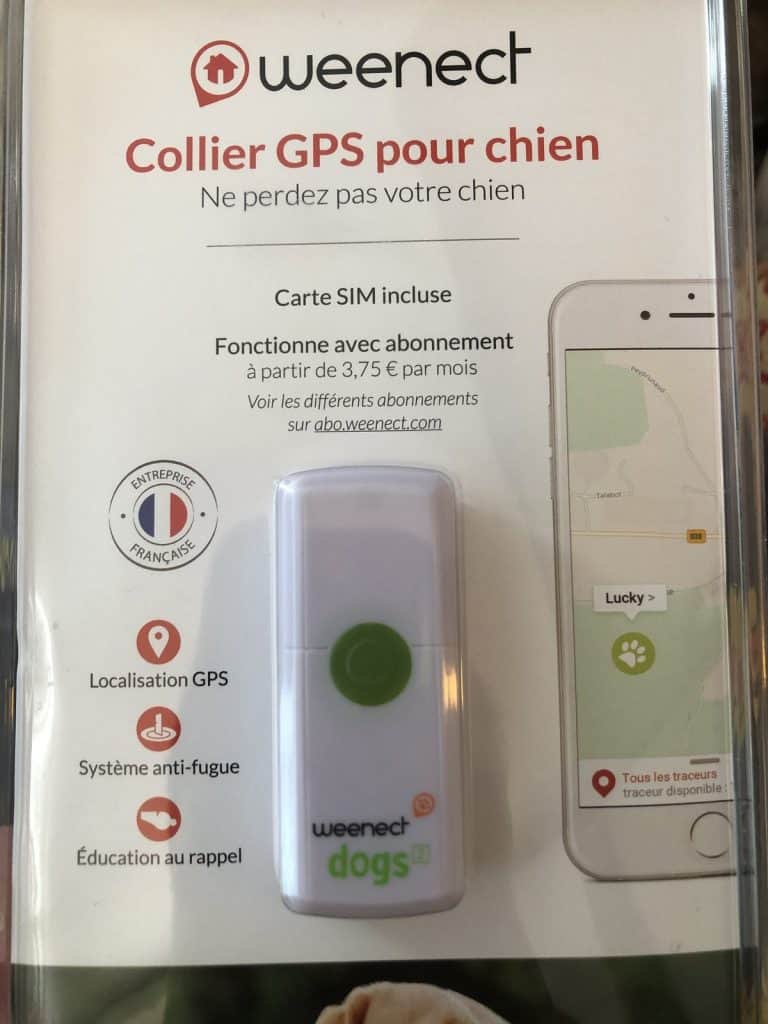 Setting the Tracker Up
Getting everything set up was really easy and took hardly any time at all. First, you need to download the app (compatible with both iOS and Android) and sign up, and then it's just a case of including your personal details before choosing your subscription plan.
The subscriptions start from 3.75 euros per month if you buy a two-year sub that is paid upfront. Alternatively, you can choose to have a one-year subscription, the price of which can be broken down to 5 euros per month. Otherwise, it's 7.90 euros per month.
The subscription is needed so that you can use the GPS tracking features. The tracker works through a SIM card that has been installed in the tracker, allowing you to see where your pup is at all times. It covers the service costs for Weenect and ensures that you can keep your dog safe.
Setting it up was really simple. The instructions were detailed, and it took about five minutes to synchronise the tracker and get the app functioning. All you need to do is hold down the power button while outside so that it can get your location and it's done.
I used it for my oldest dog, Moose, and that's the name you will see on the tracker throughout this review.
Fit and Comfort
I was pleased to see that the Weenect Dogs 2 Tracker has a secure silicone case that simply slides onto your dog's existing collar. It's incredibly small, and my dog didn't notice it at all. He's a little taller than a Corgi and weighs 13kg, and the tracker sat very comfortably around his neck and didn't come loose even when he was running through the undergrowth.
The fact that it weighs a mere 0.25kg really helps, you can barely feel it in your hand and this means it won't disrupt your dog's walk.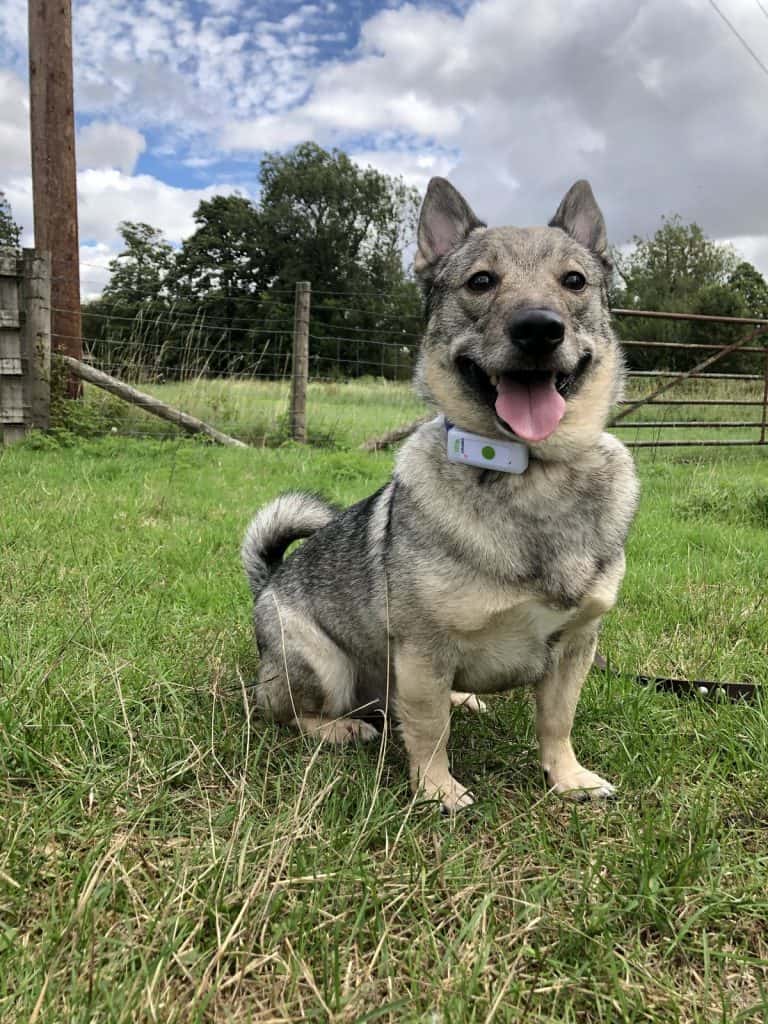 Battery Life and Charge Time
The battery lasts three days before running out, which is brilliant and turned out to be accurate when tested. This also means that if your dog runs and you cannot find them you have a good amount of time to do so before the tracker dies.
It comes with a little USB cable as well as a cradle that you can slide the tracker into to charge.
This means it can be connected to a plug in the mains or a device that has a USB port.
I used my laptop to charge mine, and it took around five hours for it to reach full battery again. However, it will likely be faster when plugged into the mains.
Regardless, this is a great charge time and can easily be left overnight or just plugged in after your daily walk so that it is ready the next day.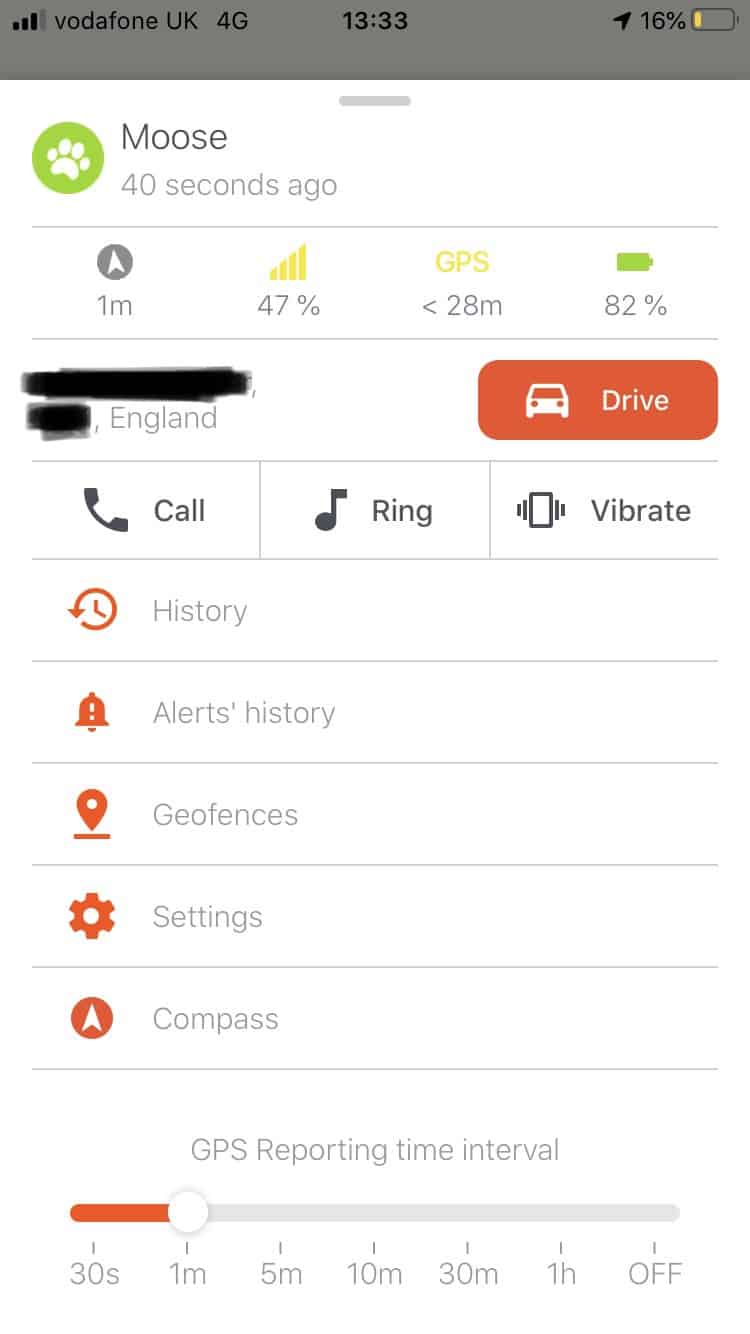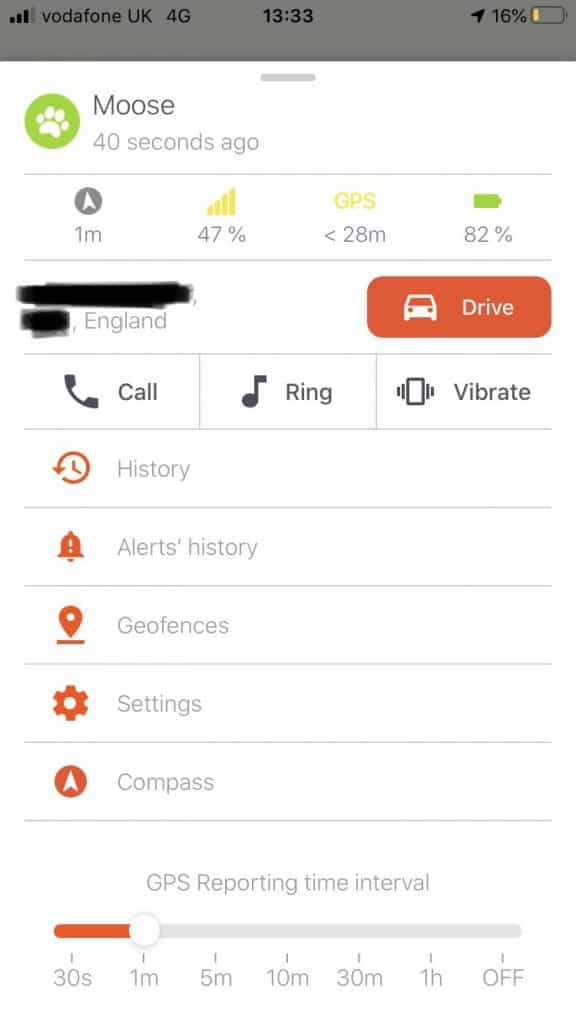 GPS Tracking
This is the big feature and what makes the Weenect Dogs 2 Tracker what it is. Throughout my walk with my dogs, I checked the tracker periodically to see how accurate it was at letting me know where Moose was.
I even asked him to sit and wait while I walked away from him (and quite a distance away). It was able to pick up where he was with great accuracy each time.
I had initially been very sceptical about the accuracy of the GPS tracking, as they are often a lot less accurate than advertised. However, the Weenect was pretty exact, marking where Moose was with such precision, it was only ever wrong by a metre or two (a tiny margin).
The Weenect Dogs 2 Tracker mentions that it can be used in the forest. The good news is that we actually live in a forest and I can confirm that the GPS remains accurate even in dense woodland.
I like the fact that I can change the map type, as you can see in the images, allowing me to view it as a standard map, satellite, or hybrid. With the latter, I honestly couldn't tell how it was different from satellite, but it was still a nice option to have.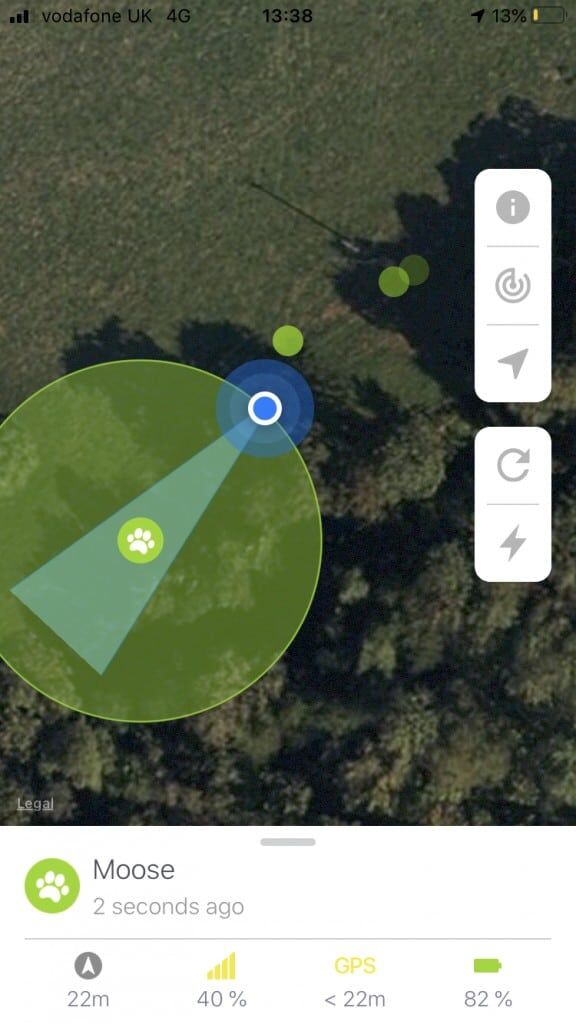 The app shows you where your dog is, where you are, and the direction that you are moving in to ensure that you are always moving the right way. It works in real-time, which means you always have the latest location for your pup.
Having the compass and the radar options when tracking as well means that you have multiple ways to track your dog and keep an eye on where they are.
You can change the refresh times manually, but I kept mine at either 30 seconds or one minute to ensure that I was consistently getting new results. You can adjust the settings so that reports come in as infrequently as every hour or not at all – it all depends on your preferences.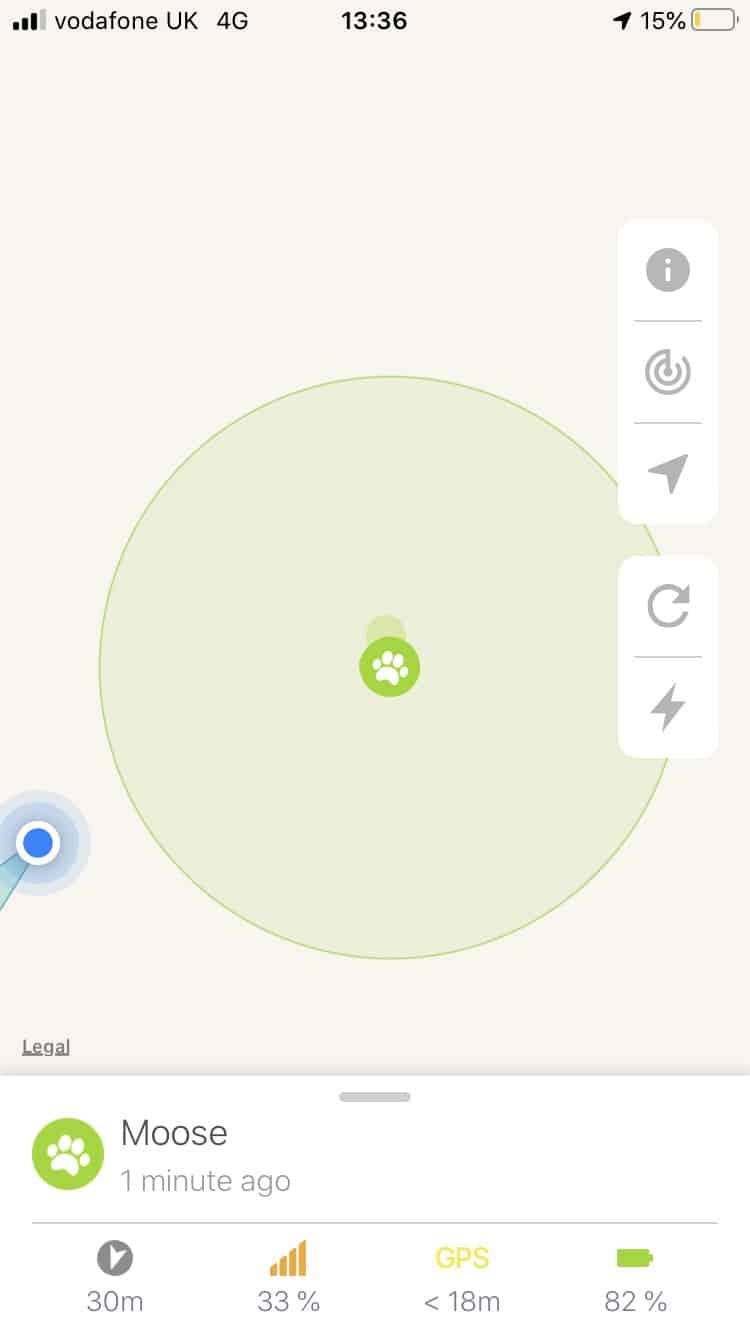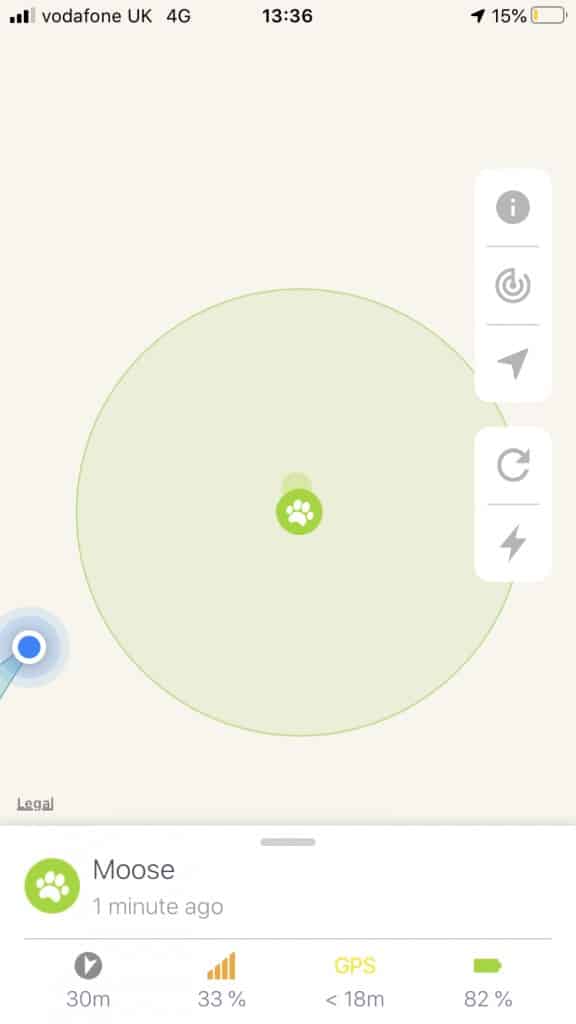 AR Tracking
This is a feature that was quite new to me, and I was excited to try. As someone who enjoys using new and innovative features, I was eager to see how AR (augmented reality) is incorporated in this app.
It combines the GPS tracking as well as your phone camera to help you locate your pup, with a handy white box that points you in the right direction and tells you how far away they are.
As you can see, I tested this out with Moose. Its accuracy was off by a couple of metres, but that's still incredibly good for any form of GPS tracking.
The feature itself was very easy to access, and it certainly helped me to navigate and see where he was. It's a good way to combine traditional GPS tracking with something more visual.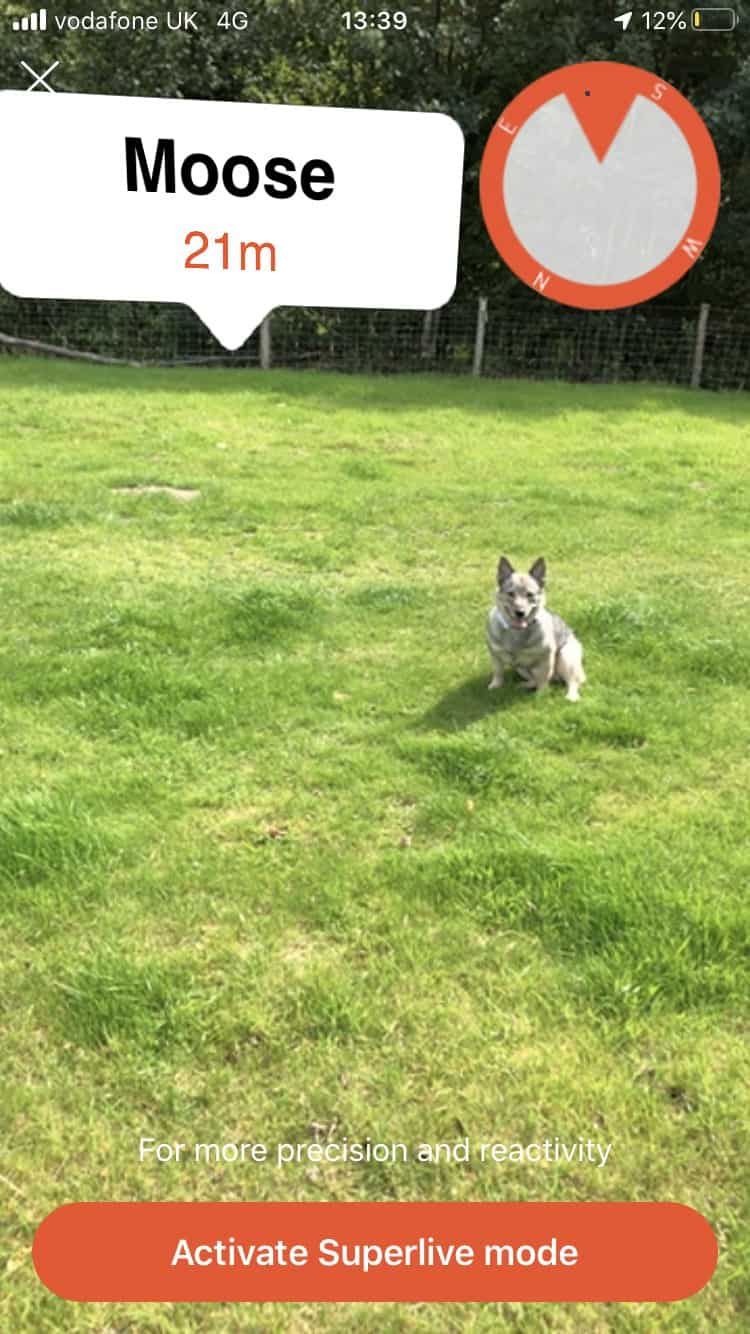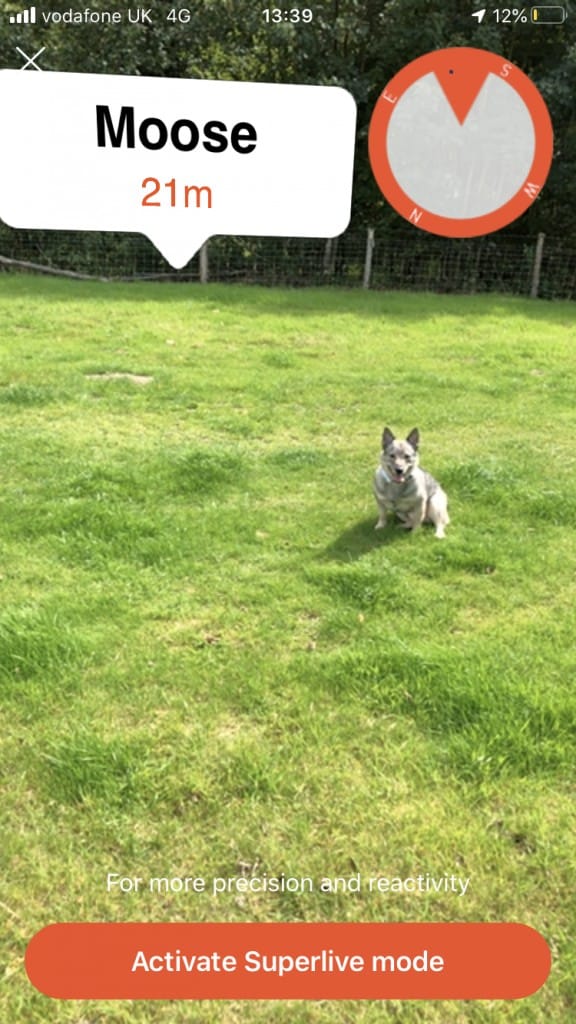 Geofences
Using geofences is quite popular, especially when you have a large garden or live near a main road. As you can see from the geofence image, we are very close to a dual carriageway and so ensuring the dogs don't get anywhere near there is vital.
The garden is very well fenced, but I set up a geofence anyway because I wanted to test out the accuracy.
As soon as Moose and I headed out on a walk, my phone notified me as soon as he got close to the border. This was very reassuring and instilled confidence in the accuracy of the fence, and it was further reinforced on the way back and in the coming days when I was repeatedly notified when leaving and entering the "fence" with Moose.
You can adjust the size of the geofence yourself when you set it up, and it only takes a moment to get it in just the right place. Overall, it is a very reliable system and if your dog does manage to head out alone with the tracker on, you'll be alerted when they are heading out of the zone.
Using your PC to determine geofences, create multiple boundary lines, and achieve the best possible level of accuracy is the best way to go. On your phone, it can be a little fiddly to make geofences that are just the way you want them.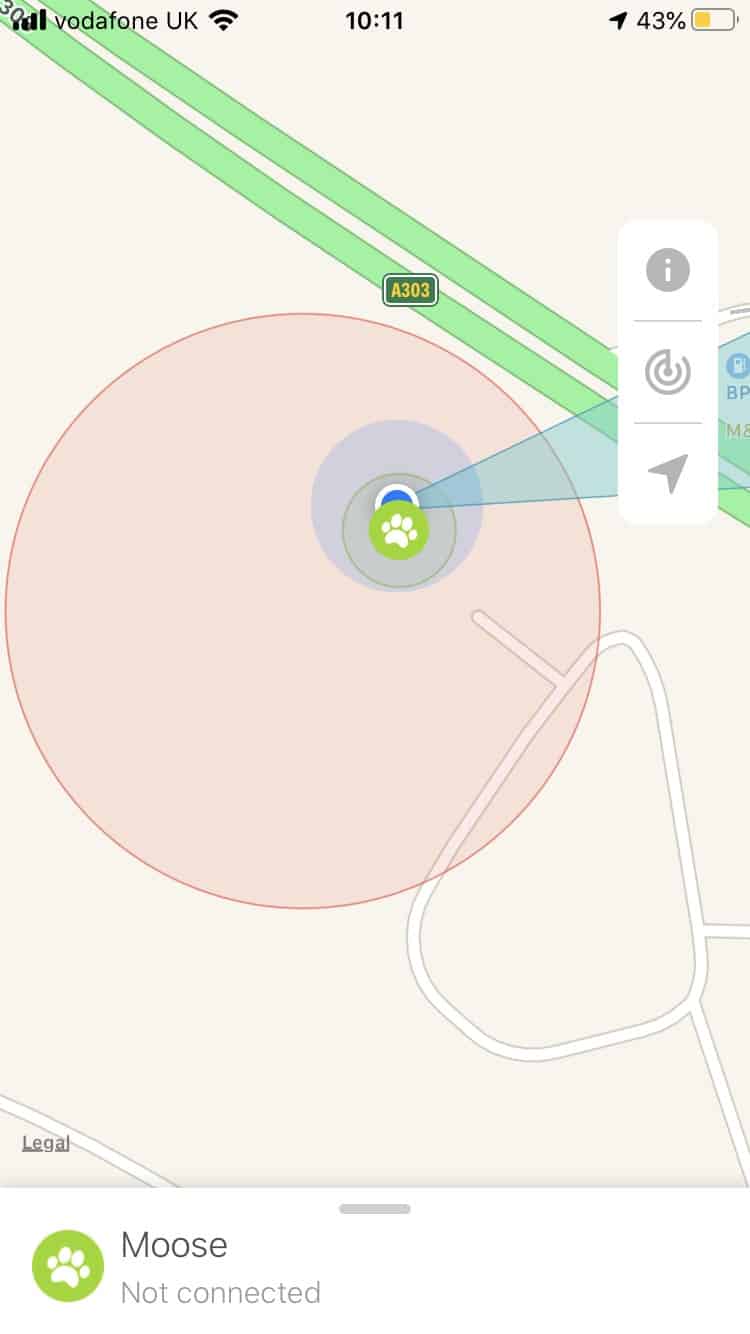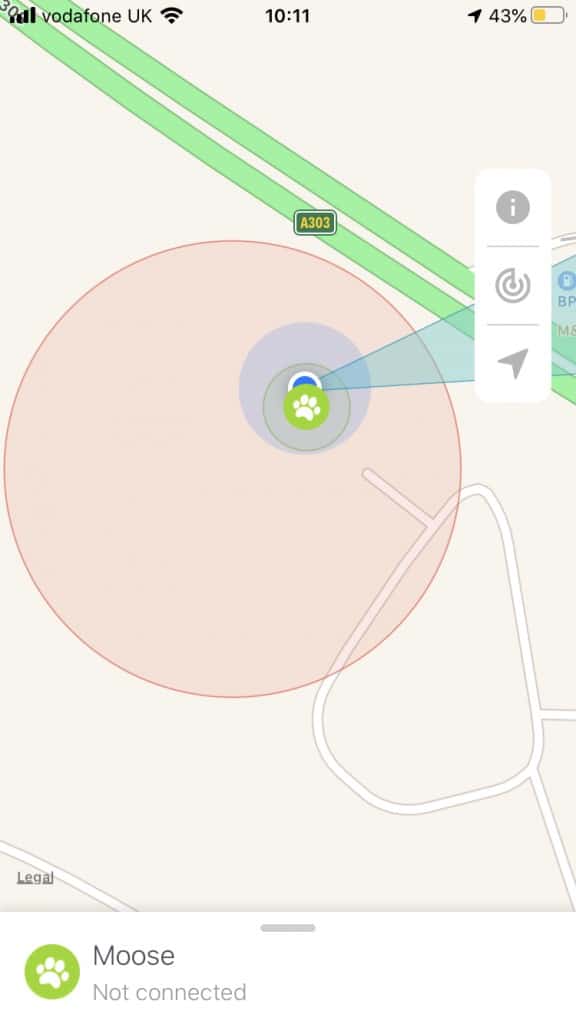 Directions
When you are using the app away from home, you have the option to receive directions to their current location. If your dog runs off, I can see this being an incredibly handy feature to use. I did test it out when I was at home and Moose had been taken to the field and found that this feature was both accurate and useful to have.
Training Features
This one was interesting, and I liked the fact that it was included. While Moose doesn't really need it, we decided to play around anyway.
When in the app, you will see a ring and vibrate feature. By clicking these buttons, you will cause the tracker to ring or vibrate while your dog is wearing it.
This is a great way to help train them to come back or just reinforce current recall training. The vibrate is gentle yet noticeable, it didn't cause Moose to jump or feel insecure (he can be a little jumpy, so this was a relief) and the ring isn't too loud. He reacted well to it and did pick up that I wanted him to come back when they were used.
The training possibilities for these features are pretty limitless, so you can use the tracker to train and reinforce a number of commands – even calling them in for dinner if they spend a lot of time out in the garden.
Something that Weenect pride themselves on is that the Dogs 2 Tracker is able to replace a dog training collar and be used for GPS tracking at the same time. This is a completely true statement, and it's something that I will definitely be using with my youngest dog more seriously in the future to help her improve her recall when we are out walking.
Fitness Tracker
At first, I didn't think that this GPS tracker came with a canine fitness element, but I was wrong. All you need to do it log onto your account through your computer and you will find everything you need under history.
It shows you your entire walking route, how far you walked, how long the walk was, and their average speed throughout the walk. It also shows your notification history and the time that they were sent, an example being leaving and entering the geofence as well as any SOS alerts.
It does not show their calorie burn or anything, but I find that to be a relief as calorific content varies so much across breed, size, and activity level that it can be dangerous to rely too heavily on technology to tell you that.
What it does do is show you how much time they spent playing and sleeping so that you can get a good idea of your dog's day and how much time they spend blowing off steam as well as resting and snuggling up in their bed (or on the couch).
As a fun little addition, it even has a heat map you can use instead of pins for where your dog has been. It's only small, but it made me feel like I was tracking my dog secret agent style, as well as providing an accurate path of where they have been.
Alerts and Notifications
The alerts and notifications are excellent, and the Weenect Dogs 2 Tracker always lets me know what's happening as soon as it happens. I get an alert when the tracker is turned on and off, as well as when Moose is connected so that it can show me where he is.
Additionally, it lets me know when he has crossed the Geofence and when the live GPS tracking has been updated in the app so that I can take a look at his latest location. It also drops me an alert when the battery is running low so that I can stick it on charge before our next walk.
As an added extra, Weenect also sends email alerts for the battery life to ensure you are reminded that your tracker needs charging – something I was certainly thankful for.
The email notifications also extend to an excellent and detailed user guide for your new tracker. You get one introductory email a day over the course of five days that helps you to make the most of your new accessory so that you are using it to its full advantage.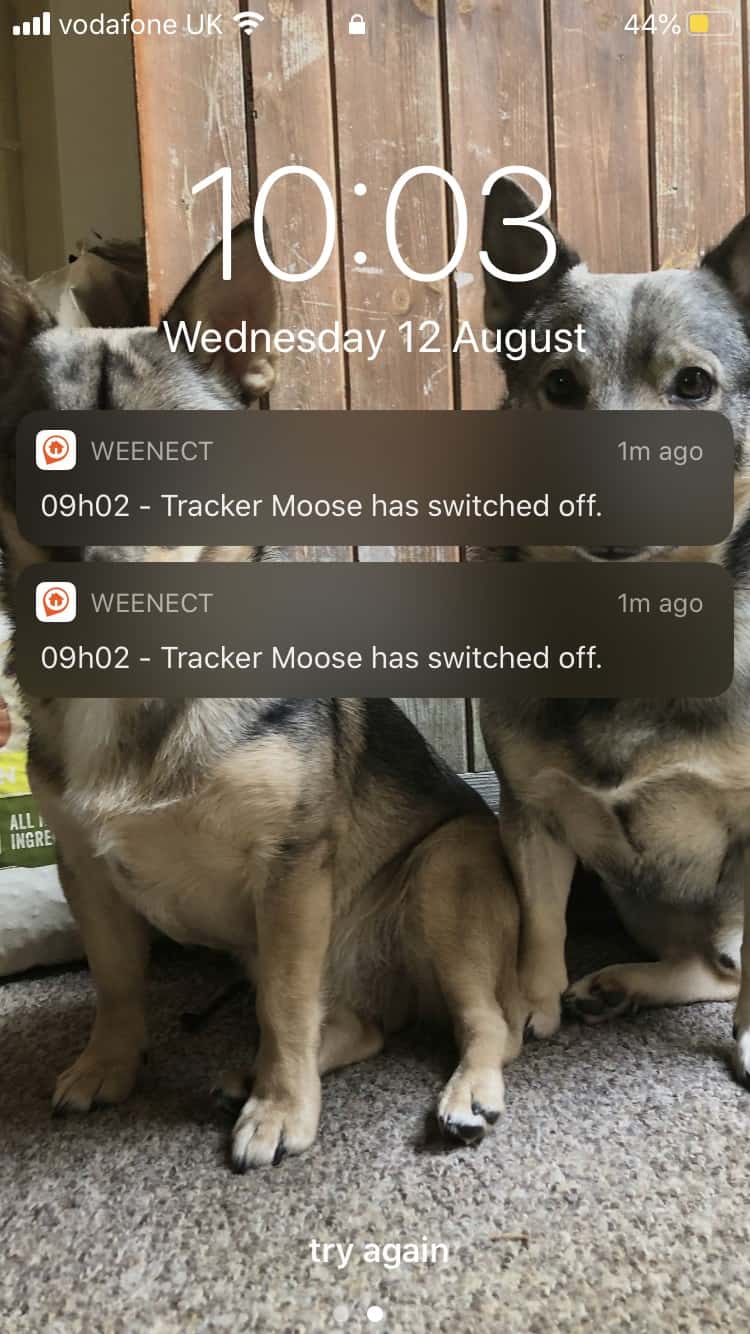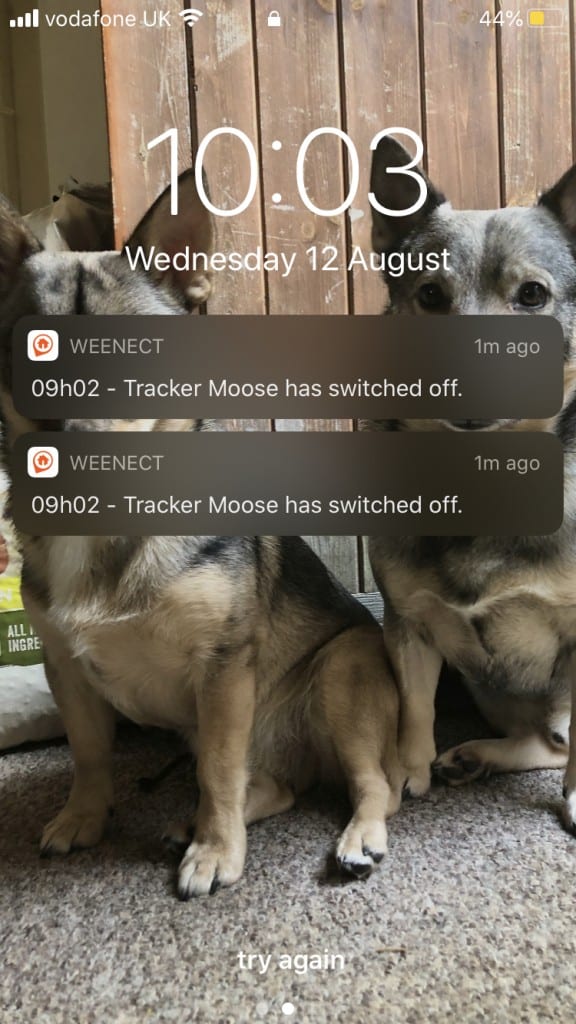 Added Extras
There are some great little extras that come with the Weenect Dogs 2 Tracker. They make life a little easier, and also give the tracker added functionality and versatility.
It comes with a full location history, which means you can see everywhere your dog has been when you are searching for them, giving you a good idea of where they might be if you are struggling to locate them.
It also lets you relive your adventures with your dog and perhaps help you to plan a new route that you can both take on your next walk.
It is completely waterproof, which is great for dogs that like to take a quick dip or stand in the river to have a drink. Additionally, this gives it protection in wet weather conditions, which we were able to test, and doesn't impact its functionality in any way.
Final Thoughts
This is a fantastic dog tracker, and it's one that we would strongly recommend. The GPS tracking is incredibly accurate, allowing you to locate your dog quickly should they go missing. The AR tracking was also great, showing a clear image of how far your dog is so that you can use your camera to try and locate them with ease.
The features aren't gimmicky, it's a tracker that sticks to what it's good at and does so with excellence. The accuracy and reliability of the Weenect Dogs 2 alone is enough to make me want to recommend it, let alone all of the incredible extra features. I'm happy to award it a solid 4.5/5 stars for the exceptional quality and functionality it provides.
Tired of stressful walks with your pup? It's time to feel safer with Weenect.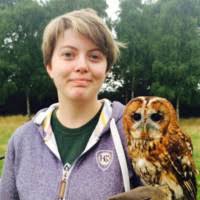 For over a decade, Adrienne has been a freelance content writer and blogger who's passion lies in anything related to dogs. Growing up, dogs were a very important part of family life in the Hardwick household. Now, Adrienne is the proud parent to two Swedish Vallhunds called Moose and Pumpkin.