It's time to start gardening without panic. It's time to go pet-friendly.
Are you TIRED of slugs and snails ruining your vegetables, but you can't do anything about it without risking the life of your pet? Well, worry no more as we have the PERFECT solution for you right here.
Our team took to the gardens and spent over 40 hours analysing 12 of the leading pet-friendly slug pellets on the market. All of this to make sure that they did what they said on the packet, keeping slugs and snails away without any risks.
Why?
Well, you deserve the best and your pet deserves safety. If the two of you can enjoy the garden together, what better reward is there than that?
Flower Power really blew us away with their organic pellets, driving the pests away without a trace and with no risk to your pets. A great combination you are sure to love.
But we get it, not everyone is going to see Flower Power as the way of the future. That's why we have plenty of other picks to plant in your mind (see what I did there?).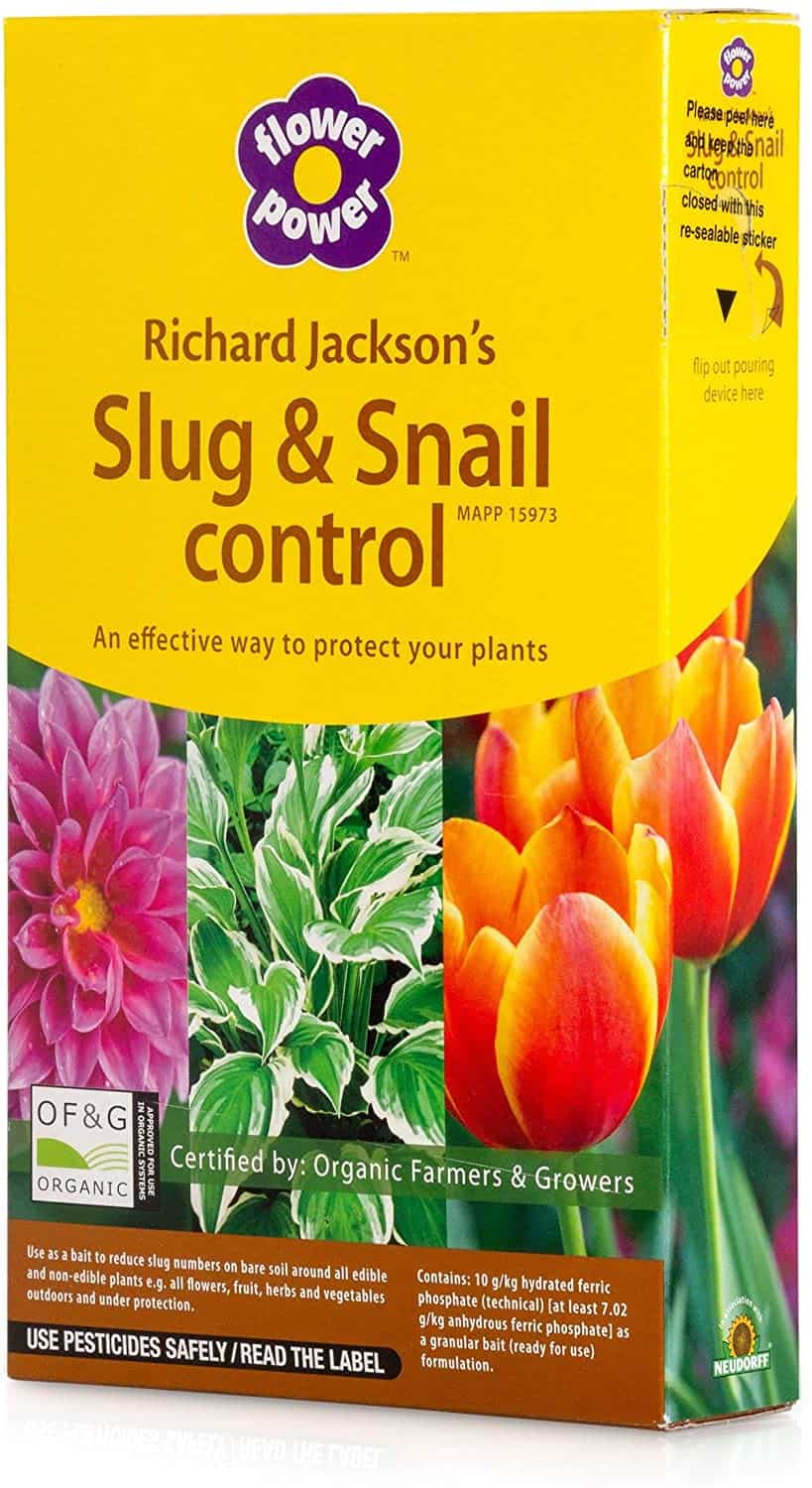 1. Flower Power
Editor's Pick
Works fast to get rid of pests so you can enjoy the garden
Covers 240sqm in a packet to clear out the garden
Completely organic, and approved for organic gardening
Can be used on edible and non-edible plants without issue
Nobodies, no crime, that's what we like to see
These slug pellets are completely organic, and they have been certified by Organic Farmers and Growers for organic gardening – so you can rest easy knowing the status of your veggies remains unchanged.
One packet can cover an impressive 240sqm of the garden, ensuring that all of your vegetable patches are protected from those slimy enemies. The best part? There are no bodies left behind, they burrow into the earth and are never seen again – a win-win really.
They can be used safely on edible and non-edible plants alike, posing no risk to your plant life while also remaining safe for pets and wildlife to be around. They are based on naturally occurring iron phosphate, which is what makes them so safe.
Since they are also 100% metaldehyde free, you can rest easy knowing that there is absolutely no risk to pets or children alike. They are also long-lasting and resistant to rain, so even the spring weather won't get in the way of your gardening.
While we love this as our top pick, we know that it might not have taken your breath away. Plus, the price might not be quite right. Allow us to introduce you to our budget pick from Defenders – an excellent runner-up if I do say so myself.
---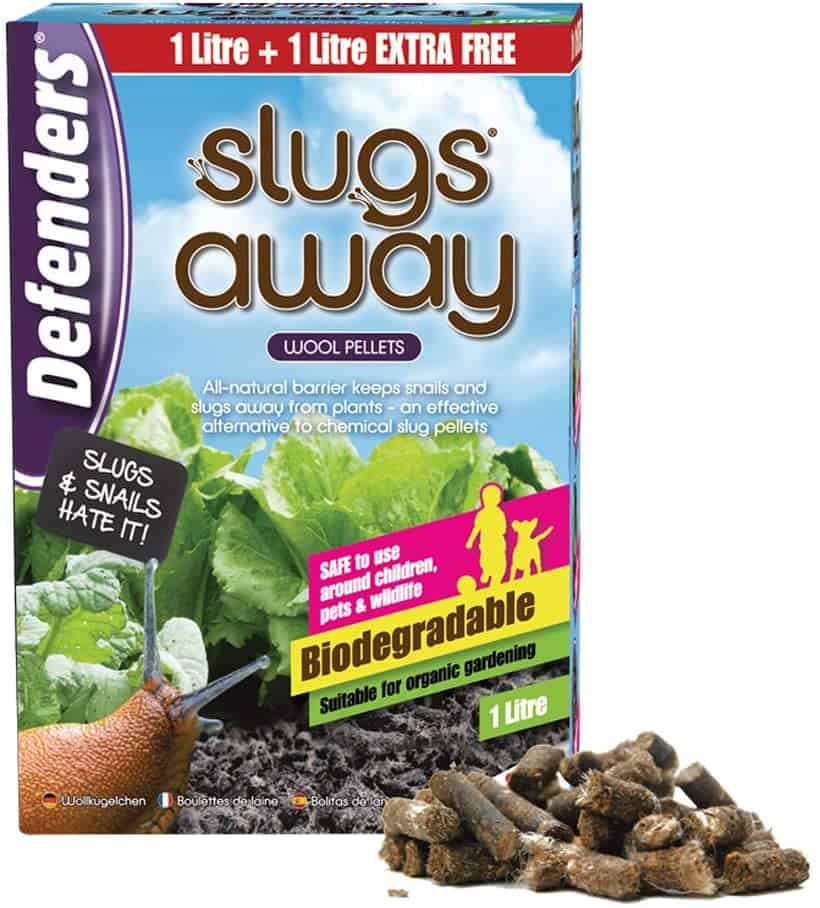 2. Defenders Slugs Away
Budget Pick
Wool and manure mix for a natural repellent that keeps pests away
Adds extra nutrients to your plant patch to keep things growing
Suitable for organic gardening, which is always good news
Resistant to the rain to keep those pesky pests at bay
One packet goes a long way
What we really like about this pack of slug pellets is the fact that it is completely natural and free from poison. Made with sheep wool and manure, it doesn't get much better than this when you are searching for a natural alternative that doesn't pose a risk to wildlife.
Thanks to the manure in the pellets, it actually adds extra nutrients to your plant patch to help them grow strong. It also helps to retain soil moisture so that there is less need for watering. Since it is biodegradable, there is no waste to be had either.
They are resistant to the rain so that those pesky slugs and snails don't stand a chance, and you will also find that they last a pretty long time – one pack of pellets really does go a long way. Since they are free from poisons, there is no need to worry about your pets either.
As an added bonus, these pellets also act as a weed suppressor, keeping those greedy plants down in the ground so that your own can thrive. No slimy trails, no need for you to go to extreme lengths, and it is suitable for use on all edible and non-edible plants.
Such a great budget pick, and certainly one of the best pellets overall. But, if this didn't quite hit the mark perhaps some of the others will? Below are the rest of our favourite slug pellets, each of which has been chosen for being highly effective as well as safe for your pets.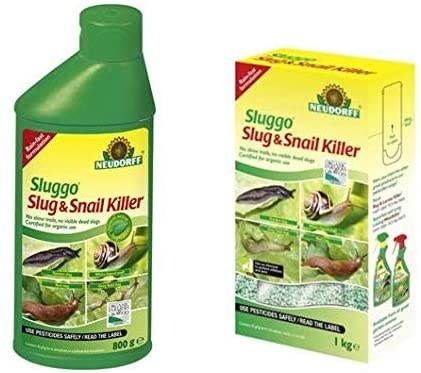 3. Neudorff
Best for Slugs and Snails
Certified for organic use to keep your plants in high standing
Suitable for edible and non-edible plants as well as effective
Resistant to the rain so that they last for longer
One box can treat 200sqm so that your whole garden is protected
Worried about bodies? There are none with these pellets
These pellets have been officially certified for organic use, which means you don't have to worry about your plants losing their status when you use these. They are completely natural and safe for the environment, which gives you peace of mind.
As they are free from poisons, you don't need to worry about your pets or kids playing in the garden either. It is completely safe for them to be around so that you can enjoy the good weather together. The only things these pellets kill are slugs and snails.
They can be used on both edible and non-edible plants, with one box able to treat 200sqm of the garden to ensure excellent protection for your veggies and aesthetic plants alike. They are also resistant to the rain, which means they last a lot longer.

If you're worried about finding slug and snail bodies everywhere, DON'T BE. As soon as they eat these pellets they stop eating and slide underground never to be seen again. It is fast, efficient, and provides excellent results that you'll be more than pleased with – no slime trails!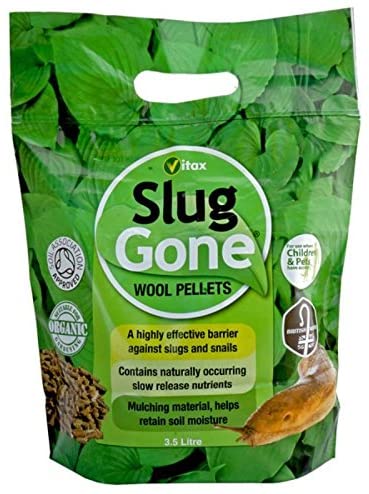 4. Vitax
Best Wool Pellets
Completely natural wool pellets that are safe and easy to use
Approved by the Soil Association for organic use (fancy)
Keeps the soil moist and prevents weeds from sprouting up
Can be used on edible and non-edible plants without question
Available in three sizes so you can tailor it to your needs
Approved by the highly respected Soil Association, you can rest easy knowing that these pellets are completely safe for use with organic gardening. Made from natural materials such as wool, they help to keep your garden safe and secure against slimy invaders.
They are completely free from poison as well as biodegradable, which makes them safe for use around pets and children as well as local wildlife. They have been specially designed to target slugs and snails, nothing else will be affected by them.
Once placed around your plants, slugs and snails will find the pellets irritating on their foot and leave it alone – deterring them from edible and non-edible plant children alike. They also help to retain soil moisture, so you don't need to water them as often.
They release nitrogen, potassium, and sulphur, nourishing the soil and leaving it a more hospitable place for your plants to live. They are incredibly easy to use, and an added bonus is that they support British wool, so you're giving your money to local farmers.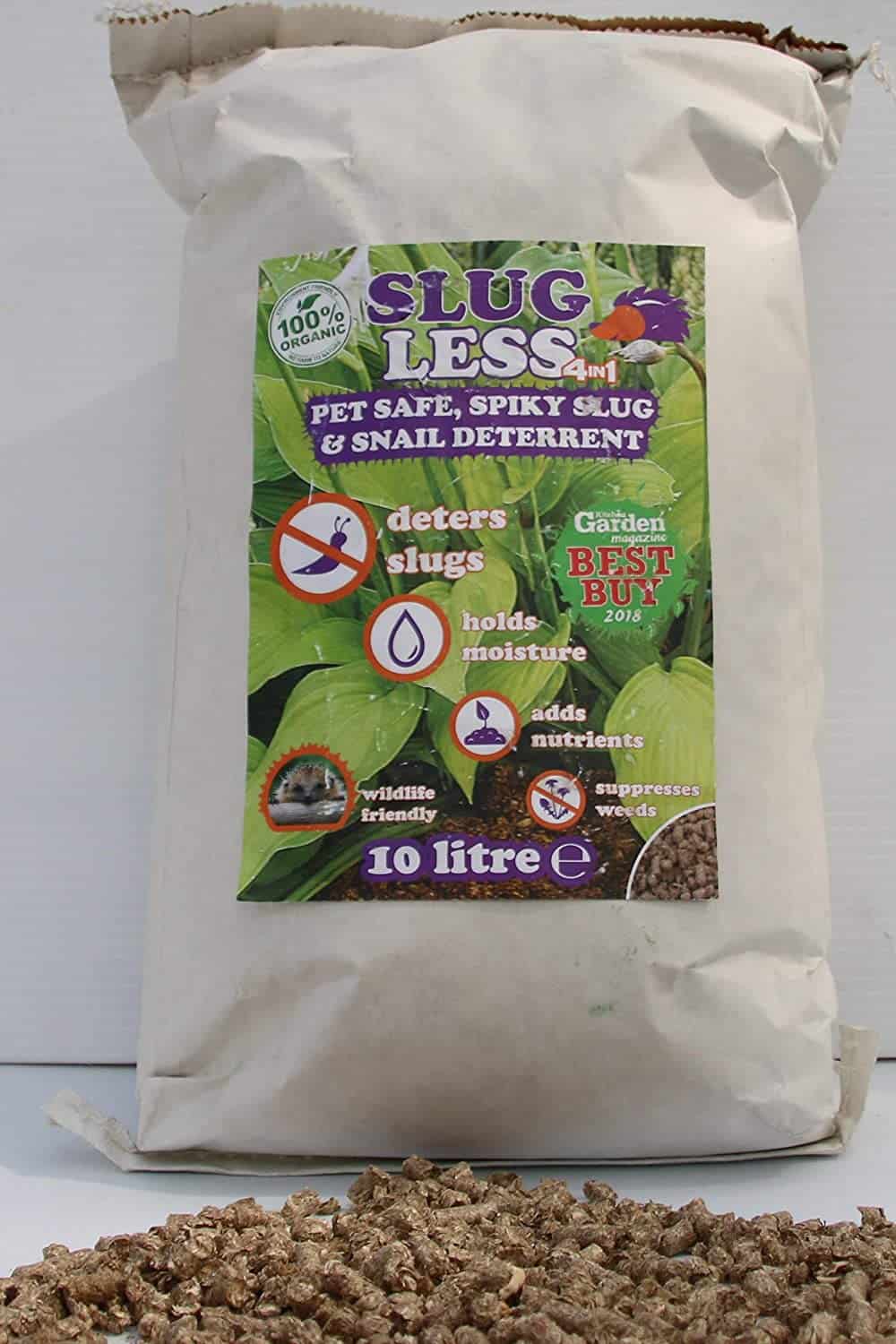 5. SlugLess
Best Organic Pick
Completely organic so that your plants thrive the way you want them to
Winner of the "Best Buy" prize from Kitchen and Garden magazine (2018)
A HUGE 10L bag that will last an entire season without issue
Retains soil moisture to keep your plants happy and healthy
Biodegradable and safe for pets and wildlife to be around
This massive sack of slug pellets is completely organic, so you don't need to worry about compromising your growing beliefs when using these little beasts. They are also biodegradable, which means there is no waste once they are finished with their task.
It comes in a HUGE 10L bag that gives you more than enough pellets for a large garden. The best part is that they are resistant to rain and will last an entire season without losing their touch – deterring slugs and snails from your edible and non-edible plants.
Since they are poison-free, you can use them in your garden without worrying about the possible impact on your pets or wildlife. All you have to do is add water to the pellets once they are around your plants and you are good to go.
They have been designed to retain moisture and help nourish your garden, so you can water your plants less and also rest easy knowing that they are getting plenty of nutrition from them. At last, you can relax in your garden instead of watching for pests every minute.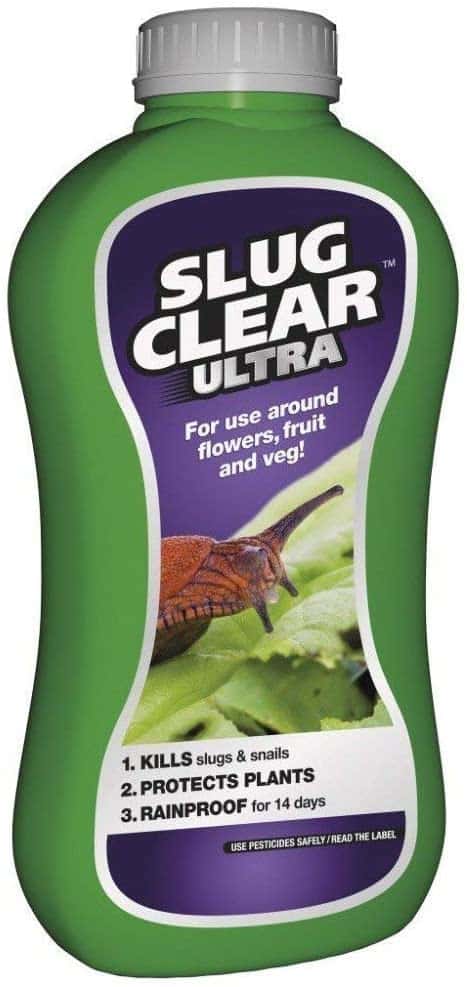 6. SlugClear
Best for Various Pests
Resistant to the rain for up to 14 days
Can be used on edible and non-edible plants alike
Safe for use around your pets and wildlife
One bottle is enough to cover your vegetable patches easily
Certified organic for your peace of mind
If you're worried about the standing of your plants, there is no need to be when you have these slug pellets. They are certified organic, tried and tested so that you know you can use them with your edible and non-edible plants alike to keep slugs and snails away.
One bottle is all you need to cover your vegetable patches. It is effortless work, and your garden pests will be eliminated in no time at all. If you're worried about the bodies, there's no need as they will vanish deep underground to perish in a painless manner.
Pets and kids are safe around these non-toxic pellets, providing you with plenty of relief when you are all outside together. Wildlife is safe as well thanks to the fact that they contain no poison – the only things these are toxic to are slugs and snails.
They are resistant to the rain for up to 14 days before they will need to be replaced, and while that might make them a little less efficient than our option from Defenders, it is still a great and affordable way to keep those pesky pests away from the lettuce plants.
Final Thoughts
Pet-friendly slug pellets are the way to go. After all, you want to keep your pets safe while deterring slimy enemies from your vegetable patch. While we are quite pleased with all of the pellets we chose, there are two that really stood out for us.
Flower Power really impressed us with their organic touch – removing the problem from your garden without the risk of harming your pets or leaving little slug/snail bodies in the soil. However, Defenders also provided an excellent budget option that's very effective.
What did you think of our guide to the best pet-friendly slug pellets? Did you find a non-toxic choice that you loved, or are you still left wondering which option is best? Let us know your thoughts in the comments below, we love hearing from you.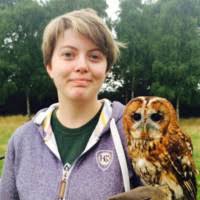 For over a decade, Adrienne has been a freelance content writer and blogger who's passion lies in anything related to dogs. Growing up, dogs were a very important part of family life in the Hardwick household. Now, Adrienne is the proud parent to two Swedish Vallhunds called Moose and Pumpkin.