Dog walking services are something that a large number of dog owners need. After all, many of them work long hours, and their canine companions need some time to stretch their legs and play with their friends.
That's why setting a service of your own up can be a great thing, both for you and the community.
Of course, the question of how to start a dog walking business arises, and that's why we have created this guide.
Here, you will find everything you need to know about creating your own dog walking service.
How to Become a Dog Walker
Becoming a dog walker is not a complicated process. There are a few things that you will need, and a few others that are optional (but can really help).
We'll go through these items in a moment. The first thing you need to do is come up with a name for your business and then register with HMRC. After that, you need a DBS check so that you can show customers that you do not have a criminal record – offering them peace of mind.
Here are some of the main things you will need to become a dog walker:
Business insurance that includes public liability, animal liability, and vet fees extension at a minimum.
A functioning and professional website that allows online booking and/or enquiries.
Stationery (such as pens) that have your company logo and website in them.
A good uniform (even if it's just a shirt with your company name on it).
A selection of spare leads and collars, just in case.
An organised booking system.
Here are some of the features that you don't necessarily need, but can really benefit you:
A van that is equipped to hold dogs
Van insurance that covers you as a dog walker
It is also important to remember that experience is a great thing to have. Even if you haven't walked other people's dogs before, owning a dog in the past can put people's minds at ease before you take their beloved pet out for a walk.
You should be fit, just in case you need to run after a rogue dog, and also have good communication skills so as to build a bond with your customers. Of course, this is not always an easy part, but it can be achieved with practice.
Make sure you adhere to any rules, laws, or practices that are in place in your area. Some places in the UK have a restriction on the number of dogs that can be walked at one time, and other areas request that a dog is kept on the lead through specific areas.
It is important, both for the safety of the dogs and your reputation, to abide by these rules. In addition to this, you should always pick up any dog waste that is left behind, or you could face fines (as well as a bad business reputation).
Never forget to have a contract that your customers sign when they start using you to walk their dogs. This should clearly lay out your terms, the payment details, and any other conditions that relate to your business. Don't walk a dog until the owner has signed the contract.
Always do your best to keep customers happy. After all, if they are pleased with your services, then they will recommend you to their friends, who will then try out your services and recommend you again if they are pleased.
While you should not let yourself be walked over, try to accommodate any needs your customers have to keep them happy, but also to maintain trust.
How Many Dogs is Too Many?
There is a lot of debate with regards to this topic, as every dog walker has a different opinion on how many dogs equals too many.
Some walkers will take up to ten dogs (and more is not unheard of), while others think that four or five is more than enough to handle.
A lot of it depends on how comfortable you are with walking dogs, and how many you think you can sensibly handle at one time.
Everyone is different, and often it is said that fewer dogs mean that each of them gets enough attention and can be watched closely to avoid any escapes or thefts.
Some customers dislike people walking large numbers of dogs at one time, and this is something that you definitely need to consider.
Owners feel safer leaving their dog with someone who they feel will have the time and the ability to watch them carefully in case anything goes wrong. So less dogs may equal more customers over the course of the week.
How Much Do Dog Walkers Charge?
The amount that dog walkers charge tends to depend on the amount of time you are walking for.
The majority of walkers will offer block sessions that customers are able to pick as it applies to them. Generally speaking, you will find that the blocks tend to be as follows:
15 minutes
30 minutes
45 minutes
60 minutes
These blocks also allow you to plan your day around the dogs that you have been asked to walk, which then means that you are able to set up rough weekly schedules – especially if you have regular customers.
This also allows you to form bonds with the dogs that you are walking, creating a sense of trust and allowing them to accept you as a person they need to listen to.
Usually, you will find that most dog walkers charge a minimum of £10 per half hour (per dog), depending on how busy they are and the kind of dog you need them to walk.
Some walkers will go as low as £8 per half hour, but this is uncommon. Prices can go up to as much as £30 per half hour, it all depends on where you are and who you choose to go with. Make sure you check out the local competition before you set your prices.
Dog Walking Prices and Services
We noted in the previous section that dog walking as a whole is usually around £10 per half hour per dog.
In this section, we look at some of the other services that you can offer as a dog walker – expanding your business and enticing regular customers to use your extended pet services.
One of these services is pet sitting. This is where you watch someone's pet for a day, week, or weekend, while they are away.
The pet will either come stay at your home with you, or you will stay at the home of the owner while they are away. The prices for this service can vary greatly, so it's something to watch your competition for.
You can also offer obedience training services, where you teach pets how to behave and perform essential tasks, like sit, stay, and lay down.
This can be very handy for those who have just rescued a dog, or purchased a new puppy, and need some help with the basics. If you are experienced enough, you could even offer advanced training services.
Spread the Word
Once your business has been established, you need to spread the word far and wide. Set up a social media page on each of the relevant platforms and invite your friends to like and follow them.
After all, once your friend has liked a page, their friends will see it too. You can even pay for advertising to really boost your views and get more people on board.
Print up business cards and hand them out locally. Notice boards, local shops, and pubs are all great places to ask if you can leave some cards behind as a form of advertisement.
Make sure you leave your name, contact details, and services on the card so that people remember you and can get in touch quickly. If you have space, add your business social media pages too.
To Conclude
Hopefully, this guide has given you a little help when it comes to figuring out how to start a dog walking business.
Dog walking services, as well as other additional ones, are highly sought after by many busy owners, so you won't find yourself short of customers. Make sure you follow the advice we have listed here, and you'll be walking more dogs than you can count in no time at all.
What did you think of our dog walking business guide? Is there anything you would have added? We love hearing from you, so leave a message for us in the comments below.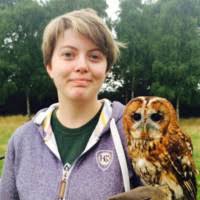 For over a decade, Adrienne has been a freelance content writer and blogger who's passion lies in anything related to dogs. Growing up, dogs were a very important part of family life in the Hardwick household. Now, Adrienne is the proud parent to two Swedish Vallhunds called Moose and Pumpkin.