We don't always think about the ID tags that are dogs are supposed to carry, and a surprisingly large number of people still do not have tags on their dog's collar.
It's important to make sure you know everything there is to know about dog tag law, as well as dog-related laws as a whole.
In this article, we look at what to put on a dog tag, where to buy them, and what you need to know about the relevant laws. Take a look and make sure you are up to date.
What to Put on a Dog Tag?
Of course, one of the most commonly asked questions is what you actually put on the ID tag for your dog. In this section, we answer that question, letting you know what needs to be placed on your tag.
On the first side of the tag, you need the following information:
Your name (and the name of the dog)
First line of your address
Postcode
This information leaves you in total compliance with the law. However, if you wish to put your full home address (and have space for it), you are welcome to do so.
On the second side of the tag, you should have the following information:
Your home telephone number
Your mobile number
"I'm microchipped"
The second side of the tag is entirely optional, but it is strongly recommended that you include it. This is because it will make it easier for someone to contact you if they happen to find your dog.
If you do not have a phone number on your dog's tag, it is still possible for you to be traced via a microchip (which is a legal requirement for all dogs). However, having it on the tag itself will make it a much easier process.
Control of Dogs Order 1992
This law was passed on April 1st, 1992, and it states that every dog while in a highway or public place must wear a collar that bears the name, address, and contact details of its owner.
This should either be inscribed on the collar, inscribed on a plate on the collar, or worn as a separate tag that attaches to the ring on the collar.
There are, however, exceptions to this rule. Dogs who are exempt from the law are as follows:
Packs of hounds
Dogs that are being used for sporting purposes
Dogs that are being used to capture vermin
Dogs being used to herd and drive cattle or sheep
Military, customs, or police dogs
Dogs being use in emergency rescue work
Dogs registered as a guide dog for the blind
Of course, any dogs that meet this exemption criteria are only exempt while they are on the job. When they are walking normally with their owners or on a day off, they must also wear ID tags.
Breaking this law means that the owner of the dog will be guilty of an offence against the Animal Health Act 1981.
This can result in a hefty fine as a minimum form of punishment. It also means that any dog caught without a form of identification on its collar can be seized as a stray under section three of the Dog's Act 1906, or section 149 of the Environmental Protection Act 1990.
Where to Buy Dog Tags?
The question of where you can purchase dog tags is one that is commonly asked. Regardless of whether or not your dog is KC registered, it is possible to purchase dog tags from the Kennel Club.
These will ensure that all of the information printed onto them is compliant with the law, so you can rest assured that everything is in order.
You can also make them yourself at a number of pet shops, including Pets at Home. At stores like this, you can choose the type of tag you would like (shape, size, and price) before paying for it and taking it over to a specific machine.
Placing the tag in the machine, you can then select what you would like to have printed on each side of the tag.
You can also purchase customisable tags from websites like Amazon. The tags will be sent to you, printed with all of the information you requested. Often, it saves you money and is a very convenient way of purchasing ID tags for your dog.
There are also a number of other websites that will do this for you, as well as places where you can have the information printed on the collar itself (which is in compliance with the relevant legislation).
Before you decide what to print, make sure you take a note of the information given in the first section of this guide. You must ensure that the information printed on the ID tag is in compliance with the law.
If, at any point, you are unsure of what to put on the tag, you can always check the Kennel Club or Government websites. Both of these will be able to tell you what you need on the tag.
When to Update Dog Tags?
Of course, it is also important to know when you should update your dog tags. There are a few instances where you will need to ensure that you do this, and they are listed below:
Change of address
Change of contact number (home and/or mobile)
Change of name (for both owner and dog)
If your dog outgrows the tag, you should also consider having a new one made. Sometimes, owners will purchase tags for their puppies that are the right size, but as they grow the tag becomes dwarfed. This can make it difficult for people to see, and so it is recommended that you ensure the tag is very visible.
If you have a collar that has been printed with your details, it is important to update this each time the dog grows out of it and requires a new one. Make sure it contains all of your latest contact details as well as the correct names, the easiest solution is to have the tag engraved.
To Conclude
Hopefully, you have found this guide on dog tag laws both interesting and useful. It is important to know what you can and cannot put on your dog's identification, as well as the legal ramifications of not having any form of visible ID.
While it is now a legal requirement for every dog to be microchipped, it does not mean that dog tags are obsolete.
What did you think of our guide on dog tag laws? Is there anything that you would have added? We love hearing from you, so make sure you leave us a message in the comments below.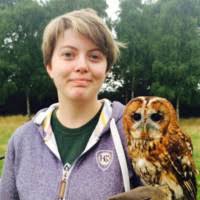 For over a decade, Adrienne has been a freelance content writer and blogger who's passion lies in anything related to dogs. Growing up, dogs were a very important part of family life in the Hardwick household. Now, Adrienne is the proud parent to two Swedish Vallhunds called Moose and Pumpkin.