Article Last Updated November, 2023
Welcome to my best wet dog food roundup for 2023.
After investing nearly 40 hours carefully reviewing a long list of wet dog foods(trust me, there are lots of them on the UK market), I've narrowed it down to just five, ranking them based on criteria such as moisture content, meat quality, carbohydrate value, variety of flavours, and of course price.
These are the absolute best products that provide your pup with a nutritious meal without costing an arm and a leg.
So, if you want to give your dog a tasty and nourishing meal, don't hesitate any longer; I have found the perfect mouthwatering mealtime options.
Let's get started!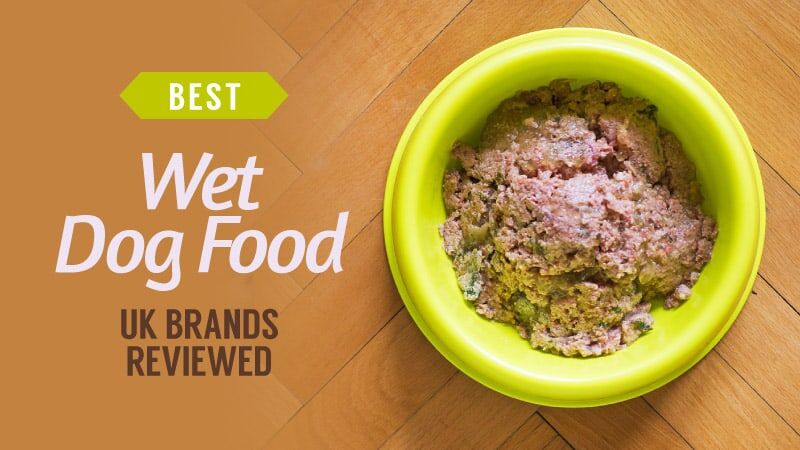 In a Hurry?…….Best Wet Dog Food at a Glance
---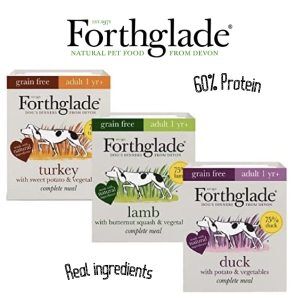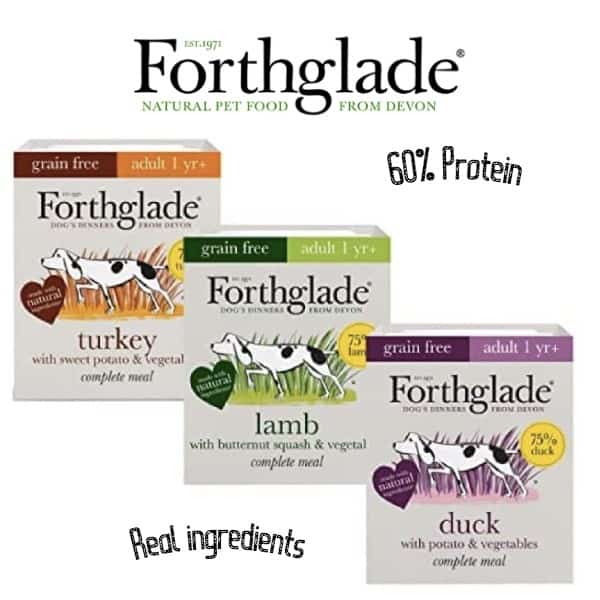 #1 Forthglade Natural
Editors Choice
Key Specifications –
Key Ingredients: Turkey, Duck, Lamb, Sweet Potatoe, Butternut Squash, Vegetables, Vitamins and Minerals.
Texture: Wet
Life Stage: Adult
Type: Complete Grain Free
Suitable For: Good for overall health and sensitive stomachs
Introducing the ultimate dog food solution: Forthglade Natural
It's more than just food – it's a comprehensive health booster for your canine companion, perfect for sensitive stomachs, optimal digestion, and excellent overall health. With a diverse range of high-protein meats (75%) and free from junk, Forthglade is the top choice for dog owners everywhere.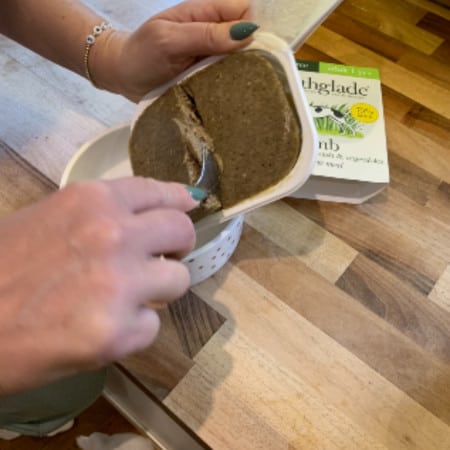 The reason Forthglade is so popular is that it flat-out works. For one, it provides your dog with essential vitamins (including A, E and Biotin) and minerals to keep their teeth and bones strong, prevent injuries, and maintain a healthy, shiny coat.
Plus, it caters to dogs with food allergies, ensuring they stay safe and healthy.
Imagine your dog thriving on salmon, lamb, duck, beef, or turkey, all while avoiding artificial flavours, colours, and preservatives that can harm their health.
And this is all under one trusted UK-based brand with over 45 years of experience.
After trying Forthglade for just a few weeks, you'll notice it's an INSANELY good product.
Your dog will have a spring in its step, and their improved digestion and overall health will be evident. And the best part? You'll be part of a community of dog owners who trust and rely on Forthglade for their furry friend's well-being.
And while Forthglade's fish range boasts a strong aroma that may not suit every dog's preference, many canine companions find it irresistible.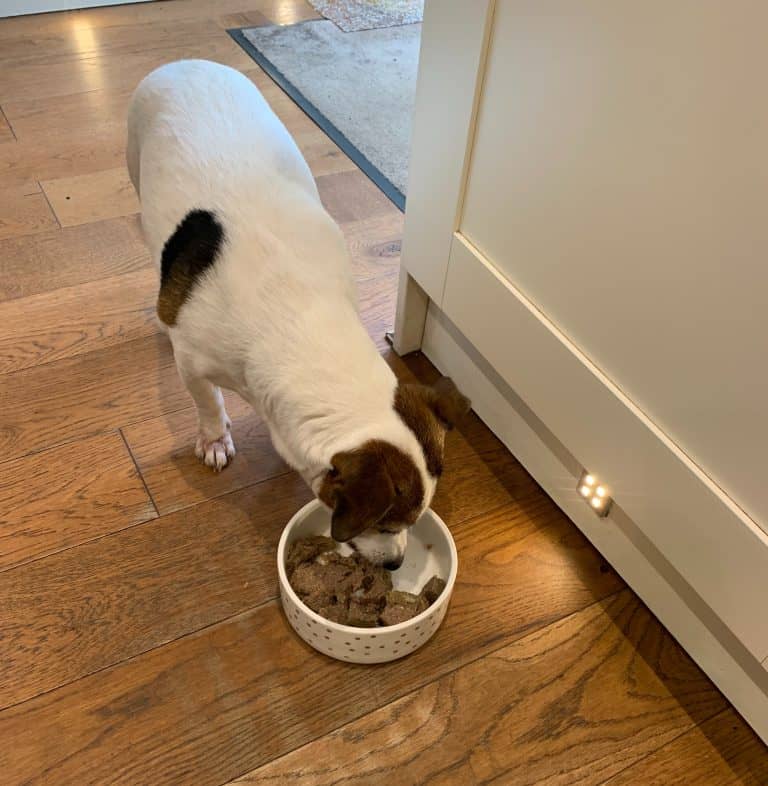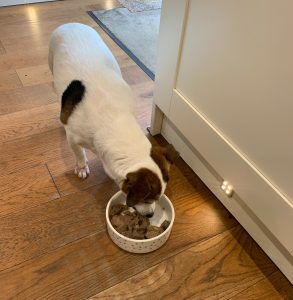 The tray packaging, though not perfect according to a few customers, it's a small compromise for providing top-quality, budget-friendly nutrition, with its flexible design minimizing waste.
With unbeatable value for money (even without their additional 10% saving through their subscription offer), Forthglade Natural is the most cost-effective and convenient option for providing your dog with high-quality, nutritious food.
No other dog food offers anything close to this & probably why it was VOTED best wet dog food for 2023 by Your Dog Magazine"
Poppy(15-year-old Jack) was a big fan of the lamb flavour as well as the soft texture compared to her standard raw diet.
Sample Buyer Review

— Shirley Bowley
---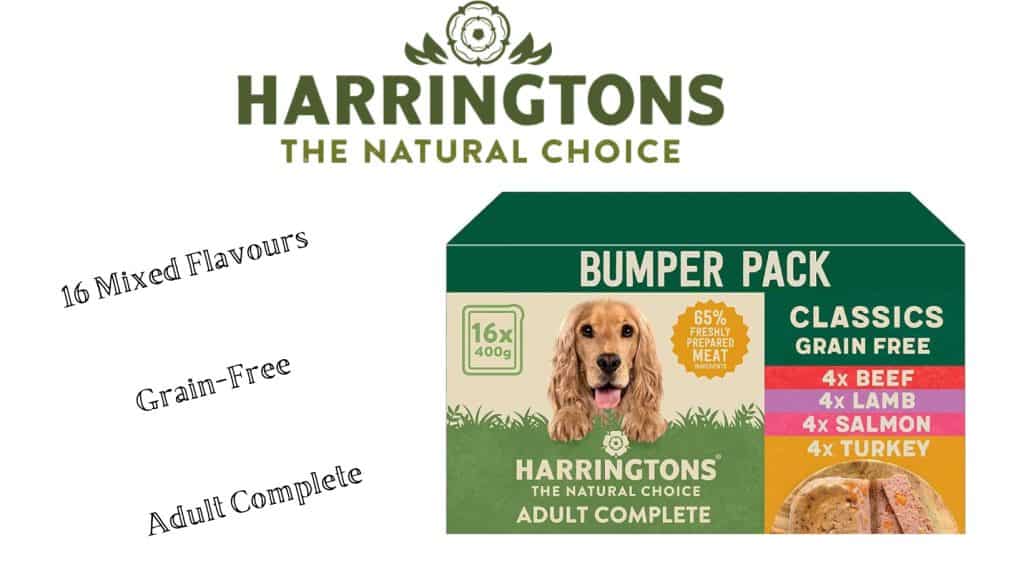 #2 Harringtons Complete
Best Budget Wet Dog Food
Key Specifications –
Key Ingredients: Turkey, Chicken, Lamb, Salmon, Beef, Vegetables, Vitamins and Minerals
Texture: Wet
Life Stage: All Life Stages
Type: Grain Free, Complete
Suitable For: Balanced Diet and Sensitive Digestion Systems
Up next is the wallet-friendly alternative to pricier dog food brands: Harrington complete Wet dog food.
This cost-effective option is perfect for dogs with sensitive digestion, as it's grain-free, soy-free, and dairy-free. Plus, it's made from human-grade quality ingredients, ensuring a well-balanced meal for your furry friend.
Like Forthglade, Harringtons is made in the UK and offers an eco-friendly option with recyclable packaging and no artificial flavours or colours. Suitable for dogs aged 8 weeks and over, it's an excellent choice for all life stages.
The best part? With Harrington's packs of 16 mixed flavours, you will save 25% compared to Forthglade Natural packs. Additionally, if you subscribe to Harringtons, you can save 15% on all future purchases. In contrast, Forthglade's subscription offer only provides a 10% discount.
Of course, there are a few trade-offs. Harringtons contain 10% less meat than Forthglade, meaning less protein in your dog's daily meals.
The only negative point( much like many tray-type dog foods) the tray packaging can sometimes come loose and become easily damaged, which might affect the freshness of the food, but these are very few and far between issues when you consider the sheer volumes being shipped to customers around the UK.
So, let's sum it up: Harringtons Complete Wet Dog Food is a fantastic option for those on a tighter budget, providing high-quality complete wet dog food for sensitive digestion systems and promoting a balanced diet, just with a bit less meat than our best wet dog food editors pick.
Sample Buyer Review

— Karen Ruggles Smith
---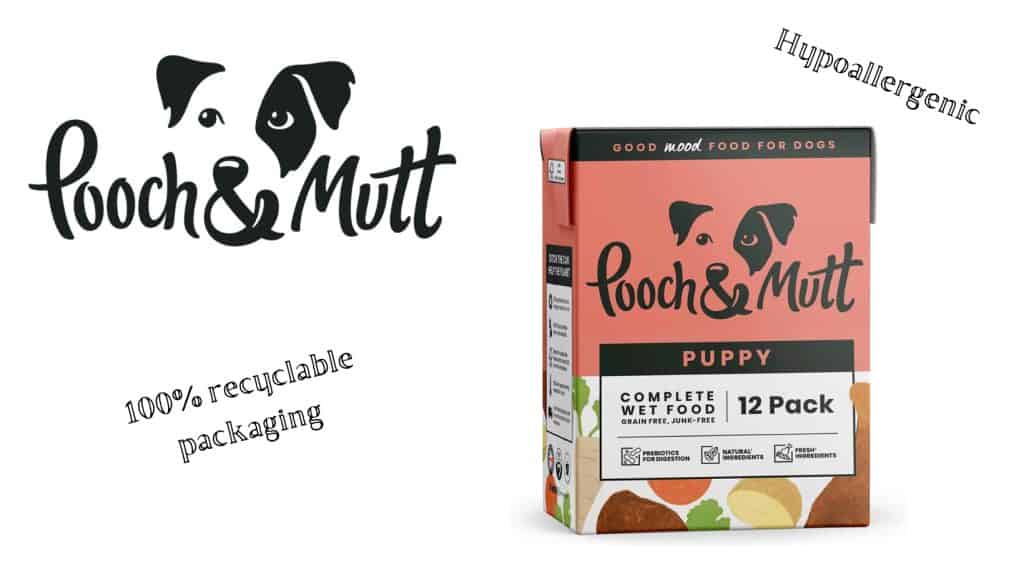 3. Pooch and Mutt Complete
Best Hypoallergenic Wet Dog Food
Key Specifications –
Key Ingredients: Turkey, Chicken, Duck, Beef, Vegetables, Vitamins and Minerals
Texture: Wet
Life Stage: Puppies
Type: Premium, Grain Free, Complete
Suitable For: Healthy Digestion, Hypoallergenic Dogs and A Balanced Diet
Introducing our next challenger, Pooch and Mutt wet dog food – a top-tier choice for those hunting down the finest, hypoallergenic wet food that's got your pooch covered at every stage of life.
Pooch and Mutt Wet Food is packed with the good stuff, like turkey, chicken, duck, beef, veggies, vitamins, and minerals, ensuring a tasty and nutritious meal for your furry friend. No grains, gluten, or cereals here – perfect for pups with allergies or sensitive tummies.
More expensive than our previous picks (20% on Forthglade & nearly 50% compared to Harringtons), Pooch and Mutt ain't cheap, but hey, quality comes at a price.
On a positive note, subscribe to Pooch and Mutt and score a massive 20% off, putting Forthglade's discount to shame.
This eco-warrior brand comes in 100% recyclable packaging cartons, keeping our planet greener.
Plus, Pooch and Mutt's fresh, barely-processed ingredients are easily digestible, meaning better nutrient absorption and a healthier gut. And those added prebiotics? They leave Forthglade & Harringtons in the dust by promoting a balanced gut bacteria party.
Now, it ain't all sunshine and rainbows. Pooch and Mutt's wet food has 60% meat content, 15% less than Forthglade, so your dog's protein intake takes a hit.
And yeah, customers say the packaging can be a bit of a mess when trying to dish it out. But let's be real – those environmental benefits from recyclable packaging are worth it. Not to mention both Forthglade and Harringtons packaging doesn't come without the odd problem.
So, here's the deal: Pooch and Mutt wet dog food is the way to go if you're after a premium, hypoallergenic chow that supports healthy digestion with its added prebiotics, as well as its balanced, fresh ingredients. It could make it a top dog contender.
Click on the button below for the latest price and offers, or order from the Monster Pets online store here
Sample Buyer Review

— Trusted Customer
Have a question? Ask in the comments below
---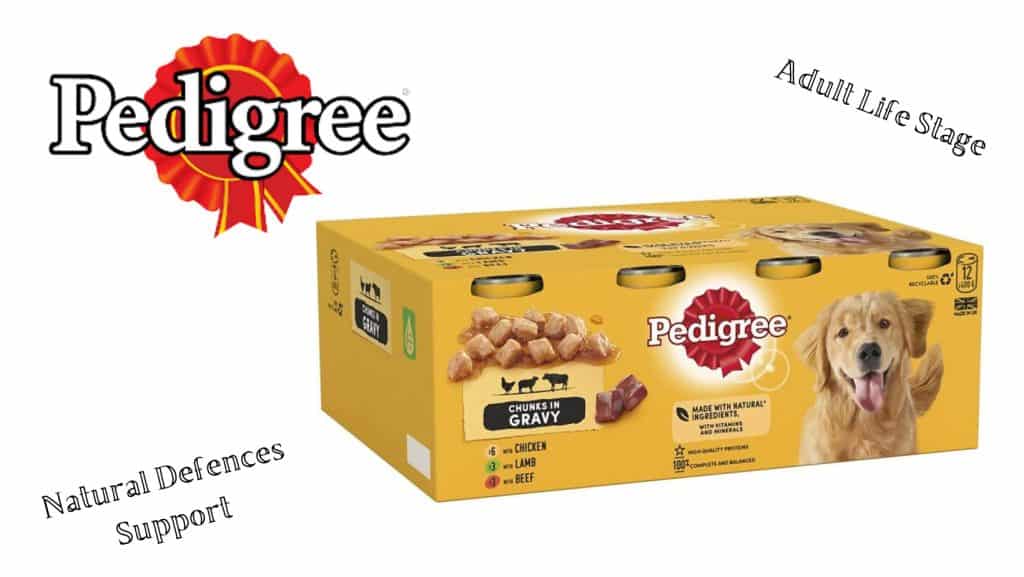 #4 Pedigree Wet Dog Food
Trusted Dog Food Brand
Key Specifications –
Key Ingredients: Chicken, Beef, Lamb, Carrots, Vitamins and Minerals
Texture: Wet
Life Stage: Adults
Type: Complete, Natural
Suitable For: Natural Defences Support, Healthy Bones
Introducing a classic option for budget-conscious dog owners, Pedigree tinned wet food – the most well-known brand that's got your canine buddy's back with complete, natural nutrition during their adult life stage.
Pedigree wet dog food comes packed with stuff like chicken, beef, lamb, carrots, and all the vitamins and minerals your dog needs, all in a wet texture that's just right for keeping their natural defences strong and bones healthy.
Why go for Pedigree? First, their calcium-packed formula is perfect for healthy bone growth. Plus, it's a brand that has been around forever and has earned the trust of pet owners.
And don't forget about the convenience – you can find Pedigree practically EVERYWHERE, so it's super easy to grab during your regular supermarket run.
Pedigree's recipes have Vitamin E to help boost your dog's natural defences, and they don't use palm oil, which can cause stomach issues and other health problems in dogs. Oh, and their low price? It's a game-changer, coming in cheapest of all our picks reviewed here.
But wait, there's some not-so-great stuff too. Pedigree's wet dog food only has 8% protein, which isn't enough for your dog's daily protein needs. And corn is the main ingredient, which isn't too bad in small amounts, but too much can mess with your pup's digestion.
So, if you're looking for a budget-friendly option that's conveniently available, supports natural defences, and helps with bone health, Pedigree Tinned Wet Dog Food is your go-to choice.
Just be ready to up their protein game and keep an eye on your dog's digestion(poops) because of the corn-heavy formula. It's not perfect, but hey, it's affordable and has a solid rep in the wet food world.
Hit the button below to see the most recent prices and promotions, or you can shop directly from the Monster Pets online store at this location.
Sample Buyer Review

— Joan Webster
---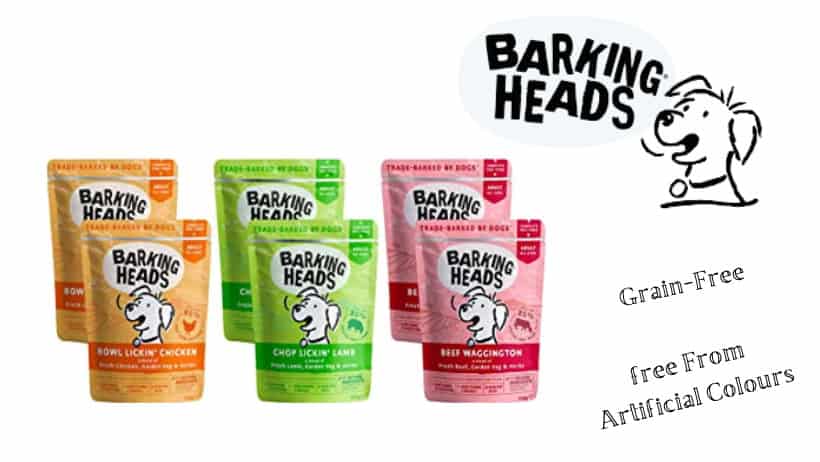 #5 Barking Heads Wet Food Pouches
Premium Pick
Key Specifications –
Key Ingredients: Chicken, Beef, Lamb, Carrots, Vitamins and Minerals
Texture: Wet
Life Stage: All Life Stages
Type: Natural, Grain Free
Suitable For: Active-Energic Dogs, Dogs who suffer from Allergies and a Balanced Diet
Introducing the top dog of dog food – Barking Heads wet dog food Pouches! For those dog owners who demand the best for their furry pals, this premium, grain-free option is the real deal.
Barking Heads Wet Food doesn't mess around; it's packed with key ingredients like chicken, beef, lamb, carrots, and essential vitamins and minerals. The wet texture of the food ensures your canine buddy gets the perfect mix of nutrients and hydration for a healthy and happy life.
What makes Barking Heads the boss? Their recipes have a jaw-dropping 85% meat content, making them one of the highest protein options we came across.
High protein is a must for your dog's daily diet, and their natural ingredients are free from artificial colours, flavours, and preservatives – a healthier meal choice for your pup.
These easy-to-use pouches come with a sticky label on the back, making it a breeze to reseal and use later in the day for your dog's next meal. And let's not forget the mouth-watering aroma, perfect for winning over fussy eaters.
Want to save some cash? Subscribe to Barking Heads' website and get 15% off your orders, making this premium choice a bit more wallet-friendly.
But let's take our rose-tinted glasses off for a minute. At £1.95 per pouch, Barking Heads is the priciest brand we've reviewed here(though it does have a whopping 85% meat protein content), so you're paying for top-notch quality food for your dog's diet.
On top of that, the foil pouches aren't recyclable, which is a bummer in today's eco-conscious world.
In a nutshell, if you're searching for a premium option that offers high-quality meat, natural ingredients, and convenience, Barking Heads Wet Dog Food Pouches are worth the splurge.
Just keep in mind the heftier price tag and non-recyclable packaging. Your pup's health and happiness will thank you for it.
Tap the button under this text for the newest costs and deals, or secure your order from the Monster Pets online marketplace via this link.
Sample Buyer Review

— Trusted Customer
---
FAQs
What Are The Benefits Of Wet Dog Food Compared To Dry Dog Food?
---
Wet dog food has several benefits compared to dry dog food. It typically contains higher moisture content, which helps with hydration and can be especially beneficial for dogs who don't drink enough water.
Wet dog food is also easier to chew and digest, making it a great choice for dogs with dental or gum issues, senior dogs or those with a weaker appetite.
How Much Wet Food Should I Feed My Dog Each Day?
---
How much dog food you should feed your dog depends on various factors, including weight, age, activity level, and individual nutritional needs. In fact, we have written a complete article on the subject [here].
Is Wet Dog Food Suitable For All Dog Breeds And Sizes?
---
Wet dog foods are suitable for dogs of all breeds and sizes. Just make sure to choose a wet dog food specifically formulated for your dog's life stage (puppy, senior, or adult dogs) and consider any special dietary needs.
Are There Any Specific Wet Dog Food Options For Dogs With Allergies or Dietary Restrictions?
---
Absolutely! Many natural wet dog food brands offer options tailored for dogs with allergies or dietary restrictions. Look for limited-ingredient or hypoallergenic recipes ( we have included a couple above) made with novel proteins and grain-free options if your furry friend has a sensitive tummy or food allergies.
Can I Mix Wet Dog Food With Dry Dog Food?
---
You certainly can. Mixing wet and dry food can provide the best of both worlds – the crunchiness of dry food for dental health and the added moisture of wet dog food for hydration. Just be sure to adjust the portions accordingly to avoid overfeeding.
How Do I Store Wet Dog Food After Opening The Tin or Pouch?
---
After opening a can or pouch of wet dog food, transfer any unused portion to an airtight container and store it in the refrigerator. Properly stored, it should stay fresh for 3-5 days. You can also freeze unused portions for up to 3 months.
What Is The Shelf Life Of Wet Dog Foods?
---
Unopened wet dog food generally has a shelf life of 1-2 years. Though do check the "best by" date on the packaging to be sure.
Are Any Health Risks Associated With Feeding Wet Dog Food To My Dog?

---
When fed as part of a balanced diet, wet dog food is safe for healthy dogs. However, if your dog is sensitive to fats or has pancreatitis, for example, I would suggest speaking to a vet, who can advise if a prescription diet may be a better option.
Can Wet Dog Food Help With Weight Management For Overweight Dogs?

---
Wet dog food can be helpful for weight management since it often contains fewer calories per gram compared to dry food.
Additionally, the higher moisture content can make your dog feel fuller, helping to control their appetite. If your dog already eats wet dog food, you may want to consider cutting down portion sizes.
Can I Switch My Dog From Dry Food To Wet Food, And How Do I Transition?

---
It's okay to switch your dog from dry to wet dog food. To make the transition, start by gradually mixing the wet food with the dry food, increasing the wet dog food proportion over a week or two (start with 20% wet, 80% dry). This allows your dog's digestive system to adjust and reduces the risk of stomach upset.
How Do The Costs Of Feeding Wet Foods Compare To Those Of Dry Food?

---
Feeding wet dog food can be more expensive than dry dog food on a per-meal basis. However, it's important to consider the many additional benefits that wet food can provide. This article has more information on Dry Dog food vs Wet Food.
How Do I Choose The Right Wet Food For My Dog's Life Stage (puppy, adult, senior)?

---
To ensure that you pick the appropriate wet dog food for your dog's life stage, search for products specially formulated for puppies, adults, or seniors. In the UK, regulations mandate that packaging displays these distinctions, and such foods are nutritionally balanced to meet your dog's age and activity level requirements.
Can Wet Dog Food Improve My Dog's Coat And Skin Health?

---
Wet food can indeed improve your dog's coat and skin health, as it often contains higher levels of omega-3 and omega-6 fatty acids. These essential nutrients support a healthy skin barrier and promote a glossy coat. You could always add an Omega supplement to their meal.
Are There Any Ethical Or Sustainable Wet Food Brands To Consider?

---
Absolutely, there are ethical and sustainable wet dog food brands available. We have included a few in this review. These companies use responsibly sourced ingredients, environmentally friendly packaging, or support animal welfare initiatives.
To find an ethical brand, research the company's values and practices or look for certifications such as B Corp, MSC, or ASC.
Which Brands Of Wet Dog Food UK Are Most Recommended By Pet Nutrition Experts?

---
Veterinarians and pet nutrition experts may have varying opinions on which wet dog food brands are the best. Brand and products featured in this round-up review are certainly great options.
What Is The Difference Between Grain-Free And Grain-Inclusive Wet Food?

---
Grain-free wet food excludes grains such as wheat, corn, and rice, while grain-inclusive options contain these ingredients. Some dogs may benefit from a grain-free diet due to allergies or sensitivities, while others may do well on grain-inclusive food.
What Are The Advantages Of Purchasing The Best Wet Dog Food From A Local Pet Shop Compared To Online Shopping?

---
Purchasing wet dog food from a local pet shop offers several advantages, such as supporting local businesses and avoiding shipping delays or potential damage during transit.
On the other hand, online shopping may provide a broader selection, lower prices, and the convenience of having the food delivered to your doorstep.
Can You Get Vegan Wet Dog Foods?

---
Absolutely, you can find vegan wet dog foods that don't contain any meat meal. These plant-based alternatives rely on ingredients like lentils, peas, and vegetables to deliver essential nutrients without animal-derived products. We have written a guide to the best vegan dog foods here, where we include a wet food option.
It's a Wrap
As always, if you have any feedback or think we have missed a product that should be included in this best wet dog food uk guide, drop me a message in the comments.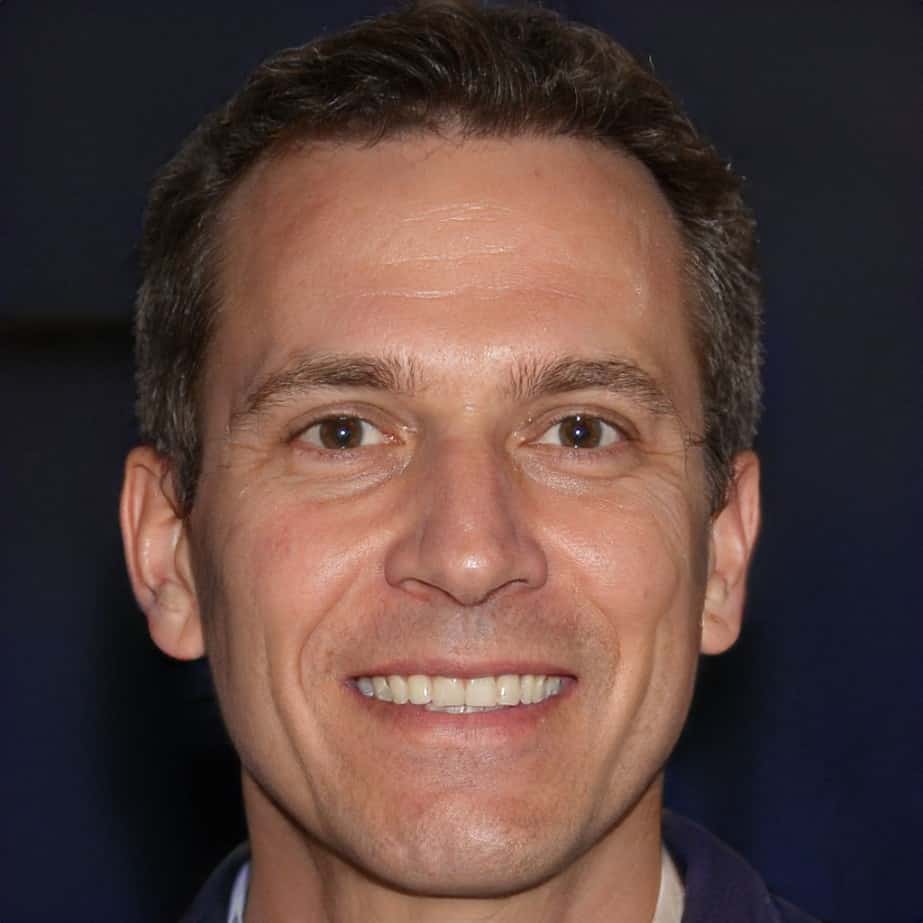 Jeff Carbridge is a dog behaviourist and trainer with 15 years of experience. He is strongly interested in nutrition and diet for both canines and humans. Jeff has been featured in several publications, providing expert commentary on dog-related topics. His knowledge and expertise make him a valuable resource for anyone seeking to improve the health and well-being of their dogs.