We love our dogs. They are part of our family, our best friends, and can be the greatest comfort in times of need.
Therefore, keeping them safe tends to be at the top of our priority list. Even the most perfectly trained dogs can have an off day where a squirrel or rabbit looks far more appealing than usual.
If something happens and our dogs are lost, being able to track them not only helps you find them faster but may also save them from running into busy roads.
Below, you will find everything from how they work and the different types (after all not all dog trackers are created equally) along with our top picks to help you choose the best dog tracker to help keep your dog on your radar at all times.
Who Should Buy a Dog Tracker?
Everyone should have a dog tracker because you never know when they are going to come in useful. Your dog could be the definition of obedient, but they aren't robots.
Every dog has an off day, and you should always be prepared for them getting spooked by something or suddenly unable to resist chasing a fluffy creature.
Similarly, if you are going on holiday with your pet (especially to an unfamiliar place) and they get lost, having the tracker means you end up with a lot less stress trying to find them.
Types of Dog Tracker
There are actually two main types of dog trackers on the UK market; each of which has its own set of pros and cons. Here's a little more information on each of them.
GPS. This is the most common form of live tracking as it works constantly no matter where you are, as long as you have a mobile service. The signal from the GPS dog tracking collar bounces off the mobile towers so that you can see your pet's location live in real-time. The only downside? It usually requires a monthly subscription. Though the prices for this are fairly reasonable these days.
Radio. These trackers are both completely independent of any external networks, mobile phone towers, or even a clear view of the sky (to access GPS satellites) in order to function. They can operate anywhere on earth without reliance on outside infrastructure, similar to that of walkie-talkies.
The radio signal of this type of dog tracker is used to determine the direction it is coming from, allowing you to follow the signal right to your pet. This enables you to "home in" on the pet's precise location. Radio based dog trackers do not require an ongoing monthly subscription, however, the upfront cost is far more than a GPS tracker
Compare Our Top 3 Dog Tracker Features
| | | | |
| --- | --- | --- | --- |
| | | | |
| | | | |
| | | | |
| | | | |
| | | | |
| | | | |
| | | 10 Seconds | |
| | 175 Countries | Europe Only | Europe & North America |
| | | | |
| | | | |
| | | | |
| | | | |
| | | | |
| | | | |
| Device Removed Notification | | | |
| | | | |
| | | | |
| | | | |
| | 24 Months | 24 Months | 18 Months |
| | £44.99 | £49.99 | £54.99 |
| Cell | | | |
6 Best Dog Trackers (In Order)
Without further ado, you will find our favourite dog trackers below. Each of them has been carefully researched in order to bring you the best models, prices, and features in one neat little package. Keeping your dog safe has never been easier.
---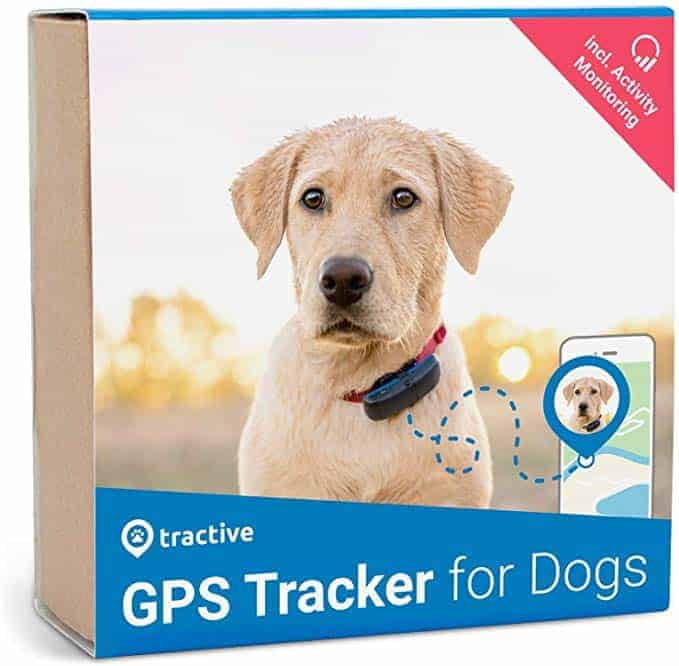 1. Tractive GPS Tracker 4
Editor's Pick – The perfect GPS tracker if you want to keep your dog safe without spending a fortune.
Tractive is one of the best and most popular forms of GPS dog trackers on the market. They provide reliable tech that's packed with exceptional features for a budget price.
What more could you want? It's not too bulky on the collar and can be paired with a smartphone app effortlessly so that you can see where your dog is and receive notification alerts.
Of course, it has a couple of minor flaws but nothing is perfect. More on that later.
Specifications:
Size: 72x28x17.5mm
Weight: 35g
Battery Life: Up to 7 days
Waterproof: Yes
Virtual Fence: Yes
For Pets Over: 4.5kg
Subscription: Yes
Subscription Cost: Approx. £ 3.50 pm
Activity Monitoring: Yes
Live Tracking Device Capabilities
As a GPS tracker, you will find that you can pinpoint their location from anywhere in the world as long as you and the GPS dog collar have a mobile phone signal.
As a result, the location will be pinged to you on the app in real-time so that you can find and retrieve your pet as quickly as possible. It does come with a subscription (approx. £3.50 per month), but it lasts for at least a year (depending on your chosen plan) and means that the hassle of finding and buying a SIM card yourself is removed.
The location history feature is also very handy. This allows you to see where your dog has been over a set period of time. So, you can look through past walks, see where your dog was when they went missing, and perhaps find a way to break your routine if you find yourself walking the same route each day.
It helps bring a little excitement back into each walk.
Features
One of the great things about the Tractive 4 is that it has loads of fantastic features on top of the tracking – such as the activity tracker, location history, GPS data export and sleep tracking which you won't find on any of the other models featured here.
The waterproofing is fantastic for dogs that love to swim because while they are paddling, the tracker will keep working and sending their location.
It also benefits from an activity monitor. So you can keep an eye on their fitness levels. If you are feeling competitive, you can even compare it with your friend's dog and see who can get the most done each day or week.
The virtual fence is excellent in that you can set a designated area that your dog isn't supposed to leave. If they decide to, you will get a notification on your mobile phone to let you know what has happened so that you can go investigate.
It can help you to train them to stay within their set area, as well as ensure that they stay safe.
Battery Life and Charging
The rechargeable battery life is excellent, spanning up to 7 days depending on how much it is used in that time of course, but also depending on the phone signal, but if your dog goes missing, you should have peace of mind that the collar is unlikely to run out of charge suddenly, giving you a little more time to find them.
The charging period is also brilliant, taking only two hours to get back to full battery. This means you don't need to wait long before you can get back out there and enjoy your walk.
Pros
Worldwide live tracking and downloadable GPS history
Includes activity & sleep monitor
Above-average battery life for peace of mind
Cons
Does have a subscription (but most do)
Doesn't have a temperature feature as some do
No voice dog recall feature
What do Tractive Customers Think?
At the time of writing over 10,000 people have left Tractive a Trustpilot review and they scored a very respectable 4.5/5
Equally as impressive is that 81% of Amazon customers who have reviewed the Tractive GPS 4 model gave it a 4 or 5-star rating.
---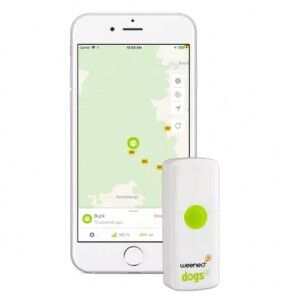 2. Weenect Dogs 2
Best Dog Tracking Device for iPhone – Keep tabs on your dog and help them stay safe from the comfort of an iPhone app.
Transforming your dog's regular collar into a GPS dog collar is a simple task with this device, as it simply clips on and stays there securely while your dog is active.
Price wise it remains on a par with our other top picks listed here, including the subscription fees.
Specifications:
Size: 23x10x58mm
Weight: 27g
Battery Life: 2-4 days
Waterproof: Yes
Virtual Fence: No
For Pets Over: 3.5kg
Subscription: Yes
Subscription Cost: Approx £3.50pm
Activity Monitoring: No
Tracking Device Capabilities
French brand Weenect pitch this as the smallest GPS dog tracker on the market and that is certainly is, not only that the sim card fitted in this tracker is multi-network so its not tied to just one mobile phone network, meaning you have far more UK coverage than network specific sim cards.
Features
It has some great features on offer much the same as our other two top picks here, including a virtual fence setting so you are instantly notified if your dog has left the boundaries you pre-set, thai model is also fully waterproof up to 1 metre, so if your dog is anything like mine on walks, this is a key feature.
Like the other top trackers featured here, you have activity tacker and history tracker included within the subscription, which is reasonably priced at £3.50 per month.
Battery Life and Charging
The battery will last around 3 days, all depending on how often the GPS is used and how regularly the dog is being tracked.
However, if they go missing and you can't quite find them, you at least have some peace of mind in that the dog location tracker is less likely to run out of charge suddenly.
As for the charge period, it only takes two hours to fill the battery back up, so you won't need much time between walks and journeys with your dog.
Read: Full hands-on Weenect Dog 2 review
Pros
No distance limit, even if the dog is on teh other side of teh world
Recall option ( sound or vibration) a great addition for training your dog
Compact and lightweight, perfect for very small dogs to avoid being weighed down
Isnt tied to a single mobile phone network
Cons
Does have a subscription fee, though very affordable
Adding your dog to a friend or family members phone app is only possible with one shared username & password.
What do Weenect Customers Think?
At the time of writing over 5000 people have left Weenect a Trustpilot review and they scored a respectable 4.1/5
70% of Amazon customers who have reviewed the Weenect 2 dog tracker gave it a 4 or 5-star rating, which is less than both the Tractive and Pawfit models featured here.
---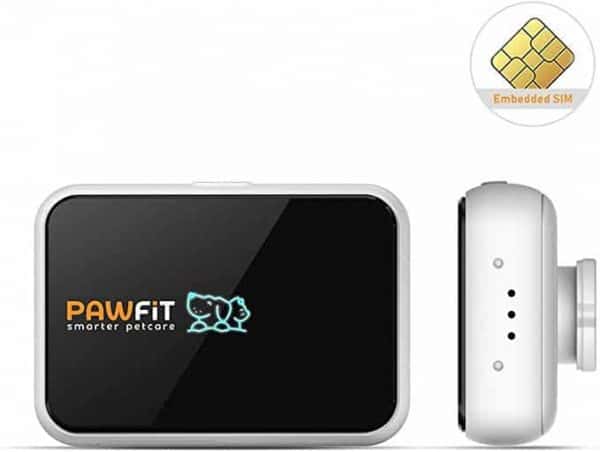 3. Pawfit-S Dog
Best Premium Pick – Sleek, stylish, and excellent at tracking. The ideal model if you're looking to splash out a little.
There is so much going for this pet tracker, and it's got all the features you want as well as the ones you didn't think about.
It's a little closer to the premium price scale, but so worth the extra money for your dog's safety.
As soon as it arrives, it already comes with everything you need to get started, and it can be attached to your dog's collar securely; ready for their next walk.
With GPS tracking available at all times, losing your pet won't be something you worry about.
Specifications:
Size: 56x40x24mm
Weight: 181g
Battery Life: 7-10 days
Waterproof: Yes
Virtual Fence: Yes
For Pets Over: 3.5kg
Subscription: Yes
Subscription Cost: Approx. £3.59pm
Activity Monitoring: Yes
Tracking Capabilities
The first thing to note about this model of pet tracker is that it comes with an embedded SIM. This means that you don't need to worry about buying one yourself, and you can pay for the subscription through Pawfit instead of finding your own supplier – all for around £3.59 per month.
What's more, the SIM has been programmed to work faultlessly throughout North America and Europe, so you can take your dog on adventures anywhere and feel safe doing so.
You use the gps tracker with an app on your mobile phone, and it will update you with your dog's location every five seconds. This means you'll never be far behind if they end up going missing.
The collar also uses light and sound features as you get closer to your dog, allowing you to find them with ease at night or in forested areas.
The one-off positioning feature can also be used quickly when your pet first goes missing. It will give you their rough location while it works to pinpoint their exact one, giving you more time.
Features
The activity tracker is a fantastic way to keep on top of your dog's health and fitness, and it will also show you if they are exercising enough.
There is also a virtual fence, which is fantastic if you want to ensure your dog stays in a predetermined area. If your dog leaves this space, you'll get a notification so that you can check it out.
The temperature setting is an interesting one too. The tracker will ping your phone if things are getting too hot or cold for your dog, giving you time to get them into a warmer or cooler location. Additionally, there is an anti-dismantling alarm.
If someone tries to take the tracker and collar off your dog when they are out, an alert will be sent to your phone. This can help prevent theft and add an extra level of safety to your dog's walks.
Battery Life and Charging
It has a brilliant battery life, lasting 7-10 days on standby or 4-5 when actively used to look for your dog. Therefore, if they decide to go for a wander, you don't need to worry about the battery running out for a few days – leaving you with more time to track them down.
The rechargeable battery charges quickly too, taking only 2-3 hours to get back to 100%. It can also be charged via a USB port; ideal for when you are on the move or holidaying.
Pros
Exceptionally durable
Anti-dismantling alarm
Superb battery life
Cons
Does have a subscription fee
Only uses a 2G network
It is a little bulky on the collar
---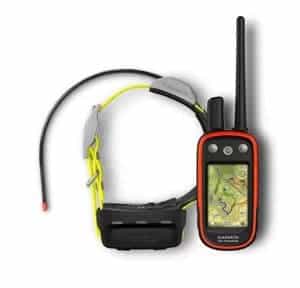 4. K 5 Dog Device with Atemos
Best Dog Tracker Without Subscription – Allowing you to keep an eye on your dog without the additional fees. A remarkable and reliable piece of tech.
The price might seem quite high (in fact very high)but when you take everything that the K 5 collar and Atemos tracker offer it's actually pretty good.
Not only can it track multiple dogs, but it also has safety features – one of the best being the lights that you can activate if they head near a road.
The fact that you don't need a subscription to use it is one of the shining benefits of this gps tracker.
It's one of the best dog trackers we've seen, and a purchase you won't soon regret.
Specifications:
Size: 89x44x47mm
Weight: 265g
Battery Life: 20-40 hours
Waterproof: Yes
Virtual Fence: Yes
For Pets Over: 15kg
Subscription: No
Activity Monitoring: No
Tracking Capabilities
You'll find that this gps tracker can locate your dog from a distance of up to 10km away; an ideal range when you are out hiking together or enjoying the countryside.
What's more, if you like to walk in groups, it is able to simultaneously track up to 20 dogs (or their handlers) at a time. All you need is for each dog to have a K 5 collar.
The tracker that comes with the collar is updated every five seconds, and while it does not need a subscription for you to use it, it does come with a one year sub to BirdsEye Satellite Imagery; providing you with better maps that you can use to track your dog.
It will show you the terrain surrounding your og, including things like roads, woodland, and water. Even in demanding environments, the signal manages to get through so that you can get your dog back quickly.
Features
One of the best features that this model has is the LED light system. If you see your dog approaching a road on your tracker, you can activate the lights on their collar so that road users are able to see them.
You can also talk to them through the collar, allowing a well-trained dog to be guided back to you with simple commands – as well as offering reassurance if they ran away because they were spooked.
The handheld tracker has an emergency alarm that will alert other users in your chosen group to the fact that your dog is missing.
If it drops below 25% battery, the location will be sent out to others immediately so that they can start planning their route to you. This is called Rescue Mode, and it is especially handy if you feel your dog is in danger. As a side note, the touchscreen on the tracker can be used with gloves so your fingers don't freeze in the winter.
It does have a virtual fence feature, and will alert you when your dog nears the boundary so that you are prepared to go and stop them from escaping.
Additionally, there is a really fun walking feature that will allow you to use the map on the tracker to plan your next route – you can even transfer it to your mobile phone to look at later and conserve the tracker battery. It's robust, waterproof, and ready for anything that your dog throws at you.
Battery Life and Charging
The long battery life is good when you consider all the features it comes with, and even if you don't find your dog within a couple of hours you have nearly two days of battery to keep you going.
The recharge time is good as well, as you only need to wait 2-3hours before it is ready to go again. You can even charge it on the go with the provided USB cable for added convenience.
Pros
No Subscription
Great additional features
Exceptionally durable
Cons
The price is quite high
Shorter battery life
No activity monitor
---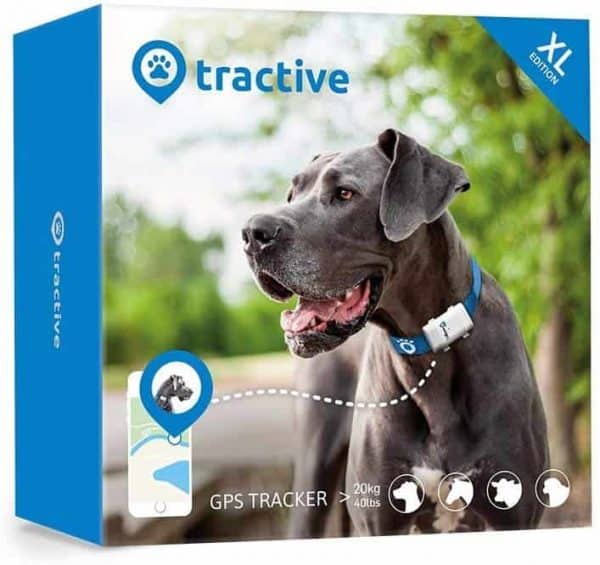 5. Tractive GPS Dog Collar XL Edition
Best GPS Dog Tracker for Large Dog Breeds – Bigger dogs need bigger trackers, and this is the perfect model for those with large or giant breeds.
Coming back to Tractive, there is a reason they are one of the market leaders for pet trackers.
This particular model was designed for large and giant breeds, allowing them to be comfortable while also ensuring you have a substantial device to keep tabs on them.
It's especially handy if you have hounds that love nothing more than zooming after deer. There are a couple of flaws, but nothing is perfect.
This pet tracker is pretty close, however, and you are sure to find it gives you a lot of comfort when out on the trail.
Specifications:
Size: 80x49x29mm
Weight: 142g
Battery Life: 6 weeks
Waterproof: Yes
Virtual Fence: Yes
For Pets Over: 20kg
Subscription: Yes
Subscription Cost: Approx. £3.33pm
Activity Monitoring: No
Tracking Device Capabilities
As it uses GPS for tracking, you will need to pay a subscription fee in order to use it. The good news is that it is actually relatively small at roughly £3.33 per month, and will provide you with a good year of connectivity to help you keep an eye on your dog.
The results are sent to you live, allowing you to see exactly where they are at all times for faster retrieval.
It also works in over 150 countries, which means those that love to travel don't need to worry if they want to bring their dog along. Plus, there is no range limit so you can see where your dog is from anywhere in the world as long as you have a mobile connection.
You can also check out their location history, which is great if you are searching for your dog or just want to see what your daily walk looks like on the map.
Features
It's got some great features, although it is missing the activity tracker that a few of the other Tractive dog tracker models have (like the Edition 2019 above).
However, it does have the virtual fence. This is great because you can set a pre-determined area that you don't want your dog to leave, and if they do you will be notified immediately.
This helps with training, but also mean you have better tabs on dogs who love nothing more than to escape. You can also share the location app with family and friends to keep a wider search radius.
The tracker is also waterproof and incredibly durable, which means no amount of swimming or playtime will see this model damaged.
Battery Life and Charging
The battery is one of the best that Tractive have, lasting up to six weeks before it needs to be charged again. This is perfect if you just can't seem to catch up with your dog and need more than a few hours to get them home safe again.
Additionally, the charging time is only a couple of hours, which is perfect if you and your dog want to get back out there again quickly.
Pros
Perfect size and build for large breeds – lightweight
Live tracking and constant GPS
Incredible battery life
Cons
Does require a subscription
Only uses a 2G network
The minimum virtual fence area is a little large
---
Previously Featured Models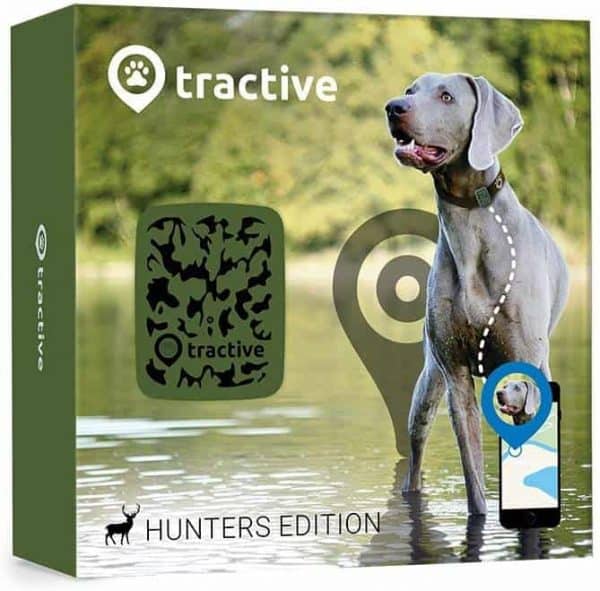 6. Tractive Hunter Edition
Best Dog GPS Tracker for Woods and Rural Locations – Ready for a walk in the countryside? Keep your dog in sight with this rural tracker.
Walks in the countryside and rural locations can be wonderful for both you and your pet.
We all need that fresh country air, and Tractive can help you keep an eye on your pet when you lose sight of them.
Whether off chasing a deer or distracted by exploring, you'll always know where they are with this GPS tracker.
Made for the country, you don't need to worry about lost signals due to trees and the outdoors; it will help you and your dog find each other again.
Specifications:
Size: 51x41x15mm
Weight: 35g
Battery Life: 2-5 days
Waterproof: Yes
Virtual Fence: Yes
For Pets Over: 4.5kg
Subscription: Yes
Subscription Cost: Approx. £3.33pm
Activity Monitoring: No
Tracking Capabilities
The GPS tracking here is superb, working seamlessly across both North America and Europe so that those who travel with their dogs don't need to worry about the tracker not working in a new country.
You will receive real time tracker updates directly to the app on your phone, pinpointing your dog's location accurately so that you can go and retrieve them quickly.
Unhindered by the growth of the country, it is the best dog tracker for rural areas. There is a subscription in order for you to be able to use it, but this is actually very affordable at around £3.33 per month and helps protect your pet.
Features
Unlike some of the other Tractive models, this one doesn't have an activity tracker. However, it does come with the virtual fence which ensures you are alerted when your dog leaves a pre-designated area.
While this area is quite large, it is a handy tool to have if your dog is prone to wandering and escaping the garden.
It is exceptionally durable as well, ensuring that it can survive anything your dog throws at it. It is also waterproof for all the swimmers out there, and if you like to take your dog on shooting trips it will remain securely attached to the collar even if they decide to run through the bushes.
It can be worn by any dog over 4.5kg, and can be attached to any collar for better flexibility.
Battery Life and Charging
The battery lasts a long time, with up to five days of tracking available if they go missing. While the hope is that you find them within a few hours, you at least have peace of mind if they keep escaping you.
The charging period is very good as well, as it only takes two hours for it to fill up again ready for the next adventure.
Pros
Doesn't lose signal in rural areas
Perfect for pets over 4.5kg
Global location live tracking
Cons
Does have a monthly subscription
Only uses a 2G network
Virtual fence minimum distance is quite large
---
How Does a Dog Tracker Work?
The GPS pet tracker is installed in the collar, and it will use this integrated GPS technology to constantly monitor and update its current location.
Generally speaking, you can view this information using an app or a web page – depending on the manufacturer of your GPS pet tracker.
So, if your dog goes wandering and you can't find them, you'll be able to see their current location from your phone so that you can go collect them quickly.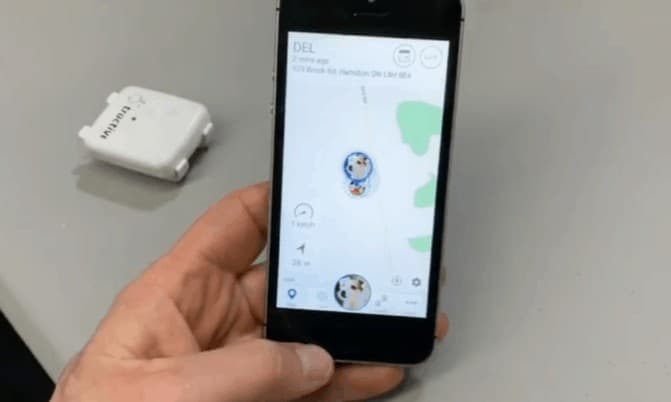 Some dog trackers are even connected to pet recovery centres to double your efforts of getting to them quickly. There are other things that a gps tracker can do, like create a virtual boundary for it. This works a lot like an invisible fence, and the tracker will alert you if the dog crosses it.
For many, it makes training them to stay within a specific area much easier. Some models will even let you see your dog's travel history so that you can check where they have been over a set period of time.
Dog Tracker GPS vs Microchip Implant
Here's the main thing; microchips do not have GPS location. Every dog should have one though because it contains all of your contact information and your pet's details.
Additionally, in countries like the UK, it is the law to have your pet chipped. They can only be implanted by a vet or a registered and licensed chipper, and it is important to ensure that the person carrying out the task is registered.
So, while microchips are fantastic for getting in touch with the owners of lost pets, they are not going to be able to track them.
It's a common myth that you can implant a dog GPS tracker into your dog either inside or in addition to a microchip. It is important to realise this is completely false, and the only way you can track your dog is with an external device.
A microchip is also unable to connect to mobile devices and display information/location as it is completely incapable of GPS. Anyone who tries to sell you a GPS chip for your dog is scamming you.
A gps tracker is exactly what you need if you are worried about your dog escaping or getting lost. They are able to tell you where your pet is at all times and, depending on the type of tracker you have, will keep you updated in real time no matter where you are.
The best thing is to have both a tracker and a microchip, because even if you know where your pet is you don't know who will get to them first. Be safe, chip and track your dog.
Dog GPS Tracker Microchip
Worn externally
ID chip implanted in your dog
You can track your dog in realtime using GPS
Not possible to track your dog in any way
You can find your pet alone without help
Need to rely on others to find/scan your pet
Not a legal requirement
Legal requirement in many countries
Monthly Subscription vs Non-Subscription
It's a difficult choice to make. After all, a subscription can add up over time, so here is a quick list of differences to help you make the choice that is right for both you and your dog.
No Subscription Advantages
Wider Access. The no monthly fee pet trackers might not have the same range coverage as the paid ones, but they can access more areas. As the paid versions tend to rely on mobile towers.
Wilderness Friendly. Due to the fact that it is not limited by signal areas, it is much easier to take camping and hiking in areas with thick forests and vegetation.
Better battery life. Due to the fact it's not using mobile signal constantly, these trackers tend to have better long battery life overall.
Subscription Advantages
Better Range. The subscription has a massive range because of its communication with mobile towers. This is far superior to the free options as they can usually only reach a few miles at most.
Additionally, you can use the app wherever there is a mobile signal in order to keep an eye on them while you search.
Family & Public Sharing. You can share your pet's location with friends, neighbours, or your pet sitter simply by them adding the tracking app to their phone.
Convenience. Unlike the radio pet trackers where you are required to carry around a separate handheld device, subscription-based GPS trackers simply connect via an app on your mobile phone.
Important Features to Look for
Before you go and buy your dog tracker, there are some features that you should keep an eye out for.
Size. Not all pet tracker collars will be suitable for your dog, some will be too big and others will be too small for your breed, so the first thing is to check is the specifications.
Weight. Is it too heavy for your dog? This is an issue with the tracker that is built into the collar. For smaller dogs, in particular, it can weigh them down and become uncomfortable. For these little guys, the ID tag version is usually a lot better. You need to ensure that the weight of the collar is suitable for your dog. For example, a greyhound is a larger dog, but they are also far too delicate for something overly heavy and bulky.

Battery Life. The best dog trackers will actually last a few days (the average being 2-5), but there are also some that last weeks. It really depends on the type of tracker you choose as well as your budget.

Virtual Fence? The virtual fence is a safe area that you have designated using the tracker app (you'll find instructions on how to do this in the manual). If your pet leaves this safe area, you will be notified via the tracker app so that you can go and retrieve them.Similarly, any friends or family you have shared the tracker app with will also get a notification. Many people use this for training purposes, but also if they have a large garden that is either unfenced or less secure.

Subscription? This really is down to your personal preferences. In the section above, we went through the differences between the free and subscription models of pet tracker. In essence, the free models are cheaper in the long run and have a better battery life, but the paid ones have a much wider range if your pet goes missing.

Activity Monitoring. This is a fun one, and it helps you see how much exercise your dog has been getting. Are they spending enough time running outside Are they eating enough or too much? Tracker apps with the activity monitor can help you keep an eye on their physical health and also ensure that they are receiving enough calories and nutrients. Plus, if you have an activity monitor of your own, it's a great way for both of you to keep fit.
Other Features
Here are a few of the other features that you may want to keep in mind while you are browsing through the options below. They aren't necessary, per se, but they may still have an impact on your choices.
Temperature. An interesting feature, but also one that is useful in countries with polar opposite seasons, or for dogs who are not necessarily suited for their current climate. Think sausage dog in the Canadian winter. A tracker that has this feature will monitor their body temperature and let you know if they are getting too hot or too cold; allowing you to make preparations for that winter jumper or a quick stop in the shade.

Durability. The best dog trackers need to be able to withstand the running, bounding, getting wet and playing that your pet enjoys every day. It will also need to be securely attached to the collar so that it doesn't fall off during playtime, or potentially get caught on branches while they are frolicking.

2G/3G/4G/5G. Most of the dog trackers that use mobile signal only use 2G. This is much slower than the 4G (possibly 5G, depending on location) signal that we are used to. Therefore, it could cause the location to lag and lead to inaccurate results. Where possible, invest in something that at least uses a 4G signal to improve the accuracy of the tracker.
FAQs
ARE THERE MONTHLY FEES ON ALL DOG GPS TRACKERS?
---
No, not all GPS trackers have monthly fees, with the main example of this being the Garmin K 5 we have listed above. The reason that most GPS dog trackers have fees is that they need an embedded SIM card in order to work, and this will require you to open up a contract with a mobile provider so that you can activate and use the tracker.
Though most models featured in this guide come with a subscription plan instead of you needing to buy a separate SIM contract.
DOES A GPS DOG TRACKER USE A LOT OF DATA?
---
No, a GPS tracker doesn't use a lot of data. In fact, you should find that it only uses around 5mb a day (approximately 30mb a month) with all of its features and functions activated.
Most GPS dog trackers will actually include data costs in your monthly subscription, so when you spend £3.50 or so each month, you are paying for the data and the SIM card that has been provided. All of the trackers we have listed include this bonus. However, there are some trackers out there that will require you to buy your own SIM.
WHAT IS A VIRTUAL FENCE?
---
A virtual fence for dogs is different from the ones used for livestock. For the latter, the collars control their movement so that they don't go past specific boundaries. For dogs, the tracker will notify you (and anyone else added to the tracker by you) if your dog leaves your set boundaries. That way, you can go and retrieve them and ensure they are safe.
ARE MICROCHIPS AND GPS TRACKERS ARE THE SAME THING?
---
No, microchips and GPS trackers are not the same. A microchip is implanted in your dog and contains your contact details as well as information about your pet. It can be scanned when your pet is found so that you can be called.
Vets, councils, the dog warden, rescue centres, and registered microchippers will be able to scan the chip for you. A GPS tracker is attached externally to your dog's collar and can be tracked using an app or another device so that you can see their location.
DO MICROCHIPS HAVE A GPS FUNCTION AND YOU CAN FIND YOUR DOG IN CASE HE GETS LOST?
---
No, microchips do not have GPS functions, but you can find your dog if they get lost. A microchip only contains your contact information and details about your dog, and while this means that they cannot be tracked, it does mean that you can be contacted if they get lost.
They are usually scanned by either the vet, council, dog warden, a rescue centre, or a registered microchipper that is willing to come out and scan. Therefore, you can find your dog with a microchip – you just have to rely on others to find and scan them.
CAN DOG GPS TRACKERS BE IMPLANTED IN DOGS?
---
No, GPS trackers cannot be implanted in dogs. Only microchips can be implanted and these do not have GPS functionality.
HOW MUCH DOES IT COST TO PUT A GPS CHIP IN A DOG?
---
Putting a GPS chip in a dog is not possible, so it costs nothing. If you decide to purchase a GPS tracker, however, the price tends to start at around £20 and can go upwards of £100.
CAN YOU PUT A GPS TRACKER IN YOUR DOG?
---
Putting a GPS chip in a dog is not possible, so it costs nothing. If you decide to purchase a GPS tracker, however, the price tends to start at around £20 and can go upwards of £100.
HOW DO GPS DOG TRACKERS WORK?
---
GPS dog trackers work by sending the signal from your dog's collar to an app on your phone (or a web page) so that you can see their location in real time.
The tracker itself is usually attached to the collar in a box, but there are also ID tag versions available as well. Using the mobile signal from the collar, you will be able to keep an eye on your dog's location and pick them up faster if they go missing.
To Conclude
We hope that this guide has been able to teach you more about dog trackers, the way they work, and the types that are available to you. It should be a lot easier to pick the one that works for you, and the selection we have here is absolutely fantastic.
There are some fantastic dog trackers here, and whether you are looking for the best dog tracker for small dogs, or the ultimate GPS pet tracker with iPhone app, we have exactly what you need right here. These models are kind on your wallet without skimping on quality or features, and the one you choose is sure to help give you peace of mind and well as keep your dog safe.
What did you think of our GPS dog tracker guide? Did it help you to find the best model, or are you still left wondering what the right choice is? We love hearing from you, so make sure to leave us a message in the comment section below.
Article Last Updated November, 2023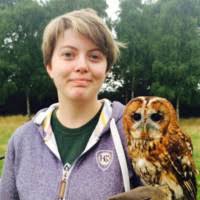 For over a decade, Adrienne has been a freelance content writer and blogger who's passion lies in anything related to dogs. Growing up, dogs were a very important part of family life in the Hardwick household. Now, Adrienne is the proud parent to two Swedish Vallhunds called Moose and Pumpkin.