Taking your dog for a walk is one of the best parts of the day. It gives you and your canine companion time to relax, breathe in the fresh air, and strengthen your bond. Getting away from the stresses of everyday life is important, and a walk with your dog can do just that.
Whether you live in Kent or are just visiting, it is one of the most beautiful areas in England. Filled with amazing sights, dog walks in Kent are sure to leave you with some wonderful memories.
In this guide, we showcase some of the best for you, alongside dog friendly beaches in Kent. Take a look and see where your next walk will take you.
Dog Friendly Country Parks in Kent
Country parks are a wonderful place to take your dog for a walk, and in Kent, there is a good number of them. We go into further detail about our top three country parks a little later in this guide, but here they are in short for you:
Kearsney Abbey.

Built in 1822, not much of the original house remains, but you are sure to be left feeling amazed when you visit these beautiful and diverse grounds for your daily walk with your dog.

Jeskyns Park.

This country park actually consists of five different areas, each with a new form of terrain for you and your dog to explore. With a number of routes, and loads of activities, it makes the perfect day away for families and their dogs.

Darenth Country Park.

While recent in terms of its construction, this country park has deep ties to the past, making it the ideal place for history lovers to visit. Plus, there are some wonderful meadows for your dog to run in.
Dog Friendly Beaches in Kent
Sometimes, all you need is a little sea air to turn you back to your normal and functioning self. Kent has a fantastic selection of beaches that you can visit, each of which makes the perfect day trip for you and your pooch.
Here are some of our top choices for dog friendly beaches in Kent, as well as a little more information on each:
Abbot's Cliff.

This beach is a hidden gem, and one that is not widely known outside of the naturist community. While not an official nudist beach, it has long been established by the community as such. So, if you are looking for a place to let out your inner naturist and walk your dog, this peaceful little shingle beach is perfect.

Palm Bay.

Near to the centre of Margate, this sandy beach is a great little getaway if you are looking for a quiet morning walk. It never seems to get as bust as the surrounding beaches in terms of people and tourists, but it is the best and most popular for walking dogs – so expect to meet a lot of new friends.

Tankerton Beach.

Old fashioned, this shingle beach features a stunning selection of multi-coloured beach huts and classic wooden groynes. It's a great place for families and dogs, and there are even attractions, such as a skate park, nearby to keep everyone entertained.
Dog Friendly Pubs in Kent
A long walk often calls for a cold pint, and stopping at the pub is often the number one choice.
In the UK, we are lucky to have so many pubs that will allow dogs inside (even during food service). Here are some of our Kent favourites for dog friendly pubs, and a little more about them:
The Swan, Maidstone.

This pub is about two minutes from the town centre, and even has specific parking for your canine companions. With three resident dogs that are happy to meet everyone, it's a great (and highly recommended) place to stop for a pint and a spot of lunch.

The King's Arms, Boxley.

If you are taking walks along Pilgrim's Way, this makes the perfect stop on your journey for a quick refreshment (and maybe a little nibble). Plus, there is a roaring fire in the winter to keep everyone warm after cold walks.

The Darnley Arms, Cobham.

Whether you have a perfectly behaved dog or one that is getting used to the pub life, this pub will do everything they can to make you feel welcome – even after a messy walk. Plus, the food and drink selection is fantastic.

The Bridges, South Darenth.

If you are strolling in the Darenth area, this village pub makes the perfect place to stop for a drink and some lunch. With doggies welcome at all times, everyone is sure to enjoy this little rest stop.
Kearsney Abbey
Situated on the outskirts of Dover, Kearsney Abbey used to be a grand country house and estate. Constructed in 1822, the only thing that remains of the house is the café, which is grade II listed. However, it is still one of the most popular places for people to visit in the Kent area.
The reason for this is that the surrounding land has a rich variety of trees and plants that make it both a beautiful and serene place to walk. Plus, there are a number of ornamental lakes and open parkland areas to keep the landscape diverse.
There are plans for activities to take place in the future, and the park will be further developed into a beautiful walking space, thanks to a recent grant.
Most routes in the area are wheelchair accessible too, which is great. Bear in mind that your dog will have to remain on the lead in some areas, however.
Jeskyns Park
This country park is situated in Cobham, and it used to be a vast stretch of farmland. Since then, it has been transformed into a completely new place. Jeskyns Park actually consists of five main areas now:
Jeskyns orchard
Jeskyns meadow
Jeskyns glade
Jeskyns grove
Jeskyns woods
Each of these areas provides you with somewhere new and exciting to walk, which is brilliant for both you and your dog.
The orchards contain hundreds of trees, each of which produces a different fruit. The meadow contains over 3o species of flower and grass that your dog can run and jump in freely.
The glades sit alongside the ancient woodland, encouraging regeneration and new life for the area. Nearby is the new Jeskyns woods, in which over 130,000 new trees and shrubs were planted.
The grove is a central location for the feeding of birds and other wildlife, with hundreds of plants that they feed on naturally. Perfect for birdwatching.
There are loads of family activities here, including the Gruffalo Trail for kids. Dogs are welcome to Jeskyns Park as long as they are controlled and owners adhere to the rules.
Most areas are off-lead ones, but there are some places where they will need to be on the lead, or where they are not allowed at all – just make sure you read the signs. There are also accessible routes for wheelchairs and pushchairs.
Darenth Country Park
This country park was originally opened as part of the millennium celebrations. However, for those that like a little history, this site has some very strong ties to the past.
The site of numerous Saxon graves, it has a firm archaeological background, making it a great place for history buffs to visit on a day off. There is even a museum showcasing the finds close by.
The park primarily consists of grazing pastures and wildflower meadows, and there is one section of the area that has been marked as an area of special scientific interest.
The orchard is home to over 150 varieties of fruit tree, making for both a beautiful and delicious stroll.
There is a place for children to play if you are thinking of a family walk, and there is also access for wheelchairs and pushchairs.
Dogs are welcome, and they may run off the lead – just make sure you read and adhere to the signs. Ample parking and a picnic area help this to be one of the best walking locations in the area.
To Conclude
Hopefully, this guide has helped you to find the best dog walks in Kent for you and your pooch to take together. Whether you want to take in some of the local histories, or just play in the sea for a few hours, there is a walk here that is sure to excite and interest both of you.
There is so much to choose from, and your next adventures are sure to be fantastically exciting ones.
What did you think of our Kentish dog walking guide? Are there any walks that you would have added to the list? We love hearing from you, so leave us a message in the comments below.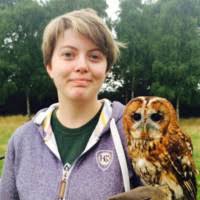 For over a decade, Adrienne has been a freelance content writer and blogger who's passion lies in anything related to dogs. Growing up, dogs were a very important part of family life in the Hardwick household. Now, Adrienne is the proud parent to two Swedish Vallhunds called Moose and Pumpkin.