When it comes to controlling our dogs, the challenge is not always an easy one to conquer. Some dogs are easy going and happy to do as they are told, but there are others that are more wilful and want to do things their way – a lot like people.
Of course, if you are in need of a training aid, or have a particularly noisy pooch in your home, there is something that can help.
Training collars are a fantastic way to help get things back on track and help keep your dog under control.
There are several different types out there, with the main choices being between spray and vibration collars that let your dog know they need to stop barking. Thankfully, electric shock collars were banned in 2018 due to the cruelty and trauma that a dog suffers when they are used.
Instead, you can choose from some excellent (and effective) humane methods, which you will see more of below. It's not always easy to know which collar is going to be right for you and your dog, but we are here to give you a hand with things.
In order to help you find where to buy the best dog training collar, we have put this guide together, compiling all of the relevant dog training collar reviews in one place, allowing you to find one that helps with your training regime.
1. Best Adjustable Dog Collar - TopDog
Training is not always easy, so why not try a collar that has been designed for the job? Safe and gentle on your pet, it helps you to work bad habits out without causing your dog any distress. What better combination is there?
The Good
This particular collar uses sounds and vibrations to correct any excessive barking. There are seven different levels, with each one increasing the duration of the sound and vibration.
So, the more the dog barks, the longer the collar is activated for. There is a sensitivity adjustment setting as well, which allows you to tailor it to dogs both big and small.
Leading on from this, the collar can be tweaked to fit various breeds, and pretty much every dog is catered to. The most important thing is that it is actually comfortable for the dog to wear, ad the vibrations will not hurt them in any way.
Additionally, it is waterproof for rainy walks or trips to the garden, and it comes with two face plates so that you can choose the one you like most.
The Not So Good
There is no power switch, so the batteries run out pretty quickly and need to be recharged.
Our View
This is one of the cheapest training collars you will find, which makes it perfect if you are on a budget and looking to save money. While the absence of the power switch can be irksome, the recharge time is not particularly long so you don't need to wait for ages to be able to use it again. Using safe and cruelty-free methods, this is a fantastic choice if you are looking to stop excessive barking in your dog.
2. Best Citronella Dog Training Collar - Kaiercat
Excessive barking can be frustrating, and it's stressful for both you and your dog. However, there is a way you can train it out of them - without any need for shock collars or cruelty. If you want to learn more, take a quick look at this handy training collar.
The Good
This training collar actually uses one of the most popular and effective forms of correction; citronella spray. What this means is that when the dog barks, the microphone in the box on the collar will be activated; releasing a burst of harmless citronella into the room. Dogs are not too fond of this odour, and they will associate barking with the smell.
The collar itself can be adjusted to fit almost any dog, and it is also rechargeable so that you can use it again and again. The citronella can also be refilled when needed, offering 25 sprays per filling.
Waterproof, it can even be used when you are on a walk and want to correct naughty behaviour. It is also fully approved and certified, as well as adhering to EU safety standards.
The Not So Good
It does not come with the citronella spray, which must be purchased separately, and also does not work on dogs with very long necks.
Our View
This training collar comes at a good price, and it works well which makes it well worth the money. While it does not come with the spray, the bottles are actually very affordable and will last you a surprising amount of time.
As for dogs with long necks, it is just because the spray will not be as strong for them due to the time it would take to reach the nose. Other than this, it has been shown to be one of the most effective training collar types and is certainly worth trying.
3. Best Waterproof Dog Training Collar - LumoLeaf
Training collars can be used for a number of reasons, and one of these is home training; both in the house and the garden.
This is a fantastic collar for just that, and certainly our top pick if you want to test out remote training for yourself.
The Good
This training collar is completely safe for use with your dog, using a combination of vibrations and sounds to correct any behaviour that you don't want your dog to display. It also has a fantastic range of 500 yards, so you can keep an eye on your dog and really perfect your training, especially if you are trying to create an invisible border.
The remote will actually let you train two dogs at once thanks to its dual functionality, all you need is an extra collar. There are 100 vibration levels, and you can choose whether to solely use vibration or sound, as well as both. The collar is also a one size fits all, so you shouldn't have any trouble adjusting it to your dog. Completely waterproof and with rechargeable batteries, it was built to last.
The Not So Good
Some customers have found that it is less effective when walking their dog, but a lot of this is down to how distracted and headstrong your pooch is.
Our View
This training collar is exceptionally affordable, with a low price point that won't leave you out of pocket. It works effectively, and while there are some who had issues when outside the home it is important to remember that like all training this will take time.
Otherwise, it is both comfortable for the dog and easy for you to use, as well as giving you the opportunity to train two dogs at the same time. Certainly one of the best training collars we have seen.
4. Best Dog Collar Under £100 – PetSol

Training collars can be expensive to buy, but we are here to help ensure that you don't end up spending too much when looking for a little help with control.

This collar from PetSol could be just what you were searching for, at the best price, so make sure you take a moment to read below.
The Good
This training collar has a couple of colour choices for you to look at, and it can be adjusted to fit any breed with absolute comfort – from a tiny Yorkie to a Great Dane.

The strap itself is made from nylon, creating a soft barrier that doesn't rub, but also remains durable and robust, even when used for extended periods of time. It's even reflective, adding an element of safety to evening walks.
There are nodes on the back of the main box on the collar, and two different sizes are included with the purchase so that you can use the ones that suit your dog's size best.
These do not cause any discomfort or harm, and simply act as receptors for the vibration and sound to be activated. There are also eight training levels included so that you can both work together at a good and easy pace.
The Not So Good
Some customers feel that it can become a little loose when worn by dogs that like to run and move around a lot.
Our View
This training collar comes at a very reasonable price, and has everything you need to really take control and start helping your dog to become a better citizen.

While there are some who feel it can be a little loose when worn by dogs that are especially active, this does not weaken the effect, and it will still work excellently to stop them from barking. Fully adjustable and with multiple training levels, it really does make for the ideal solution to unruly vocals.
5. Best Remote Dog Training Collar – Pet Safe
Sometimes, a training collar works best when the remote is in your hand, allowing you to correct behaviour that you dislike with the press of a button.
This collar might just have what you are looking for, so take a moment to read the reviews below and see what you think of it.
The Good
This training collar features a simple design that is easy to get around your dog's neck, while also remaining comfortable.
The strap itself is adjustable, allowing it to fit a number of dogs effortlessly, and you won't find that it weighs them down either as the box is incredibly lightweight.
There is even a remote included so that you can correct behaviour from a distance, keeping your dog's trust.
It uses a citronella spray, something that dogs hate the smell of, that you can trigger using the remote when they behave badly and you want to correct the behaviour.
Alternatively, there is a sound correction system that you can use instead, or in addition to the spray. There are two levels of spray stimulation for you to choose from as well, allowing you to pick the best method for your dog.
The Not So Good
Some customers feel that you need to be closer than the maximum distance advertised for the remote to be truly effective.
Our View
This training collar comes at a good price, and is a great way to stop unwanted and unruly behaviour from your dogs.
While there have been cases where customers felt that the maximum distance was actually too far for the collar to work effectively, standing a little closer doesn't tend to cause any harm and the system works excellently as a whole.
If you are struggling to keep your pooch under control, you might want to try this humane, but smelly (for them) method.
Further Models of Dog Training Collar
Here are some further models of dog training collar, just in case the ones above do not quite meet your requirements.
6. Best Hunting Dog Training Collar – Tails Held High

This training collar comes with three different coloured faceplates so that you can pick the one that suits your dog best, and there are even two batteries included so that you are ready to go from the moment you receive it.
The strap is comfortable for your dog to wear, as well as reliable and very durable for added protection. You can even adjust it, which means that it will fit any breed of dog at practically any size, providing full flexibility.
There are seven training levels too, so you and your dog can work at a pace that suits you both.
It is incredibly humane too, using a combination of vibration and sounds to stop your dog from barking and help you with training. All for a great price, too.
What are the Benefits of Buying a Dog Training Collar
Sometimes, our dogs just don't seem to respond to us when we try to train them. They may be stubborn, strong-willed, or just a little mischievous. Of course, there are some habits that need to be broken for their safety as well as our own - or just because the neighbours are starting to complain about your dog's barking and you don't want to get fined.
This is where a training collar comes in handy, but in the UK we have something a little different to the type of collar that has automatically entered your head. Electric shock collars are banned in the UK because they are cruel and can harm your dog (something you can learn more about in the FAQs a little later on). As a result, we have had to find other solutions that will still kerb bad habits without hurting your pup. These are in the form of vibrations, sound, and a citronella spray.
So, why is a training collar so beneficial, and is there any point in you getting one? Well, if you are stuck for training your dog, this might just be the answer to your prayers. Here are some of the uses for training collars, as well as their benefits.
Containing your pet.

If you want to create a virtual fence in your garden, this is one of the best ways to do so. Every time they reach the border, you get the collar to vibrate or make a sound. This will alert the dog, and over time they will learn to stay away from the invisible line. This is an especially handy benefit if you have no fence and are not allowed to construct one.

Stop them from barking.

Excessive barking can be frustrating, especially if the neighbours are threatening to put in a noise complaint. Using a training collar can help to get rid of this habit, as it will activate as soon as barking is detected. For the citronella spray, the release will surprise them into silence, and the release of the odour will be associated with barking. For sound and vibration, it is much the same in that it startles your dog, and the more they bark the long the sound and vibration go on for.

Improve their training.

More specifically, this tends to refer to off the lead training, where the dog is running loose and you use the training collar to help correct misbehaviours. This could be used for things like food aggression, or aggression towards other dogs but in a controlled environment. It may also teach them to stay away from things that could hurt them, like busy roads near unsecured dog walking areas, as well as cycle paths. It can be a good aide to general training, but only in a few situations.
5 Things you need to know Before Buying your Dog Training Collar
So, you're ready to pick up a training collar for your dog. You've done most of your research and you think it might just be time to bite the bullet and get started. Before you do, it is worth checking out these five things that you should keep in mind before you pick up your collar.
#1 It's not instant. A common misconception is that dog training collars give instant results that will have your pet trained within a day. This is completely false. Like all training methods, it will likely take a bit of time to complete, and you will need to be patient. Every dog is different, and they all have varying needs and forms of learning. So, keep at it, and don't get frustrated when your dog isn't immediately trained.
#2 Maximum range. What kind of range do you want the collar to have if it is a remote training collar? Are you training them to learn an invisible boundary outside, or do you need to help them learn better habits when they are out walking? If you are considering a remote collar, this is one of the most important features.
#3 Check the size. Most training collars are one size fits all, but this is not always the case; especially if you have a giant breed. You need to ensure that the collar will fit their neck comfortably, and also that the vibration, sound, or spray will be registered by them.
#4 Waterproofing. Again, this is something that most (but not all) training collars include. However, if you want to do training outside or on walks, a waterproof mechanism is vital to the process. After all, you can't have it shorting out mid-session because it wasn't able to cope with all the moisture.
#5 Price.
What's your budget and how much are you willing to spend? Training collars are not typically expensive, but you should still set your boundaries. Price doesn't always come level with quality either, so spending more does not guarantee a superior collar.


Frequently Asked Questions
Is a Training collar Safe for my Dog?
Yes, a training collar is completely safe for your dog. This is because they only use sound, vibration, or citronella spray. Each of these is completely harmless and designed to give your dog a surprise as opposed to an electric shock. They are effective for training, and they will not cause increased aggression because your dog is not feeling any pain, they are just a little startled by the sudden sound, sensation, or smell.
Does a shock Collar Hurt the Dog?
Yes, shock collars do hurt dogs - unlike training collars. A dog may not yelp when they are hurt, but they can still be in pain. Similarly, there may be no signs on their skin that they have been harmed by the electric shock. This is because the damage caused is actually deep in the tissue, and it is left to grow worse the more the shock collar is used.
Even low voltages can cause this, leaving your dog with lasting damage that is very difficult to diagnose. It is for this reason that shock collars are banned in the UK; they are cruel and actually not massively effective. Beware shock collars that label themselves as human; it's all a lie.
Shock collar manufacturers will rarely recommend you use anything past the lowest voltage, and those that combine shock with vibration and sound will encourage you not to use the shock feature. This is them admitting that their product is harmful, and this is why it should never be used on your dog.
Do you leave dog collar on all the time?
No, you should never leave any kind of dog collar on at all times. In the case of training collars, it can become uncomfortable after long periods, as well as distressing if it is able to activate 24/7. Ideally, a training collar should only be on for 6-8 hours a day, and never longer than 12 hours.
The other reason that a collar should never be on at all times is because it is possible for the dog to get caught on something and end up hanging themselves; it's even happened on kitchen cupboards. Or, if a dog scratches they can get their food tangled and choke themselves. Unattended collars can be very dangerous.
At what age is it OK to use a shock collar on a dog?
You should not use a shock collar on a dog at any age, but a training collar that uses vibration, sound, or a spray can be used from six months of age. It should be noted that while this is the minimum age, many experts believe that waiting until your pup is around eight months old is much more sensible. This is because puppy skin is more sensitive to things like vibrations, and their senses are still fully developing.
To Conclude
Hopefully, this guide has helped you to find the best dog training collar, and the dog training collar reviews have given you some guidance it comes to figuring out which one is going to help you train your dog and give you a better level of control.

Not every dog is going to be easy to train, and there are some that will have a better time of it than others. This is something that we understand as dog lovers, and it is why we have selected an excellent range of training collars for you to look through.

Each of them has different styles and advantages, so you are sure to find one that works perfectly for you and your dog. In addition to that, we have ensured that every breed and size is catered to, but also that there are cheap deals that will be kind to your bank account. It's a situation that you simply cannot lose.
You may also be interested in reading our guide to the best dog harness.

What did you think of our dog training collar guide? Are there any that you would have liked to see or recommended? We love hearing from you, so make sure to leave us a message in the comments below.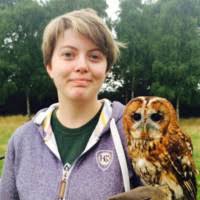 For over a decade, Adrienne has been a freelance content writer and blogger who's passion lies in anything related to dogs. Growing up, dogs were a very important part of family life in the Hardwick household. Now, Adrienne is the proud parent to two Swedish Vallhunds called Moose and Pumpkin.