Most dogs will suffer from bad breath and gum disease at some point in their lives. Often, we forget that their oral hygiene is just as important as ours.
If they don't have bones and other teeth-cleaning treats to munch on, it can become an even more urgent issue. There is nothing wrong with brushing your dog's teeth, and it can often be very beneficial for them.
To help you buy the right product and the best deal for your dog, we have put this guide together, showcasing the best dog toothpaste along with the relevant dog toothpaste reviews.
Take a look and see if any are right for you and your dog of course.
How to Choose Dog Toothpaste
It's not always easy to choose toothpaste for your pooch, after all, there are so many on the market that you can choose from.
In this section, we look at some of the criteria that will help you to know how and where to buy the perfect toothpaste for clean and healthy teeth.
The first thing you need to determine is whether you are buying for a puppy or adult. The toothpaste for either age dog can differ in terms of the strength and ingredients, as well as the way in which it helps their oral hygiene. Make sure you are buying the right toothpaste for the right dog.
Some toothpaste contains enzymes, and others do not. Generally, puppy toothpaste does not contain this as it can be a little harsh on the mouth, whereas adult toothpaste does contain it.
For adult dogs with more sensitive mouths, the puppy toothpaste can provide better relief and a more comfortable brushing experience. There are also some adult toothpastes that do not include the enzymes.
As always, the reviews can tell you a lot about a product. While it is always wise to take them (good and bad) with a pinch of salt, knowing what others customers thought and experienced is a great way to help you make up your mind when deciding if it's the right one for you.
So, when you go to choose a dog toothpaste, make sure you check out the reviews before you buy.
Things to Look for
There are a few additional features to consider when it comes to choosing toothpaste for your dog.
The first of these is the flavour. Generally, you will find that dog toothpaste has a meaty flavour to it, which is more appealing to your canine companion.
You should make sure that this is the case before you purchase the toothpaste so that they are not put off by a potentially minty taste as opposed to the classic meat one. Similarly, there are several meat flavours to choose from.
You will also find that some toothpastes come with a toothbrush in the packet. These are often better value for money and provide you with the means to brush your dog's teeth as well as the product you need to keep their mouth's clean. A multipack can be a great choice.
As a side note, finger brushes can be a great and easy alternative to the classic toothbrush. These are gel brushes that slide onto your finger, allowing you to slide your finger around their mouths and over their teeth.
Often, it is more comfortable for your dog as they are used to your hands, whereas a traditional toothbrush can seem a little intimidating and odd for them.
The Advantages of Dog Toothpaste
Here are some of the advantages to using toothpaste to brush your canine companion's teeth:
Fresh breath
Fights plaque
Can help prevent gum disease
Help keep their mouths healthy
Can whiten teeth
Fights tartar build-up
Now all that's left is for you to choose the perfect one for you. Take a look at our dog toothpaste reviews below.
Best Dog Toothpaste Reviews UK - From £3.99
Best Puppy Toothpaste – Beaphar
A trusted and reliable brand, Beaphar work to make sure that your puppy is prepared for the world.
This toothpaste pack might just be the perfect solution for their oral hygiene upkeep, so take a look at the reviews and see for yourself.
The Good
This toothpaste for puppies can also be used for dogs that are classed as small, which is great for when your small dog grows up.
It even comes with a toothbrush to get you started, so you don't have to worry about buying one separately.
Flavoured with liver, your puppy will have a hard time staying away from this delicious paste, so brushing their teeth will be much easier and improve the bad breath.
Working to counteract plaque and prevent tartar, you will find their oral hygiene greatly improved with this excellent paste.
The Not So Good
The toothbrush can be a little large and difficult to use.
Our View
At a low price, this is a great and affordable toothpaste for puppies will be a fantastic addition to their daily routine. Working to keep their mouth healthy, there is sure to be an excellent improvement if they are already showing signs of decline.
Despite the added toothbrush being a little large, it will surely be something they grow into in the future. A great buy at a great price.
FAQ's
Q: Is this Barphar puppy dental kit simply for puppys or can they continue to use it when they become adult dogs?
A: Yes you can continue to use this in adult life if they get used to a toothpaste they like, its best to stick to it but just up the toothbrush to an adult one which will come with harder bristles.
Best Puppy Toothpaste – Hatchwell
Puppies need their teeth brushed as well, and this puppy toothpaste from Hatchwell might just be the thing you need to keep their oral health perfect.
Take a look and see if this little pack is right for you and your pup.
The Good
This toothpaste is perfect for use with puppies and kittens, so it doesn't matter which furry friend you have, they can both benefit from this toothpaste.
It even comes with a handy finger brush to get you started, making the brushing process easier for everyone to get used to.
It has a meaty flavour to make it more appealing, and also works to prevent tartar and plaque from building up on teeth.
It even helps to freshen their bad breath once it starts to smell a little. Made with added calcium, you can even purchase multiple packs in bulk to keep you well stocked.
The Not So Good
The finger brush can be a little hard to use on very small puppies.
Our View
This excellent toothpaste comes from a trusted brand, but it is also highly affordable – so any budget can fit this nifty pack in it.
This purchase even comes with a finger brush to help you make the process an easier one. While it can be a little hard to use on small dogs, it is still very useful. With all the qualities you would expect from toothpaste, it's one to try.
FAQ's
Q: Will this help to remove plaque from dogs teeth?
A: Yes by brushing and wiping your dog teeth with Hatchwell you will be able to remove plaque. This is one of the most effective ways to remove plaque before it turns into tartar. Do not use human toothpaste as it contains ingredients that can cause an upset stomach when swallowed.
Best Dog Toothpaste – Arm and Hammer
Arm and Hammer are a popular brand among humans, and their dog products are just as effective to clean your dogs teeth.
If your adult dog is in need of some dental care, then you might want to take a look at this toothpaste. Have a read of the reviews and see for yourself how to keep your dogs teeth brushed regulary?
The Good
This toothpaste for adult dogs is sure to work wonders, and it contains enzymes as well as baking soda to help keep their teeth a wonderfully shiny white, as well as keep their breath fresh.
It will, in fact, fight against bad breath for up to 24-hours, making it incredibly effective.
It works wonders on teeth and gums, keeping them as healthy as possible and ensuring that gum disease is fought off effectively.
Plus, the baking soda runs along the gum line, breaking down plaque and tartar as it goes. It's even beef flavoured for extra appeal.
The Not So Good
The smell is very strong, which can be a little unappealing for owners.
Our View
Affordable and fast acting, this toothpaste is an excellent option for those who need something effective for their adult dog, despite the strong smell.
It contains enzymes for better action and additional whitening, as well as baking soda to really break down the plaque and tartar. It's a superb toothpaste choice of dental care, at a great price.
Further Dog Toothpastes
Here are some other brands of dog toothpastes, in case the ones above did not quite suit your needs.
Beaphar Toothbrush and Toothpaste Kit
Another one from Beaphar, this brand is certainly one to go with if you are looking for an effective and reliable toothpaste for your dog.
Made for adult dogs, this toothpaste will work hard to prevent the build-up of plaque and tartar on your pooch's teeth, as well as helping them to keep their breath fresh all day long.
Suitable for dogs of all breeds and sizes, this liver flavoured paste is one they won't resist.
Trixie Mint Toothpaste for Dog
A trusted brand, Trixie is great for dogs who need a little freshness in terms of their oral health. It contains bone meal, helping the teeth to remain strong, but also assisting in trying to keep them lovely and white.
This toothpaste will also help to prevent plaque and tartar, as well as ensuring that your dog always has wonderfully fresh breath. With a lovely and pleasant flavour, every dog will be wanting more of this toothpaste.
To Conclude
Hopefully, this buyers guide has given you some help when it comes to choosing the perfect toothpaste for your dog or puppy. With such a wide selection to choose from, you are sure to find something that is just right for you here.
Whether you are looking for something to keep their breath fresh, or to help keep gum disease under control, there is a toothpaste here for you.
Of course, choosing the best dog toothpaste is no easy task, especially since each one here is best suited to either an adult dog or a puppy.
What did you think of our dog toothpastes selection? Are there any that you would have added? We love hearing from you, so feel free to leave us a message in the comments below.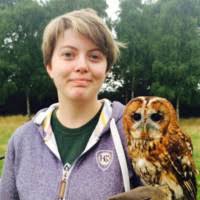 For over a decade, Adrienne has been a freelance content writer and blogger who's passion lies in anything related to dogs. Growing up, dogs were a very important part of family life in the Hardwick household. Now, Adrienne is the proud parent to two Swedish Vallhunds called Moose and Pumpkin.