Sometimes, our dogs are reactive or find other dogs stressful. They might be aggressive or frightened, but it doesn't change the fact that there is the risk they will bite. This isn't their fault, and a lot of the time it is because we, as owners, did something wrong to cause that fear and defensiveness.
However, this does not change the fact that the issue needs to be addressed carefully. Muzzles are a kind and humane option, and not one that you need to worry about harming your dog. Most models are very comfortable, and we have ensured that the ones selected here are the best you can get.
With loads of styles for you to compare and think about, you are sure to learn a lot about what is going to work for your dog. Plus, you have the knowledge that your canine companion is going to feel a little calmer on walks, and you won't be so tense because they cannot react aggressively if something provokes or triggers them.It's a fantastic solution.

It's not always easy to know which muzzle is going to be right for your dog, but we are here to give you a hand with things. In order to help you find where to buy the best dog muzzles, we have put this guide together, compiling all of the relevant dog muzzle reviews in one place, allowing you to find the best deals for your dog.
Best Basket Muzzles – Company of Animals
Basket muzzles are the traditional kind, and they do a great job of keeping your dog from biting, or even trying to scavenge off the floor (something many dogs enjoy doing).
If a classic basket muzzle is what you are searching for, why not take a moment and see if this one is going to work for you?
The Good
This basket muzzle has a classic box design and comes in a light brown, as well as 14 different sizes. This means that you can find an option that is comfortable for your dog, as well as one that offers a secure fit – accommodating practically every breed.
It is also very lightweight, which is a bonus for all dogs as it means that they won't find themselves weighed down – especially smaller breeds of dog.
The plastic mesh is soft and comfortable, providing a humane way to keep your dog safe, as well as others that they may meet.
It doesn't just prevent biting either, this particular muzzle is incredibly effective at stopping scavenging behaviour, so you don't need to worry about what they are eating. It is also completely washable, and still allows them to stop for a drink while out walking.
The Not So Good
Some customers did find that their dog was able to chew through the muzzle.
Our View
This cheap muzzle comes at a very good price for those who cannot (or don't want to) spend a lot of money. While there are some who claim their dog was able to chew through the muzzle while it was on, it seems they are likely to have bought one that is a little too small or left them with it unattended.
It is important to supervise your dog at all times when they wear a muzzle, and this one does a fantastic job of keeping them safe, while also allowing them to pant and drink when they are out.
Best for Larger Breeds – Company of Animals
Another model of basket muzzles from Company of Animals, this is a great product to look at if you weren't entirely convinced by the one above.
If you are looking to buy a good quality and reliable basket muzzle, we strongly recommend that you take a moment to look at this one thoroughly.
The Good
This model of basket muzzle comes in both black and brown, so you can pick the colour that you like most. It also comes in six different sizes, ensuring that every breed is able to benefit from one comfortably.
The soft head collar will not rub against their heads, and provides a comfortable hold that ensures security at all times, as well as a good hold that won't become loose with activity.
The head collar is also fully adjustable, thanks to the metal buckle on the back. It can even be moulded to create a better fit, as it becomes softer in warm weather before hardening once it cools down again.
The design also allows your dog to drink and pant when they are walking, ensuring that they are able to be comfortable when they are out, and they can even be given treats if you want.
The Not So Good
Some customers felt that their smaller dogs found the muzzle to be a little heavy, so it might not be the best option for terriers and the like.
Our View
This very affordable muzzle comes at a good price, and offers an excellent level of security for dogs who need them. While there are some who felt their small dogs were weighed down by this model of muzzle, it still remains ideal for larger breeds, and the above muzzle is perfectly suitable for smaller breeds.
Adjustable and allowing them the freedom to drink and pant, this model is a humane, comfortable, and friendly option for your dog.
Best Dog Muzzle That Allows Drinking – Pawaboo
Not every muzzle allows a dog to drink, and this can be restrictive as well as uncomfortable for them to wear when they are out walking. If you are in search of a muzzle that gives your dog a little more freedom than the traditional styles, this could be the one for you. Take a look below and see.
The Good
This halter comes in black, and is available in both a medium and a small size, which means that a good number of dog breeds and sizes are accommodated.
It is lightweight and slides over their nose and head with ease, while also remaining soft and comfy thanks to the nylon straps. It is also very easy to adjust, allowing you to get the perfect fit for your dog's head for added security.
It also features strips of luminous material to keep your dog visible at night or when walking in conditions with poor lighting – so you won't lose sight of them.
There is a buckle underneath, allowing for better control and for you to turn your dog's head away in stressful situations. This can also help eliminate pulling and aid in training your pup. It also allows them to drink and pant freely.
The Not So Good
Some customers found that the sizing was a little off for their dog.
Our View
This affordable halter is a great muzzle for dogs that aren't overly reactive and just need better control when they are out and about. While there are some who found that the sizing was a little off for their dogs, this can be avoided by carefully checking the measurements before you go to buy one for your pooch.

Overall, it does a great job of keeping them under control, while also allowing them the freedom to drink and pant as they need to.
Further Models of Dog Muzzles
Here are some further models of best dog muzzles, just in case the ones above do not quite meet your requirements.
Ancol - Dog Training Halter
This halter comes in black, as well as several different sizes so that every dog breed can be accommodated comfortably.
The fit is easy and fully adjustable, allowing you to take full control of your dog if they are in a situation that frightens them or leads them to feel defensive.
It can be used for training as well, with dogs of all ages being able to benefit from using it.
There is a lead attachment on the underside of the halter, which means that you are able to keep your dog close, and turn them away easily from things that might cause them worry.

It's also incredibly cheap, and makes for the ideal affordable solution if you are worried about your dog's reactions.
HALTI Headcollar Padded Black
This halter is also available at a very low and affordable price, which is great for those who need something cheap as well as reliable.
It comes in black, as well as several different sizes so that all dog breeds can be catered for comfortably. The halter itself is comfortable for them to wear and soft material against the skin to prevent rubbing while they walk.
There is also padding on the nose to stop any sores from forming. It also allows them to pant and yawn to avoid distress, but the clip under the halter means you can turn their heads away quickly and easily for full control at all times.
It is ideal for training and can also help to stop your dog from pulling on a walk. Plus, there is even the option to pick up a matching lead if you feel like getting the whole set.
Training your Dog to Wear a Muzzle
If your dog needs to be wearing a muzzle it can be quite tricky to get them to wear it in the beginning. After all, no dog likes to have something around their mouth. However, it is necessary if your dog isn't friendly towards other dogs and people when they are out on a walk and so you need to get them used to it. To take some of the stress and hassle out of this process for you, here are some top training tips to help your dog be relaxed with the muzzle and wear it without constantly pawing at it.
Take the muzzle and place some dog-friendly peanut butter right at the bottom of it. Show it to your dog and allow them to have a quick sniff so that they realise there is a tasty treat inside.
Then, hold the muzzle towards them (as though you are about to put it on) and let them investigate. They will naturally put their whole nose in so that they can get the treat, but it might take them a little time; especially if they are nervous. Just be patient and remember to give them lots of praise.
At this point, it is tempting to fasten the muzzle. However, it is important that you keep holding it and leave it unfastened at this point. Muzzle training takes a little time and you must not rush it.
Instead, move the muzzle around gently while they are licking the inside so that they get used to moving with it on their face. Remember that loads of praise and a happy attitude are really important as this will rub off on your dog and their association of treats and joy with the muzzle.
Now, take some treats and throw them away from your dog. While their nose will leave the muzzle to get the treat, it also encourages them to return to the muzzle of their own free will. Once you have done that a few times and they are more comfortable, remove the muzzle from their nose and practice clicking the buckle closed near their head. This is an important step because not all dogs are used to this sound, and nervous ones may become frightened.
That is why using treats during this step is key. Every time you click the buckle, praise them and give them something tasty. Even if it takes a little while, even the most nervous dogs will become calmer and more relaxed around the sound. The next step is to start saying the word "muzzle" when you hold it towards their nose. You might need a little more peanut butter for this part, but the main goal is to get them to come to the word and place their nose in the muzzle ready for fastening of their own free will.
Next, you can get them used to the feeling of the straps around their neck. There is still no fastening at this stage, but you can move the straps as though you are about to click the buckle shut, and then praise them for being so good and calm. It's really worth taking your time with this because of how high the muzzle sits, and it will take them a few tries to get used to this new sensation. Once they seem comfortable, you can fasten the muzzle and leave it on, popping a little treat through the bars to give them a bit of comfort.
At this point, they may start pawing at their face. This is completely normal, and it is important that you do not react to them at all. Instead, once they stop pawing, get really excited with the praise, and give them a treat. If you keep repeating this, they will stop pawing at it because being still means more snacks. Continue training and walking for a short while, encouraging your dog to follow you and providing them with treats.
Now, you can take the muzzle off, but here's the twist. You do not want to reward your dog for taking the muzzle off because you want them to be nice and eager for the muzzle. So, when you remove it, say nothing and remain calm. Then, wait a short while, use the muzzle command, and praise them when they come and stick their nose in. This is the positive association you need.
Lead training is the final step, and probably the easiest as well. All you need to do is practice walking on the lead with your dog while they are wearing the muzzle. If they paw at the muzzle a lot, keep them moving and use a happy tone to communicate with them. When you want to give them a treat for their good work, get them to sit so that you can slip it through the bars comfortably.
As a final note, the colour of your dog's muzzle is really important here. If you have a black dog that is wearing a black muzzle, other owners are not going to be able to see it in the distance so that they can put their dog on a lead. Always choose a muzzle colour that contrasts with the dog's coat so that it becomes a clear beacon to those who might cross paths with you.
Frequently Asked Questions
When should my dog wear a muzzle?
When asking when your dog should wear a muzzle, there are some dos and don'ts for muzzle wearing. Here's a quick rundown of when your dog should wear a muzzle, and when they should not.
When they SHOULD wear a muzzle:
If they are aggressive towards people or other dogs and in public

If they are exceptionally nervous around people or dogs and in public

If they are likely to bite a vet or dog groomer through fear

If they eat everything off the ground on walks and make themselves sick
When they SHOULD NOT wear a muzzle:
To punish them for bad behaviour

To stop them from barking

To stop them from chewing things in the house

To stop a puppy from play biting (this is natural and you teach them inhibition)
Do muzzles make dogs more aggressive?
A muzzle can make a dog more aggressive if you do not use it correctly. If you just put the muzzle on their face with no warning or training, it can become frightening or make them feel more aggressive. This is why training them to wear the muzzle (as we have outlined) is such an important process.
Similarly, it is important to remember that a muzzle does not cure aggression, you will need to seek training for your dog from a professional trainer or behaviourist to at least help you understand their aggression and perhaps even lessen it.
Is it cruel to muzzle a dog?
There are situations where it can be cruel to muzzle a dog. For example, if you are using the muzzle for any of the reasons listed in our "when they should not wear a muzzle" list, that is an example of cruelty.
Other instances where muzzles are considered cruel are if it does not fit correctly, if they cannot pant (this is how they sweat), if you have not got your dog used to wearing one, and if you are not addressing the underlying issues associated with their aggression.
Can dogs still drink with muzzles on?
Yes, most muzzles will allow a dog to drink while it is on so that they can hydrate themselves while they are walking. The only muzzle that prevents them from doing so is the one that dog groomers use. These prevent them from opening their mouths at all so that they cannot bite the person washing and brushing them. These are only on the dog for a short period of time and are removed once the dog is clean.
To Conclude
Hopefully, this guide has helped you to find the best dog muzzles, and the dog muzzle reviews have given you an idea of what your dog is going to need in order to have a calmer walk that leaves both of you feeling a lot less stressed than usual.

Sometimes, we need to muzzle our dogs – for their safety and our peace of mind. It's not always an easy thing to do, and there are so many different types out there for you to try. Whether you want a halter-style muzzle or the traditional basket, we have made sure that there is a model here that your dog will find comfortable enough to wear.

Of course, we also want you to get the best price for your chosen muzzle, and that is why each of the muzzles here comes at a different price, ensuring that there is something you can comfortably afford. The perfect one is here, and we know you will find it.

What did you think of our dog muzzle guide? Are there any that you would have liked to see or recommended? We love hearing from you, so make sure to leave us a message in the comments below.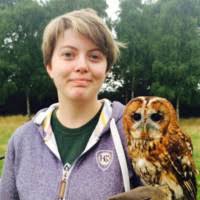 For over a decade, Adrienne has been a freelance content writer and blogger who's passion lies in anything related to dogs. Growing up, dogs were a very important part of family life in the Hardwick household. Now, Adrienne is the proud parent to two Swedish Vallhunds called Moose and Pumpkin.