Article Last Updated November, 2023
While the collar and lead are seen as the traditional way to walk your dog, experts agree that it's not actually the safest. Your furry friend might look handsome and smart in their collar, but it could be causing more harm than good on your walks.
Dog harnesses give you more control over your dog than the traditional collar, helping you to train them with less stress and also put less pressure on the dog's neck.
If your dog pulls, the harness won't choke them – spreading the force evenly and comfortable across their chest. In very severe cases, a collar can lead to tracheal collapse when they pull (it happened to my pup).
In our expert guide, we have taken some of the leading harnesses for dogs and tested them out on our own team of canine volunteers.
We've looked at how comfortable it is for your dog, the security of the fit, and how effective it is when they pull. All of this so you don't have to search for the best dog harnesses yourself.
Best Dog Harness Reviews(In Order)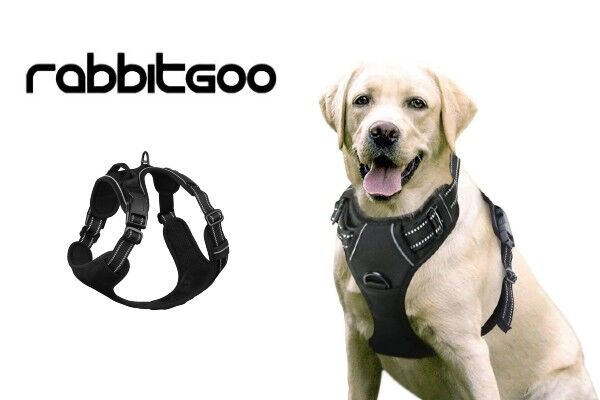 1. Rabbitgoo No-Pull Harness
Editor's Pick
The Good
This Y-shaped dog harness features leash clips on both the front and back so that you can use it for training purposes as well as securing them in places like the car. It also comes in four sizes, which means it can be used on small dogs and large dogs without issue.
Additionally, there is reflective stitching that helps improve visibility and keeps you both safe at night.
There are four adjustment points, two on the neck and two on the chest, giving you more freedom when making sure it fits well.
Furthermore, the harness is made from nylon and has interior padding to ensure maximum comfort for your dog while also maintaining a high degree of durability. It even has a top handle just in case you need to grab them quickly.
Drawbacks
The straps can be a little difficult to adjust.
Editor's View
It's one of the best dog harnesses to prevent pulling, and I loved how easy it was to use and the fact that it fits so securely. The straps can be a little fiddly and stiff, but this just adds to the security and it remains a highly versatile choice. Did I mention how affordable it is? No? Well, there you are.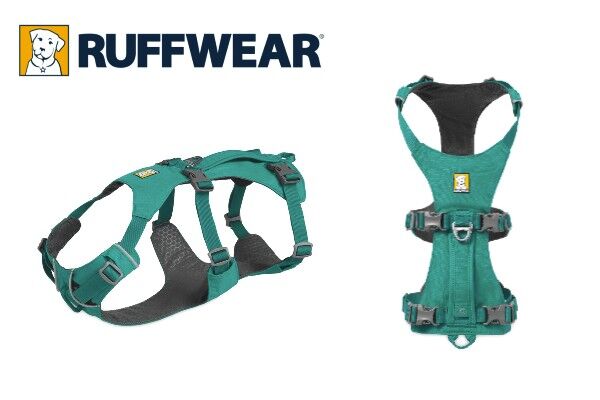 2. Ruffwear Flagline
Best Dog Harness for Hiking
The Good
This harness doesn't have four adjustment points, it has six. This makes it one of the most advanced harnesses we've seen, and that's why it's so well-suited for hiking trips.
It takes the pressure off your dog's neck while you're out on the trail, and you have the addition of a padded handle just in case you need to grab them quickly and get them secured.
There aren't two leash attachment points either, there are three, adding even more versatility to this dog harness as the attachments are designed for pulling, towing, and relaxed walking.
It's a lightweight harness with breathable material for a comfortable fit, and also offers you the bonus of reflective stitching so that your dog remains visible in all conditions.
Drawbacks
There isn't anything negative to say about this model at all.
Editor's View
I love this dog harness, and there are plenty of reasons for it. As a quick note, I would like to state that this harness is actually ideal for Greyhounds. They can be pretty tricky because of their deep chests and this model does an excellent job of keeping them secure.
The multitude of adjustment points and leash rings combined with the quality of the material are just some of the reasons I strongly recommend this dog harness for hiking.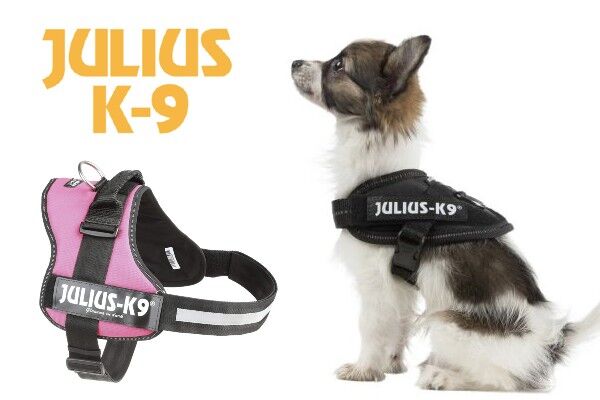 3. Julius K-9
Best Dog Harness for Small Dogs
The Good
This dog harness is perfect for small dogs and features a chest strap as well as belly straps to ensure they are secure and comfortable.
The thing I really like about this model is that it comes with interchangeable patches so you can alert people to whether your dog is nervous, working, or something else – a huge help to many dog owners.
It's durable and reliable, having been made with quality materials as well as the inclusion of shatterproof buckles for an added safety feature. The metal D-ring isn't just strong, it is well-secure to prevent breakage if your dog sees something really exciting.
It's also one of the easiest harnesses to put on – you just need to click and go, it's as simple as that.
Drawbacks
The sizing can be a little tricky, so make sure you check the measurements carefully before you buy.
Editor's View
I actually enjoyed using this harness. The recognition of the need for dog owners to have patches (and places to put them) on a harness was not missed here, and it's massively appreciated.
On top of that, your dog is getting a harness that's comfortable and sports a secure fit. It's a top-quality model that I strongly recommend even if the sizing can be tricky.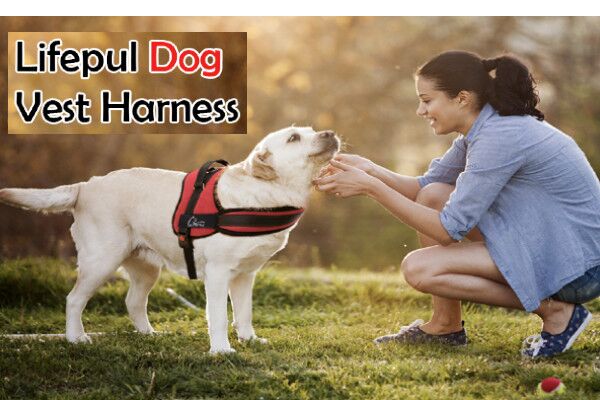 4. Lifepul
Best Chest Harness
The Good
This dog harness was made for large dogs, which means it would be ideal for a Labrador or German Shepherds.
As a vest harness, it offers you a greater degree of control over your dog while also offering good support across your dog's chest thanks to the padded strap.
Furthermore, it is made with material that is soft, breathable, and highly durable.
I really liked the fact that this no pull harness has a handle on the back for additional control if they see something really exciting and want to take off. It adds a little more security to the harness.
There is an adjustable button on the back for the overall tightness of the harness, and this also makes taking it off much easier.
Drawbacks
Unfortunately, the chest area is not adjustable on this dog harness.
Editor's View
I love that this no pull harness comes at such a reasonable price, and you get something that's great quality as well as strong. The chest area isn't adjustable, that's true, but the rest of it is and it fits well as long as you pick the correct size for your pup. It's a great choice if you're looking to switch to a harness and take the pressure off your dog's neck.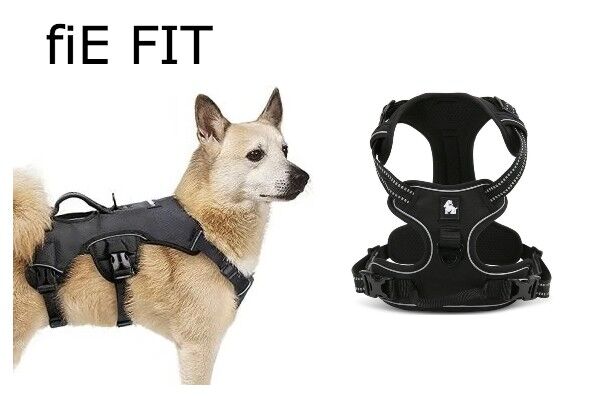 5. fiE FIT
No-Pull Harness
The Good
The fact that this front clip harness comes in five sizes means it's suitable for small dogs as well as large ones – so anything from a Yorkie to a Husky can benefit. It's a padded harness, offering additional comfort while you are out and about while also preventing chafing or rubbing.
There are also adjustable straps, giving you more flexibility.
While it is primarily used as a front clip harness, which is ideal for active dogs that need to stop pulling, it can also be used as a back clip harness.
This makes it a more versatile harness, giving you control when you are training as well as allowing you to secure them in the car. There is also reflective stitching, providing excellent visibility when walking in the dark.
Drawbacks
The D-rings are made from plastic, which isn't ideal at all. It can also be a little tough to get over your dog's head if they are a smaller breed.
Editor's View
I like that this no pull dog harness comes at such a reasonable price, and the range of sizes for this harness makes it very appealing. It does have a couple of downsides, but it remains flexible and versatile as well as an excellent option for a training aid.
It's an affordable harness and one that maintains a good level of quality.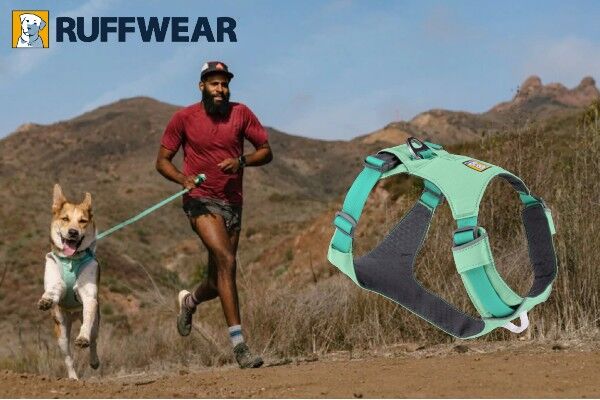 6. RUFFWEAR Hi & Light
Best Dog Harness for Running
A great choice, this Ruffwear front range harness has a handy leash clip at the front to prevent pulling while you run but also offers one at the back for when you both just want to zoom off together or for securing them in the car afterwards.
It also has four adjustment points, allowing you full control over the way in which it fits and helping them remain secure.
The minimalist design combined with the fact that it's a lightweight model highlights how effective it is for use when running. The material is breathable and padded, ensuring maximum comfort for your dog while they are out.
There is even a small internal pocket in the liner where you can keep your dog's ID tag as well as treats or poo bags.
Drawbacks
There's nothing bad to say about this harness, it does a great job.
Editor's View
I really liked using this harness, and I love running with my dog. It fulfilled all of my needs, and is comfortable for my dog when we are zooming down the trail. It's adjustable, easy to use, and has multiple leash rings to make life easier.
However, I will note that to take full advantage of this dog harness, you will need the waist leash from Ruffwear as it makes running with your pup far more enjoyable.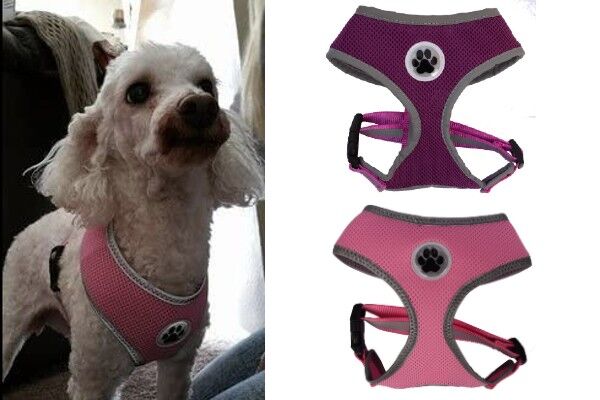 7. Lanyar
Best Harness for Puppies
The Good
I love this harness, and it's ideal for puppies who are wearing one for the first time and need to get used to it. There are four sizes available, which means Spaniels and Labs alike will be covered.
The addition of the reflective trim is a nice touch, especially if you are walking in an area with low visibility and need to keep an eye on your puppy in training.
There is a D-ring at the back of the harness, making it easy for you to access and helping you to maintain a level of control.
The material is light and breathable, ensuring your youngster is comfortable while they walk, but it remains very strong so that even when your puppy wants to zoom off you don't need to worry about it breaking.
The Not So Good
It can be a little difficult to get it over your dog's head.
Editor's View
I really appreciate the fact that this is such an affordable harness because we all know how fast puppies grow.
While it can be a little tricky to get over your dog's head, the rest of this harness is absolutely top-notch. Is it the best harness? For puppies, absolutely. It's strong, secure, and comfortable on your dog's body.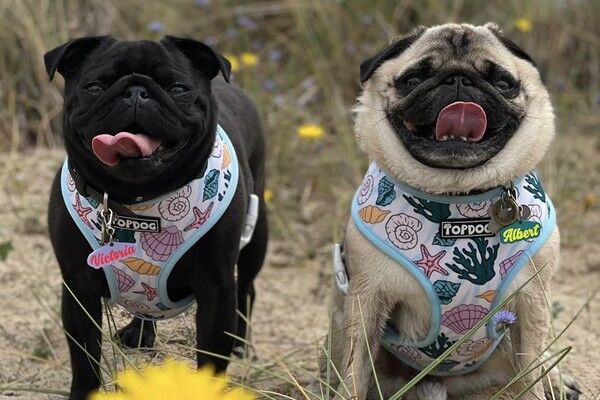 8. Topdog
Reversable Harness
The material for this range of vest style harnesses is incredibly soft, ensuring comfort for your dog while they are walking.
Despite this, it remains exceptionally strong and is able to withstand even the toughest dogs who love to pull. It also sports adjustable straps, allowing for more flexibility in growing dogs. Since there is a range of sizes, it is good for small dogs and large dogs.
In addition to this, the material is water repellent, and it is easy to clean if you have particularly mucky pups. It is also a step in harness, making it quick and simple to put on and take off again.
The metal D-ring means that the leash attachment is secure, and you don't have to worry about it snapping when your dogs pull.
Drawbacks
At the moment, I have nothing bad to say about this harness. I absolutely loved it.
Editor's View
The thing I loved about this harness is how easy it was to put on my dog but also the strength of the material. I really put it through its paces with my pooch, and it certainly stood up to the challenge.
It's great if you want to discourage pulling, and there are four great designs if you feel like mixing things up. Sometimes Top Dog Harnesses even has deals for the matching leash.
How to Choose Dog Harnesses
When you are browsing through the best dog harnesses, make sure you keep these factors in mind.
Fit
Your chosen harness MUST fit your dog properly. If a harness is too small it can rub against your dog's skin and cause chafing that becomes deeply uncomfortable for them.
If it's too big, it's easy for them to slip out and run off. You'll need to measure your dog (using our measuring guide below, you're welcome) and find the size that works for them.
Some harnesses have adjustable straps and this can be a very useful feature. It means you can adjust the tightness around the shoulders and your dog's chest.
It's ideal for younger dogs as it gives them more room to grow. If you want to check how tight your dog's harness is, a handy thing to remember is that you should always be able to slip two fingers under the straps.
Style
The style of the harness doesn't just refer to the colours (although I think it's a pretty important part) but also the type of harness you are going for.
You have to consider the shape that will work best with your dog.
For example, a dog that is naturally nervous might not like to have anything placed over their head and so a harness that fastens at the back is better.
Material
The most durable and reliable harnesses are made of materials like polyester or nylon. These are strong materials that keep your dog secure while also remaining comfortable.
You can also get a padded harness if you want an extra layer of comfort for your pup while walking.
The loop for attaching the lead should be made from stainless steel or aluminium. Other metals are acceptable, but avoid plastic where you can.
This is because metal is stronger and is less likely to break if your dog sees something really exciting and decides to pull you away.
Leash Attachment Points
You need to consider the position of the leash attachment points as the location can depend on the type of training you need to do.
For example, a front clip harness is better for leash training and dogs that like to pull a lot whereas a back clip harness is more suited to dogs that are naturally calmer and pull less.
Additional Features
Having a handle attached to the harness can be a useful feature for incredibly powerful dogs that need a little extra strength to control, but it also assists in the training process for younger dogs or those who need a little reminder.
If you like to walk at night or in an area with poor visibility, a reflective trim can be a beneficial addition to your harness.
This will help ensure road users can see you, reducing the risk of an accident, and can also make it easier for you to see your dog in the dark.


What Makes a No Pull Harness Different?
A no pull dog harness is different from a standard one because there is a strap that goes across the chest.
Usually, you will find there is a clip on the chest strap as well as the one that goes across their shoulders, allowing you to choose where they are led from.
Another name for this type of harness is the chest-led harness.
The reason a no pull harness is used is that your dog's centre of gravity is located at their chest, meaning that when they pull with the harness on they are unable to.
As a result, they often turn around or stop completely. They don't just discourage pulling, they can help to eliminate it completely. They are a great training aid and cause no pain or discomfort.
Harness or Collar?
Collars have been used as an effective and comfortable way to walk your dog for centuries, but it's only recently that experts have started to shine a light on the potential dangers that come with it as well as the fact that your pup might not be as comfortable as you think.
Does your dog scratch their neck a lot when their collar is on? It's because they are uncomfortable.
When you use a collar, it puts a lot of pressure on your dog's throat if and when they pull, causing them to choke or cough as a result.
This level of pressure can lead to long-term damage in dogs of any size, but smaller dogs are especially at risk.
The way in which it applies pressure to the throat can lead to a tracheal collapse, something my childhood dog suffered from because he pulled too hard on his collar. In order to treat this condition, surgery is required to permanently open areas of the trachea so that they can breathe. It is a deeply damaging result of using collars.
This is part of why so many dog owners have made the switch to a dog harness instead of collars. Instead of pushing on their throat, it presses against the chest to let them know they are pulling too much without causing any discomfort.
You also get more control over your dog, especially those that are larger or stronger. It's a safer option.


How to Measure Your Dog's Chest for a Harness
Before you start, you are going to need the following in order to get an accurate measurement for your dog's new harness:
A tape measure
Your dog's weight
A pen and paper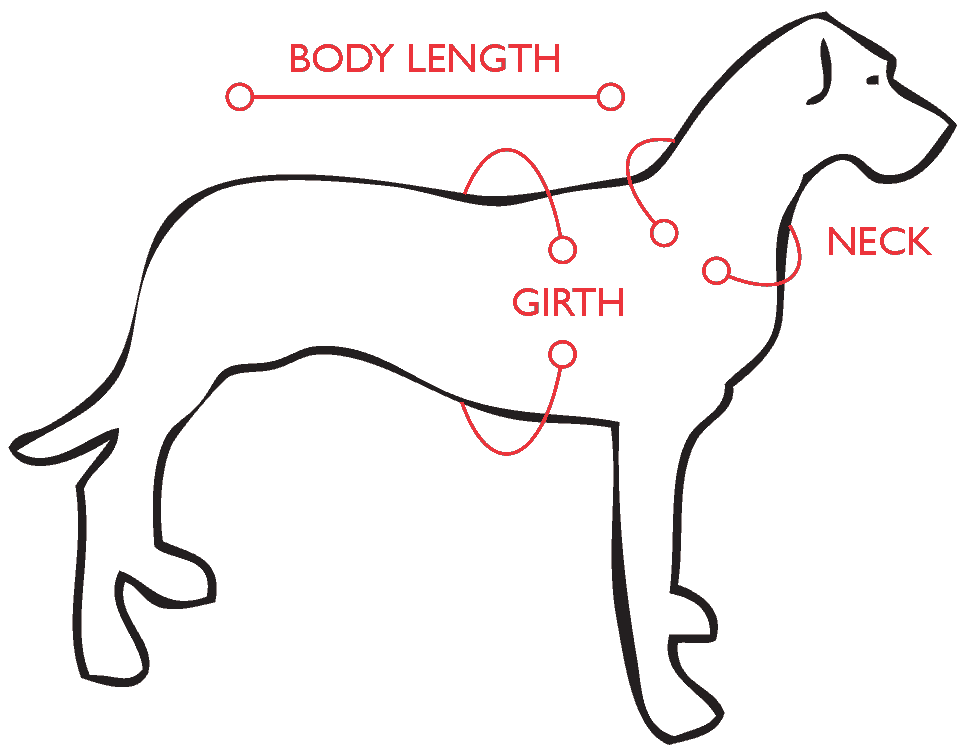 Step One: Measuring
Take the tape measure and use it to measure the broadest part of your dog's chest – usually the area right behind the armpits.

Wrap it over the back and ensure it is snug, but not too tight, and record the measurement. Some manufacturers will also want you to measure their neck and body length as well, so make sure you double-check.

Step Two: Weight and Size
Write down the measurements and the weight of your dog and use it for reference when you are buying the harness. The weight helps to determine the comfort and strength of the harness.

Step Three: Picking the Harness
The harness that you choose should be around two inches larger than your measurements, allowing for a comfortable gap and enough room for adjustment if it is needed in the future.

If your dog is between sizes, you should always go for the larger one as it can be adjusted. When the harness is on, you can check for the tightness by sliding two fingers underneath. If they fit comfortably, the harness is a good size, but if it is tight, it is likely the same for your dog.


How to Fit a Dog Harness
Fitting your dog's harness can be a little tricky when you first do it, especially if you have a wiggly dog that isn't quite sure what you're doing.
The process might be a little more complex than the standard collar, but we have found a video (kindly provided by Pet Circle) that takes you through the step-by-step of how to fit a harness.
As explained in the video, there are five main types of dog harnesses on the market. The good news is that each of them is fairly simple to fit your dog's body, and we have a quick visual recap for you below while you are deciding which one to pick for your pup.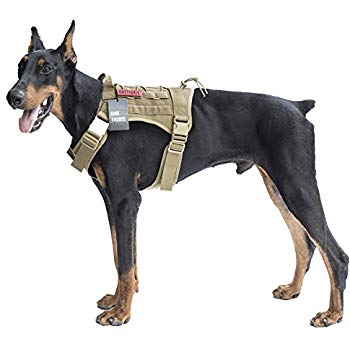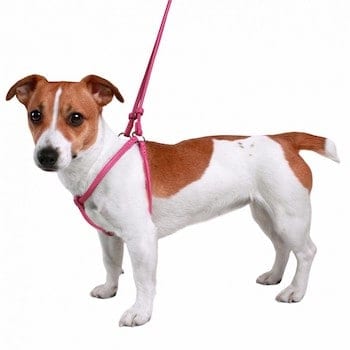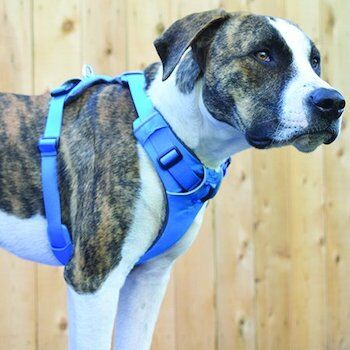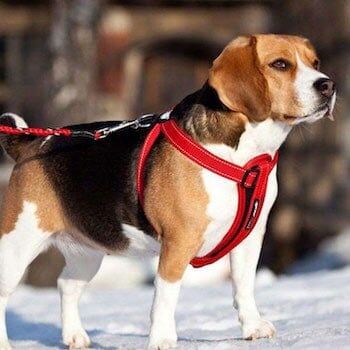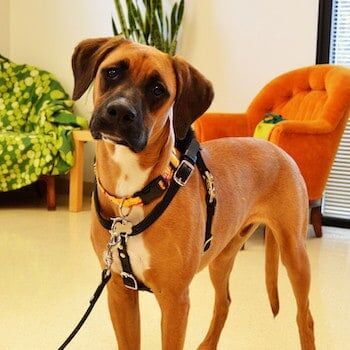 Understanding how to correctly fit your dog's harness is important for their comfort while wearing it.
A dog that is uncomfortable or too tight can actually cause them to pull more because they are trying to readjust it – causing you to believe they are misbehaving.

It can also rub against your dog's skin, chest, and underarms – causing soreness and irritation that worsens over time. If you put the harness on incorrectly it can cause your dog's gait to become restricted, leading to the muscles becoming tighter.
The result of this is severe discomfort as well as the risk of structural imbalance if this happens over a long period of time.
Incorrect sizing also leads to the risk of the harness being too big for your dog. This can lead to them slipping out of it when they are on a walk and running away.
An oversized harness is a huge risk to their safety and runs the risk of them becoming a lost dog – something you definitely don't want.
To Conclude
As a dog owner, we know you want the best for your pup. That's why I made sure to choose the best dog harnesses out there so that you know you're getting quality regardless of what you pick.
While every model here is excellent, there is one that stands out above the rest based on quality & price.
The Rabbitgoo harness provides style and quality, and it's impossible to deny. It has everything you need to retain control over your dog while also ensuring they are comfortable and secure.
However, there is also a lot to be said for models like that from Ruffwear as they provide a reliable harness that also promises a comfy and secure fit.
What did you think of our dog harness selection? Are there any that you would have added? We love hearing from you, so feel free to leave us a message in the comments below.
Article Last Updated November, 2023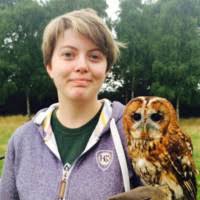 For over a decade, Adrienne has been a freelance content writer and blogger who's passion lies in anything related to dogs. Growing up, dogs were a very important part of family life in the Hardwick household. Now, Adrienne is the proud parent to two Swedish Vallhunds called Moose and Pumpkin.