Grooming our dogs is an essential part of caring for them. It keeps their coats healthy and shiny, but also prevents painful matting.
Not to mention it can be an incredibly relaxing experience for both of you.
Whether you are starting your own dog grooming business or just want to pamper your pooches at home, a grooming table is an important investment and not one to be taken lightly.

Here's everything you need to know about searching for the best dog grooming tables, as well as a selection of the top models on the market for you to consider.

Professional Dog Grooming Table - KTC
Dog Grooming Table - iKayaa Adjustable Table
Key Features to Look For
Here are some of the most important features you should be looking for before you make a decision about which dog grooming table to purchase.
Type of Table. There are several different types of dog grooming table on the market, and the type you buy will depend on how you plan to use it as well as how much you will end up spending. Here is each of them:
Mobile and foldable dog grooming table (home or occasional use)
Home grooming table (home or occasional use)
Electric table (professional use)
Hydraulic table (professional use)
Portability. Sometimes, you need a portable dog grooming table. You might be a mobile groomer that travels to client homes to look after their dogs. Or, you may have a little show dog that needs a quick grooming session before they head into the ring. In situations like this, a table that can be folded up and packed into your vehicle is exceptionally handy.
Height. Choosing a table with an adjustable height is very important. The groomer should be level with the dog, allowing them to hold and groom them with ease. The adjustable measures also mean that if a dog is elderly or does not like to be lifted up, you can raise them up in an easy manner that is stress-free for both of you.
Safety and Durability. There are a few things to keep an eye out for when you are checking that a table is both safe and durable:
Sturdy legs and good quality materials (e.g. stainless steel or wood)
Gripped surface so that the dog does not slide
Replaceable top surface for longevity and to save money in the long run
Any cables safely out of the way on an electric table
Strong noose and arm that is flexible without being loose
Accessories. Think about the type of arm you want for your dog grooming table. H-Bar arms are fixed to the table, which is ideal for dogs who are panicked or agitated. However, their fixed position means that you cannot adjust as you work.

Professional groomers tend to prefer the standard arm as it is completely flexible so that you can work effectively. They are also foldable, which means you can tuck them away neatly when they are not needed, or they can be used easily for specific dog grooming tasks.

Amount of Grooming. You need to consider how much dog grooming you plan to undertake each day. If you are a professional groomer, you can expect to be doing a lot of it, so you'll need a large table that is sturdy and able to cope with a lot of use.

This is why most professionals go for hydraulic or electric models. Home groomers won't use their table as often and so can easily go with something cheaper and more compact.
Budget. What you have available to spend will strongly dictate the type of table you will be able to get. To make things easier, here is an approximate price breakdown for each type:
Folding/Standard: Anywhere from below £100 to around £300.
Hydraulic: From around £300 all way to over £1000.
Electric: This can be priced from around £200 to well over £2000.
Personal or Professional. There is a big difference in what you need in a dog grooming table when you are a professional or a home groomer. The former will need something that can accommodate dogs of all breeds and sizes, which is why a hydraulic or electric table is the best choice. Home groomers are less likely to have a lot of space, so something collapsible is ideal.
Best Dog Grooming Tables UK (In Order)
1. Best Professional Dog Grooming Table - KTC
There are loads of professional grooming tables out there, but this is certainly one of the best.
Designed for the expert groomer, you are sure to get a lot out of this and for a pretty reasonable price. Take a look and see if it meets your needs.
The Good
This dog grooming table is generously sized, which makes it suitable for just about any breed of dog. The grooming area itself is extra-large, with a brilliant capacity of 120kg that will allow you to groom even the chunkiest dogs without worry.
It comes with an H-bar arm that can have its height adjusted. The hydraulics also means you can raise and lower the entire table as needed.
It is secure and sturdy, with relatively quick construction and a firm build. The top of the table has an anti-slip coating for the safety of the dogs, and the rubber material can be washed and wiped down effortlessly after use.
The included leads on the H-bar are also nice and strong, as well as a good length so that the dog will feel comfortable while they are standing.
The Not So Good
The foot pump can take a little getting used to, but once this is mastered it becomes very smooth to operate.
Our View
This is a brilliant choice for professional groomers, and quite affordable for a hydraulic model. It comes with all the basics to make life easier, and while the pump can feel a little fiddly at first it doesn't take much to get the hang of it.

Dogs of all ages and sizes are sure to find themselves feeling a lot more comfortable on this grooming table. The KTC is our editors pick for the best dog grooming table.
2. Best Budget Dog Grooming Table - iKayaa Adjustable Table
Not all of us have a lot to spend on a grooming table, and if you are working from your home or just doing the occasional job, having a budget table is a great entry into the grooming world.
We all have to start somewhere, and this model provides quality and affordability.
The Good
This table is nice and sturdy, locking into place following easy construction. Its stainless steel construction makes it relatively light when it needs to be moved, while also being able to hold 150kg of weight when in use.
It's perfect for anything up to medium-size breeds in terms of length, such as Spaniels. The padded feet also prevent scratches and the table slipping.
The top is waterproof to make cleaning easier, with anti-static for the comfort of the dog as well as anti-slip grips to ensure they don't slide over. There is a storage tray underneath the table where you can keep your brushes and tools within reach.
The H-arm's height can be adjusted, and it comes with sturdy buckles so that you can keep the dog still and comfortable.
The Not So Good
The table height is not adjustable, so it is not suitable for dogs that would have trouble being lifted onto the table.
Our View
This budget grooming table is gentle on the wallet without skimping on quality. While the height is not adjustable, it still makes the perfect choice for those who are new to the profession and want to save money. It's secure and durable, with a load of core qualities that make it a reliable piece of kit to have.
3. Best Home Use Dog Grooming Table - Gravitis
If you are more interested in dog grooming from home, especially if it is just your dogs, then there is a great option for you here.
Cheap and cheerful, but still full of quality, this is the perfect companion for the casual home groomer.
The Good
This is a grooming arm, which means you can attach it to any surface in your home and secure your dog to it.
For those who groom casually in their home, it means storage is a lot easier and there is less hassle when you get it out for use.
The arm itself is fully adjustable, allowing enough space for anything from a miniature breed all the way to a giant.
It includes the clamps and the harnesses, ensuring that you are fully prepared for your first session. The harnesses are comfortable for the dog as well as very easy to secure.
The arm can be secured to most surfaces quite easily, and it comes in different colours for customisation. It's also the ideal table for shows or mobile grooming because you have less to carry with you.
The Not So Good
It can be a little stiff at first, but it loosens up quite nicely over time.
Our View
This arm comes at a very good price, and it is perfect for those with less space or who want to keep grooming at home. Setting it up is easy, although it can be a little stiff in the beginning, and it makes for an excellent dog grooming station. The harnesses are comfortable, and it comes with everything you need to get started. An excellent one to consider.
4. Best Portable Dog Grooming Table - AllRight
Working shows, a mobile groomer, or just have very little space? These are just some of the examples of why you might need a portable grooming table.
In these situations, our chosen model might just be exactly what the doctor ordered.
The Good
This handy dog grooming table snaps together effortlessly and then folds back down when you no longer need it. It remains a strong and durable model, offering support for up to 100kg of weight thanks to the brilliant aluminium frame.
It comes with a standard arm, and this is fully adjustable in terms of height, allowing you to make things comfortable for your canine clients.

It also comes with a lead so that you can secure them to the arm and prevent them from moving around too much. The strong metal clip can withstand a good amount of pulling and fidgeting.
The top surface of the table is waterproof, with anti-slip rubber that feels nice on their paws and is easy for you to clean. It is also anti-static to make hair easier to remove after each use.
The Not So Good
The lead that comes with it can be a little long and flimsy with no available adjustment.
Our View
This grooming table comes at a great price, and while the tether might not be the best in terms of adjustment and length, these are very affordable to replace. The rest of the table is fantastic, allowing for flexible grooming as well as a comfortable place for the dog to be throughout.
Folding away easily after use, it can be slid into a cupboard and stored away between sessions.
---
5. Best Hydraulic Dog Grooming Table - Pedigroom
This beast of a table was made to deal with dogs of all sizes, and the hydraulics make it ideal for professional use.
If you're searching for the best hydraulic table on the market, you really don't need to look any further than this.
The Good
This dog grooming table boasts an incredibly large area for the dog to stand, providing comfort and security while they are groomed.
The hydraulic pump means that the table height is fully adjustable, making it accessible for older dogs as well as those who hate being picked up.
The pump is easy to use, and the motions smooth to make life easier for everyone.
It uses an H-bar arm, and this one comes with three comfortable nooses to keep the dog as secure as possible. The top surface comes with an anti-slip rubber matting that is easy to clean as well as kind to the dog's paws.
It has a 120kg capacity for your peace of mind, and the unique z-shaped design means that the table will not wobble or tip if the dog fidgets.
The Not So Good
There have been no negative reviews for this model at the time of writing.
Our View
This particular table comes at a great price when you consider all the features it comes with. It's easy to use, comfortable for the dog, and has excellent reviews from those who have used it.
It's the perfect addition to your business if you want something that will really make a difference to the way you groom.
6. Best Grooming Table for Large Dogs - BTM
Large dogs need to be groomed too, but not every table can cope with them. This particular model has been designed with large breeds in mind, so you can rest assured that it will be able to hold every customer that comes through your doors.
The Good
This dog grooming table has been created to hold a maximum capacity of 150kg, and is suitable for large breeds of dog.
It uses an H-bar arm, with two nooses that are comfortable for the dog to wear as well as adjustable according to the pooch you are looking after.
The construction is nice and sturdy, with strong stainless steel legs that also fold away nicely when you want to store it.

The platform has an adjustable height, and it also comes with a rubber top for your ease of use. This is waterproof, easy to clean, and the rubber is also non-slip so that the dog doesn't end up sliding around and panicking.
Another handy feature is the storage tray underneath the table, as this can be reached easily and keeps all of your essentials in one easy to reach location.
The Not So Good
The table is a little narrow, which means fidgety dogs will have to be watched carefully.
Our View
This table is perfect for large dogs, as well as portable for when you no longer want to use it and would like to keep the space tidy. It can be a little narrow, but you just have to make sure you are watching the dog carefully (as you should be anyway).
Otherwise, it is loaded with useful features that are sure to make your grooming tasks a lot smoother.
7. Best Electric Dog Grooming Table - Pedigroom
Electric dog grooming tables are very popular with professionals, and when you realise how easy they are to use it's understandable why.
Think your dog grooming business could do with an electric table? Check this model out and see what you think.
The Good
This table was designed for the professional dog groomer, with a sleek look and smooth functionality that makes everything less of a hassle.
The table lowers right down with simple controls, allowing senior dogs or those who hate being picked up to get on the table easily.
The table also comes with wheels for quick movement around the salon when you change things up.
When moving up and down, it remains perfectly stable for minimal stress to the dog, and the included H-bar arm contains two tethers that are comfortable as well as secure.
It can take a maximum load of 100kg, making it suitable for just about any breed. The top is waterproof and anti-slip for their safety, as well as anti-static and easy to wipe down after use.
The Not So Good
There have been no negative customer reviews at the time of writing this.
Our View
The price is a little higher than most, but the quality cannot be questioned. It is secure, durable, reliable, and packed with all the features you need for a successful grooming session.
It's ideal for hassle-free grooming that leaves you and the dog feeling more relaxed. With stellar reviews and some of the smoothest handling we've seen, it's certainly one of the best choices out there.
FAQ's
Q: How Do You Use Dog Grooming Tables?
A: When looking at how to use sog grooming tables, a lot of this is down to the instructions that come with the table. The very basics of use are that you place the dog on the table, secure them to the arm using a lead (and sometimes an additional rope for security), and then ensure the table is correctly adjusted according to both your height and that of the dog.
Q: How Do You Get Large/Senior Dogs on the Table?
A: All you need to do is have the table to its lowest setting and tempt the dog to step onto the table. This can be done with a simple command like "up" or the use of treats. Once they are on, you can secure the grooming noose and raise the height of the table ready for the session to begin.
Q: How Do You Keep Dogs Still During Grooming?
A: For dogs that are nervous and agitated, many groomers will use an extra tether that is secured around the waist of the dog to keep them still. This is very gentle on the dog to avoid added stress or injury, and it just acts as additional security to keep them safe and make your job easier.

Some groomers have been known to gently place a towel over the dog's eyes to help calm them, but this does not work for every dog. Treats are also commonly used (with the owner's permission) to tempt them to stay still.
Q: Should Dogs Be Fed Before Grooming?
A: Generally speaking, it isn't a good idea to feed a dog before they are groomed. This is because it can be a stressful experience for dogs, and having a full stomach may lead them to throw up or feel unwell.
Read Here: How To Declaw A Dog
---
Final Thoughts
Dog grooming tables are important if you are starting your own business, or just want to undertake the task yourself at home. Hopefully, you were able to find the perfect model for your needs in the list above.

Each of our models was chosen for its features, price, and quality, helping you to find a perfectly balanced solution that covers all the bases. Of course, if you are going professional, you should expect to pay a lot more than you would as a home groomer. After all, hydraulic and electric tables have a lot more to offer and make life much easier.

What did you think of our best dog grooming table uk guide? Are you on your way to silky smooth fur, or are some knots a little tougher to get through? We love hearing from you, so leave us a message in the comment section below.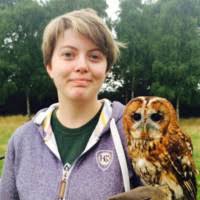 For over a decade, Adrienne has been a freelance content writer and blogger who's passion lies in anything related to dogs. Growing up, dogs were a very important part of family life in the Hardwick household. Now, Adrienne is the proud parent to two Swedish Vallhunds called Moose and Pumpkin.