Arthritis is a condition that can affect both adult and senior dogs, causing the joints to become stiff and sore when used. It is a natural condition that comes with age, a lot like humans. While there is medication that can ease the symptoms of arthritis, and your dog should definitely be taking it, did you know their diet can also play a role?
The food you choose for your dog can help to relieve the symptoms of arthritis but, most importantly, they will also support their joints and muscles to help keep them strong and active. A lot can be said for what you put in your dog's body, and that's why we are here with the ultimate guide to the best dog food for arthritis.
1. Editors Pick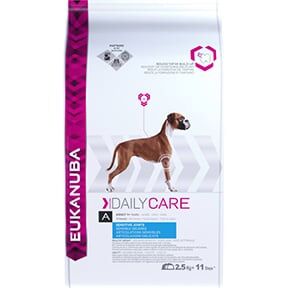 Eukanuba
Daily Care
2. Budget Pick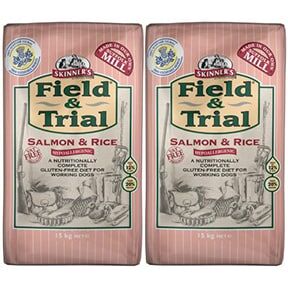 Skinner's Field and Trial Hypoallergenic
Key Things to Look for
Don't scroll past this section. Before you buy food for your dog's arthritis, we first need to go through some of the key things to look for on your quest for a delicious meal. Some of it might be obvious, some of it might not, but all of it is integral to making the right choice.
Age. You do need to ensure that your dog is eating the correct dog food for their age. This is partly to do with the number of calories, a senior dog will likely get chunky on adult food which isn't good for their joints, but also because of the nutritional value.
Fatty Acids. Dog food that contain essential fatty acids such as omega 3 and 6 are great for dogs with arthritis. While known for their benefits to coats and the immune system, they also help to keep joints healthy and strong throughout their lives.
Carb Content. Ideally, you will want to pick foods that are low in carbs – especially those that act as filler ingredients to make your dog feel full without the nutritional benefits. This can include wheat, which often causes bloating and wind.
Protein Content. Dog food for arthritis should have a higher protein content so that your dog benefits from increased nutrition and energy levels. Additionally, a good quality protein is excellent for your dog's health and can support their joints, bones, and muscles.

Medication. The most important thing is to remember that your dog still needs medication in order to thrive. It helps to relieve pain, and can also improve joint health as well as kick-start the repair process. A combination of medication and a healthy diet is the best route to success.
Read Here : Best Dog Food for Hypothyroidism
---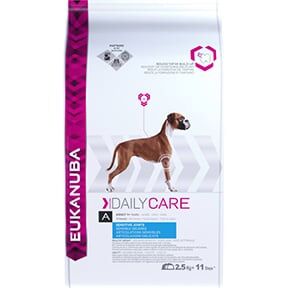 1. Eukanuba Daily Care
Editor's Pick
This great kibble comes from one of the most trusted brands in the company. It has been designed for adult dogs that have sensitive joints and may already be suffering from arthritis. This particular blend contains loads of calcium and essential fatty acids for healthy joints.
It contains 23% protein as well as 13% fat and 6.5% ash. The lean proteins will also help keep them at a good weight, reducing the risk of obesity so that their joints don't need to undergo any further strain. On top of all this, it remains a nutritionally complete and balanced diet.
Key Ingredients: Chicken, maize, wheat, sorghum, barley
Texture: Dry
Type: Sensitive joints
Life Stage: Adult
Suitable For: Arthritis
---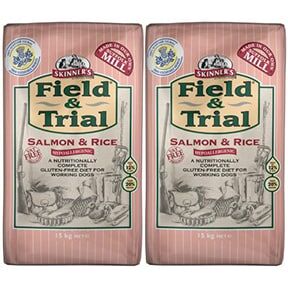 2. Skinner's Field and Trial Hypoallergenic
Budget Pick
This delicious kibble is packed with fatty fish in all the best ways, providing your pup with plenty of omega 3 and 6 to help reduce inflammation and boost the immune system. You also have the benefit of a shiny coat. As an added extra, this dog food only uses sustainable Scottish salmon.
It contains 20% protein as well as 12% fat and 5.5% ash, bringing together a perfect balance of ingredients and nutrients. It supports healthy joints and bones, giving your dog the energy they need to thrive, as well as supporting pups that suffer from arthritis or sensitive joints.
Key Ingredients: Whole rice, salmon meal, naked oats, peas, sunflower oil
Texture: Dry
Type: Wheat and gluten-free
Life Stage: Adult
Suitable For: Arthritis
---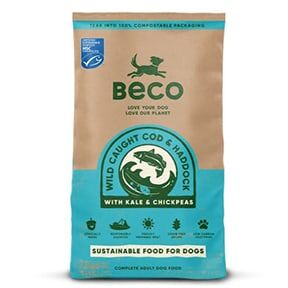 3. Beco Complete Dry Food
Best Natural Choice
This dog food is completely natural, ensuring that you aren't putting harmful chemicals or additives in your dog's body. It contains MSC cod, as well as fatty fish oils to help improve the immune system and act as an anti-inflammatory. It's even loaded with nutritious vegetables.
It has a high meat content that equates to 22% protein, 10% fat, and 3.5% ash. Not only does this make it a lean dog food, but it also brings together a wonderfully balanced and complete diet. It's perfect for aching joints and dogs who are suffering from conditions like arthritis and will help with joint and mobility issues.
Key Ingredients: Freshly Prepared MSC Cod & Haddock, Potato, Peas, Chickpeas, Potato Protein
Texture: Dry
Type: Grain-free, organic, MSC certified
Life Stage: Adult
Suitable For: Arthritis
---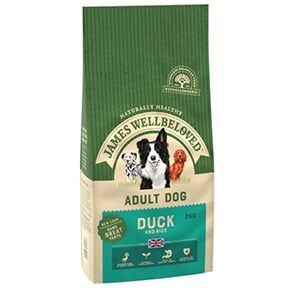 4. James Wellbeloved Duck and Rice
For Aching Working Dogs
This dry dog food is nutritionally balanced for a healthy diet, but also delicious enough that your dog is sure to look forward to eating it. It's hypoallergenic, which is always a plus side even if your dog doesn't have any known allergies. It's full of energy to keep working dogs active and strong.
Additionally, it contains omega 3 and 6 fatty acids. This isn't just good for their coats and immune system, but also helps to keep joints strong. It has an excellent protein content of 21% as well as 10% fat and 7% ash. Rich in minerals and nutrients, it's great support for active pups.
Key Ingredients: Rice, duck meat meal, organic oats, whole linseed
Texture: Dry
Type: Hypoallergenic
Life Stage: Adults
Suitable For: Arthritis
---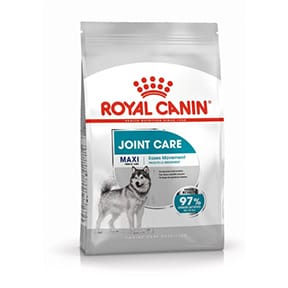 5. Royal Canin Maxi Joint Care
For Large Dogs
This crunchy kibble comes from a brand that is highly recommended by vets across the country. It contains advanced nutrients, such as collagen, that protect the cartilage and help your dog to lead a more comfortable life where they can run and play without being held back by pain.
The protein is fantastic at 26%, and your dog also benefits from 15% fat as well as 6.5% ash. The omega 3 and 6 fatty acids are excellent at providing further joint support as well as improving the immune system. It's also low-calorie to help prevent weight gain and obesity.
Key Ingredients: Poultry protein, maize, wheat, vegetable protein, fish oil
Texture: Dry
Type: Joint care
Life Stage: Adult
Suitable For: Arthritis
---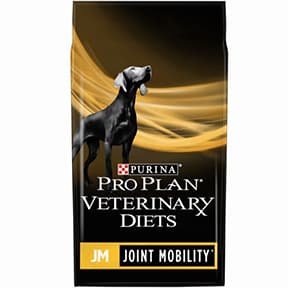 6. Purina ProPlan Veterinary Diets – Joint Care
Best High-Protein Choice
This kibble is ideal for dogs who are struggling with arthritis and need to have some of the pressure taken off their joints. It's loaded with nutrients and minerals that make life easier for your pup, and help take those symptoms away, but it is also low in calories to stop weight gain.
It has a whopping 30% protein, which is impressive considering how low cal it is. It also contains a low 12% fat alongside 7% ash. Made for better mobility and recommended by vets, it contains everything your dog needs to start living a healthier and more mobile life.
Key Ingredients: Rice, Dehydrated Salmon Protein, Wheat Flour, Dehydrated Poultry Protein, Maize
Texture: Dry
Type: High-protein
Life Stage: Adult
Suitable For: Arthritis
---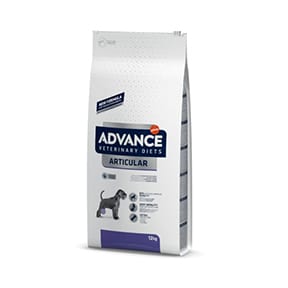 7. Advance Veterinary Diets Articular Care
Best for Osteoarthritis
The thing about this dry food is that it doesn't just target arthritis as a whole, it also tackles specific forms such as osteoarthritis – making it a relatively special choice of food. Delicious and full of essential omega 3 fatty acids, it's ideal for inflammation and joint pain, making life easier.
It has impressive protein levels at 28% as well as 15% fat and 6% ash. Despite this, it manages to remain low in calories to help avoid weight gain so that unnecessary pressure isn't placed on their joints. Additionally, it can also help to lubricate and strengthen the cartilage in their joints.
Key Ingredients: Chicken, wheat maize, rice, tuna, flour, dehydrated animal proteins
Texture: Dry
Type: Low-calorie, high-protein
Life Stage: Adult
Suitable For: Arthritis
---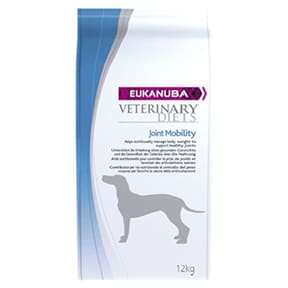 8. Eukanuba Veterinary Diet Joint Mobility
Best Pick for Weight Loss
This dry kibble is made by a highly reputable brand that is known for the careful research they put into their food. This blend contains all the nutrients and minerals your dog needs to benefit from reduced pain and increased mobility as well as being low in fat to keep the weight off them.
The protein content is great at 27%, and this is alongside 11% fat and 7% ash. In addition to keeping their weight in check and helping to alleviate symptoms of arthritis, it has also been designed to be gentle on the digestive system so that they can avoid upset stomachs.
Key Ingredients: Maize, Dried Chicken and Turkey, wheat, sorghum, barley
Texture: Dry
Type: Low-calorie, low-fat
Life Stage: Adult
Suitable For: Arthritis
---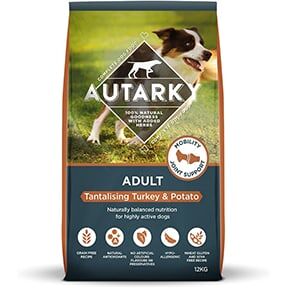 9. Autarky Grain-Free Hypoallergenic Dog Food
Best Joint Care Pick
This dry food is the ideal choice for taking care of your dog's joints and keeping them maintained throughout their life. It's packed with helpful ingredients to support their bones, joints, and even the cartilage, ensuring a better and more active life for your pup.
It contains 27% protein as well as 14% fat, alongside 8% ash. In addition to being great for joint care, it is also hypoallergenic to avoid common skin allergies. Plus, it has been designed to help keep the weight off them, thus reducing the amount of pressure on their joints for their comfort.
Key Ingredients: Turkey, potato, pea starch, sweet potato, chicken fat
Texture: Dry
Type: Hypoallergenic, grain-free
Life Stage: Adult
Suitable For: Arthritis
---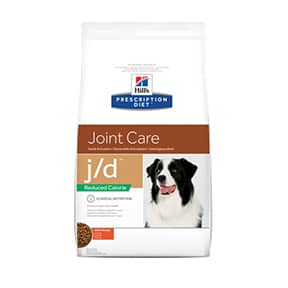 10. Hill's Prescription Diet Canine j/d Reduced Calorie
For Chubby Pups with Arthritis
This kibble is the ideal dry food if you have a dog that is struggling with their weight and also suffers from arthritis. The added pressure on their joints can cause increased levels of pain as well as wear away the cartilage, causing the joints to rub painfully together during movement.
It contains 21.8% protein, which is good for dry food, as well as 13% fat and 9% ash. The ash content here is a little high, but this is balanced out by the nutritional benefits of the food as well as its ability to help your dog reach a healthier weight that will benefit them in the long run.
Key Ingredients: Maize, wheat, brewers' rice, whole flaxseed, soybean meal
Texture: Dry
Type: Low-fat
Life Stage: Senior
Suitable For: Arthritis
---
FAQs
What is the Best Protein for Arthritis in Dogs?
---
Fatty fish is the best protein for arthritis in dogs. This is because the omega 3 and 6 fatty acids have been shown to have anti-inflammatory effects, potentially reducing the symptoms of arthritis and helping your dog to lead a more comfortable and active life.
What are the Signs of Arthritis in Dogs?
---
There are several signs of arthritis in dogs that you should look out for. Limping or lameness is one of the most obvious, alongside stiff joints and being wary of you touching them. Additionally, you may notice that they are more fatigued, irritable, and groan when laying down or getting up.
How Long Can Dogs Live with Arthritis?
---
Dogs can still live a long and happy life with arthritis. It is a condition that will require you to medicate them for the rest of their life, but it doesn't decrease their lifespan most of the time. Severe cases of neglecting the condition may change this, however.
Can Being Overweight Cause Arthritis in Dogs?
---
Yes, being overweight can cause arthritis in dogs. It puts a lot of unnecessary pressure on their joints and bones, causing them to wear down and arthritis to form. Keeping your dog fit and healthy can help to reduce the risk of this condition.
Read Here: Best Dog Food for Loosing Weight
Final Thoughts
Arthritis is one of those conditions that we all have to prepare for our dogs to experience. While there are things you can do to try and prevent it from happening, like keep their weight healthy, it doesn't mean that there is no longer a risk of them developing it.
We have selected a wonderful range of foods that have the potential to help your dog through their arthritis, promoting healthy joints and muscles that keep them going for longer. While we love each of the foods we have listed, brands like Hills and James Wellbeloved stand out for us and are highly recommended as a result.
What are your thoughts on our guide to the best dog food for arthritis? Did you find something perfect for your pup or are you still on the hunt for a nutritious meal? We love hearing your thoughts, so make sure you drop us a message in the comment section below.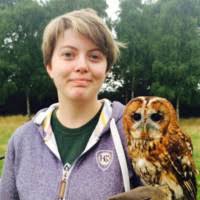 For over a decade, Adrienne has been a freelance content writer and blogger who's passion lies in anything related to dogs. Growing up, dogs were a very important part of family life in the Hardwick household. Now, Adrienne is the proud parent to two Swedish Vallhunds called Moose and Pumpkin.