Article Last Updated November, 2023
Grooming is an essential part of being a dog owner, and there are plenty of reasons to do it. Some dogs can't regulate their temperature in the summer, some get really shaggy and need a trim to stay tidy, and sometimes we do it because they look great afterwards.
A good pair of dog clippers will help you get the job done yourself at home, and there are plenty of guides to help you get the perfect finish for your pup.
However, it should be noted that double-coated breeds such as Malamutes and Huskies should never be shaved or have their fur cut because they will lose the ability to regulate their temperature naturally.
For every other dog, we have the best dog grooming clippers right here, fully tested by our dedicated team of experts (and their pups) so you can get to work.
| | | | | | | | |
| --- | --- | --- | --- | --- | --- | --- | --- |
| | | | | | | | |
| | | | | | | | |
| | | | | | | | |
| | | | | | | | |
| | | | | | | | |
| | | | | | | | |
| | | | | | | | |
| | | | | | | | |
| | | | | | | | |
| | | | | | | | |
| | | | | | | | |
| | | | | | | | |
Best Dog Clippers ( In Order)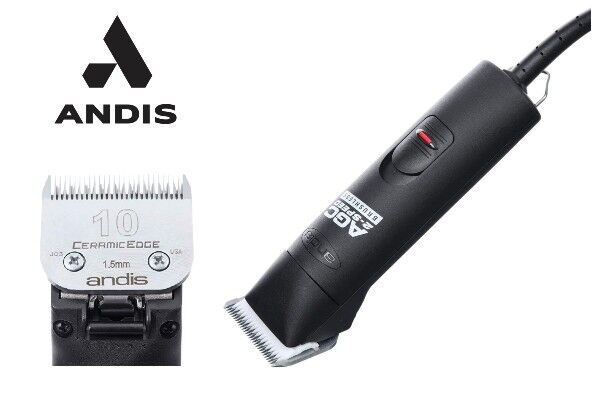 1. Andis Ultraedge AGC2
Editor's Pick – Great for Curly & Wavy Hair
The Good
These pet clippers glide through your dog's coat and are great for a full-body job. They come with two speeds, allowing you to get a quick boost when you reach areas of resistance so that things are comfortable for your dog and less stressful for both of you.
They also use constant speed technology, meaning they won't slow down even when you hit those tough spots.
You get one blade, which is ideal for a quick full job, but there is the option to buy additional blades if you want a little finesse – the same goes for comb attachments.
They are gentle on your dog's skin, and the combination of design and power means that the difficult wavy and curly dog coats are no problem to get through without any snagging or clogging.
Drawbacks
The blades can get a little hot when being used, so keep an eye on things.
Editor's View
I really liked how easy it is to use these dog trimmers, and the fact that they work so effortlessly on wavy and curly fur is a blessing. They might just be the best dog clippers.
They make dog grooming a much easier task, and the only thing you need to watch out for is the fact the blades can get a little hot during use. Otherwise, they remain a solid and reliable choice for a good trim.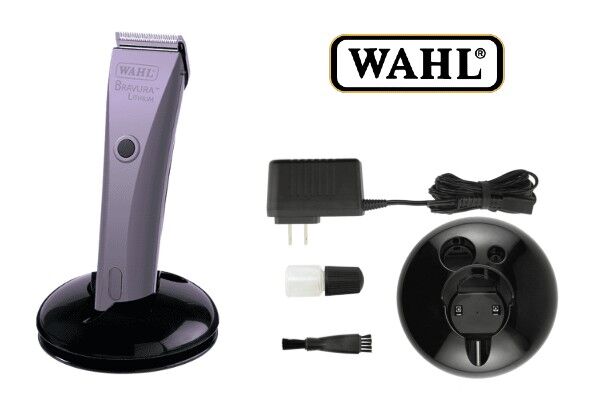 2. Wahl Bravura
Best Cordless Dog Clippers
The Good
These dog grooming clippers come with everything you need to get the perfect trim for your furry friend. There are five blade lengths, giving you plenty of versatility when deciding the right length and cut for their coat.
A single-speed also means that you can maintain a steady hand and an even finish that also works well with matted fur.
The intelligent torque control motor works to push additional power into the blades when it detects resistance, promising a comfortable and professional result.
The battery lasts for 1.5 hours, giving you plenty of time to work on large dogs and small ones alike. Furthermore, these dog clippers are ideal for use on the full coat as well as finishing touches.
Drawbacks
I haven't been able to find anything negative to say about these dog clippers.
Editor's View
A cordless clipper like this at a reasonable price is hard to come by, and with this package, you get a nice selection of attachments as well as an excellent running time.
I really liked that they can be used for full trims as well as finishing touches, it makes them more versatile. They are reliable, durable, and sure to help make grooming your dog a much easier task.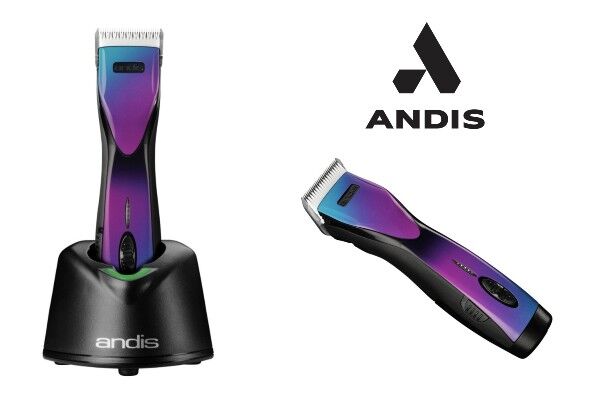 3. Andis Pulse ZRII Galaxy
Best Professional Dog Clippers
The Good
These pet clippers come with one blade, but there is the option to buy more (as well as comb attachments) if you need them and what it does have is ideal for getting through a full coat trim.
Additionally, there are five speeds which means you have complete freedom over the dog grooming process regardless of the type of coat they have.
What I found impressive is the fact that you get three hours of battery life, giving you plenty of time to achieve the perfect results regardless of how big or small your dog is.
The five speeds also mean that you can use these dog clippers for full job as well as finishing touches, and it has been known to work wonders on matted coats and matted fur.
Drawbacks
They are a little heavy, and this can weigh down on your wrists a little – especially on a dog breed that is larger in size.
Editor's View
Are they the best professional dog clippers? I think so, and they really live up to expectations. If you want your dog groomed to a high standard, this is the way to go.
The grooming clippers can be a little heavy, especially on the big jobs, but they have so much to offer and provide such fantastic results that they make it worth a little weight on the wrists.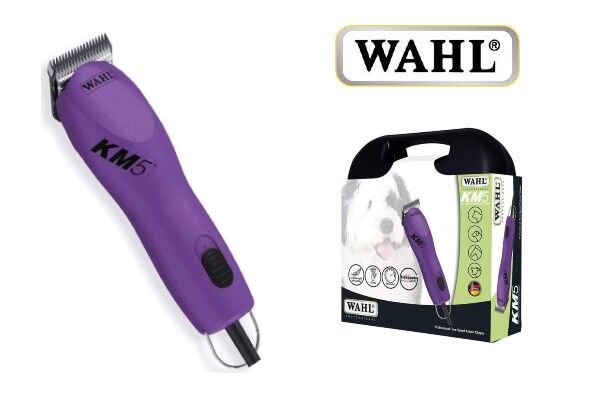 4. Wahl KM5
Best Dog Clippers for Thick Hair
The Good
These Wahl dog clippers are comfortable to use and give off the same feeling as using professional dog clippers.
The motor comes with two speeds, allowing you to boost the power when you are getting through those really tough areas of fur and need to work through the resistance. They are also exceptionally quiet and there's minimal vibration when in use.
Part of this kit is a cleaning brush as well as a comb, and while there is only one blade length you will find that it's perfect for getting the full coat done in no time at all with a gorgeous finish.
Furthermore, you can buy additional blade attachments if you need them. These are corded clippers, but the cable is nice and long so you can move around your dog freely.
Drawbacks
There's nothing negative to say about these clippers, they're great. If I'm being really picky, I prefer cordless dog clippers.
Editor's View
These dog grooming clippers are really nice, and I thought the use of two speeds was a great choice when I was using them.
It makes life easier for you and way more comfortable for the dog so that you spend less time on the table getting through those tough areas. The fact that you can buy additional ceramic and titanium blades is a brilliant little feature as well.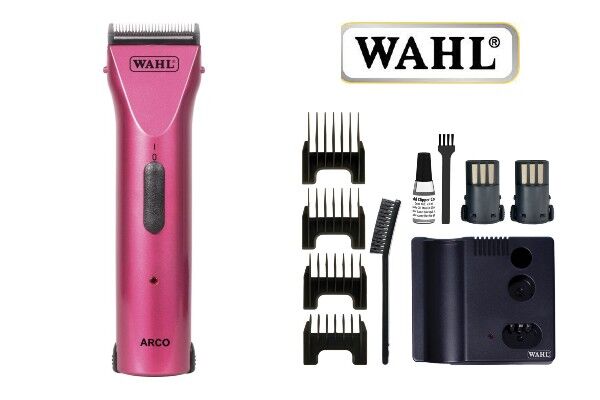 5. Wahl Arco
Ultra Quiet Dog Clippers
The Good
These cordless clippers offer you four comb attachments, five-blade lengths, and one speed so that you can make the most out of your grooming session.
They are exceptionally quiet, making them the ideal choice if you have a nervous dog, and the power levels make them well-suited to light grooming and finish work on small and medium dogs.
They are gentle on your dog's fur to prevent snagging and pulling that would cause discomfort, and the fact that it is a cordless clipper means that you don't have to worry about dodging cables.
It has a running time of 100 minutes and comes with a handy cleaning brush so that you can keep your kit in top condition. It's a solid all-in-one kit.
Drawbacks
The casing can feel a little fragile when you are using it, so make sure you keep a gentle hand.
Editor's View
I find that these are the ideal low-noise electric clippers, and they work well to keep your dog's coat looking shiny without causing any discomfort.
The four comb attachments give you a lot more versatility, and they work well for dogs that are nervous and need some time to get used to the grooming process.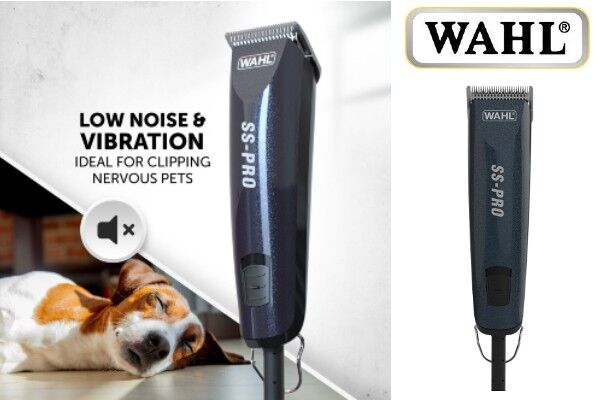 6. Wahl SS Pro
Best All-Coat Dog Clippers
The Good
With these grooming clippers, you get three different blade lengths so that you can get the perfect cut and finish for your dog, and I really liked how easy it was to switch them out and work out which one was right for what I wanted.
There is only one speed, but it provides enough power to get through the tough spots while also being gentle on your dog's skin.
In addition to the blades, you also get a cleaning brush and a little guide to help you perfect the art of grooming your own dog.
It's a corded model, but the cable length is exceptionally long so that you have space to move around your dog while you work for that professional groomer feeling. It's also ultra-quiet for those who have dogs that are a little anxious.
Drawbacks
You will need to buy a different blade if your dog has a long coat.
Editor's View
I really like these dog grooming clippers, and they do an excellent job on all coat types as well as working quietly so that nervous dogs are more comfortable.
You do need to buy additional blades if your dog's fur is long, but they are inexpensive and easy to attach. It's the kind of kit that comes with everything you need to conquer a home grooming session.
7. Pet Union
Best Budget Dog Clippers
The Good
This complete dog grooming kit comes with absolutely everything you need to get started. You get four blade lengths for a variety of cuts and finishes as well as a cleaning brush, comb, and two pairs of scissors.
It provides everything you could want and need from a pair of dog clippers, and they are perfectly suited to full coat cuts as well as finishing details.
They have incredibly quiet running and low vibration technology, which is perfect if you have a nervous dog who might be spooked by the sound.
The fact that there is only one speed also helps with this. Additionally, this pet clipper is completely cordless and provides 1.5 hours of running time so that you can work on your dog without worrying about running out of charge.
Drawbacks
These can be a little underpowered when working with thick hair. They are also better suited to smaller dogs.
Editor's View
I love that this dog grooming kit offers quiet running and offer good power levels for dealing with small dogs and getting their coats looking great.
While they certainly don't come up to the mark of other models featured here, lack power for thick fur and are definitely better suited to smaller pups.
They remain the best dog clippers if you are looking for something reliable while on a tight budget. It even comes with nail clippers.
This is a pretty essential part of the process; knowing what to look for. In this section, we are going to take a good look at some of the things you should be considering when you buy your next set.
Single or Variable Speed. There are actually two categories for dog clippers, and the one you choose is akin to the level of experience you have. For the novice groomer, you are going to want a single-speed set because they do not heat up as quickly and are easier to use.
The more experienced groomers, however, will usually opt for the variable speed clippers because they are more versatile and provide a truly lovely finish.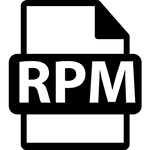 Motor Speed and Power. Pay attention to the RPM of clippers before you buy, because you need to make sure the motor speed is fast enough to provide power even for dense coats.
Generally, the best clippers are those that have a high RPM because it means that the power levels are high too.
However, these also heat up a lot faster than quiet clippers, and this can cause your dog discomfort.
Therefore, the best option is to either pick up a variable model or have one of each so that you can interchange while grooming.
Sound and Vibrations. It is often thought that loud clippers have a more powerful motor, which then means a better cut.
This is simply not true and even quit clippers can provide masses of cutting power.
You have to find what works for your dogs and customers, and the loud motors also mean an uncomfortable level of noise for the dog. Not good for nervous dogs
The easiest solution is to find balance, and the same goes for vibrations as these can be quite irritating for pups as well.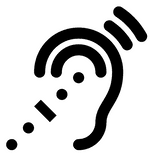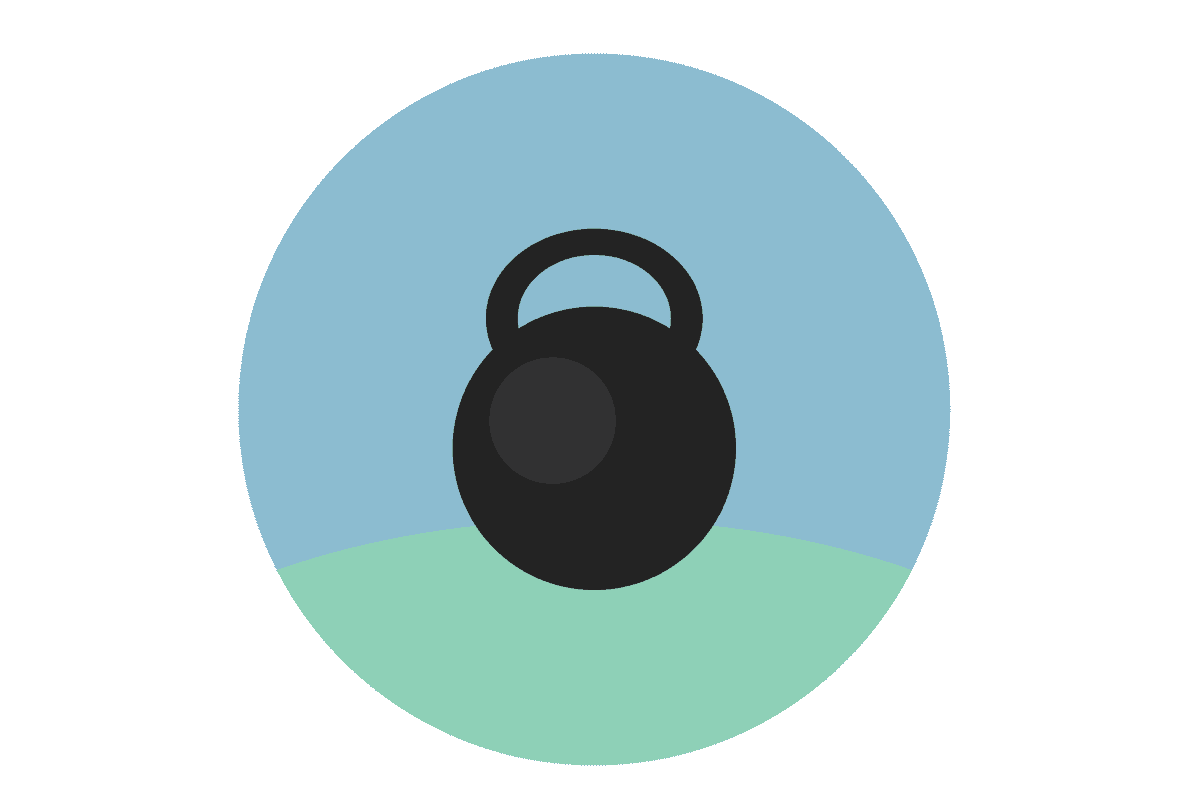 Weight. Pretty much all modern clippers have an ergonomic design that ensures you can hold them for longer periods of time without worrying about your hand getting tired.
However, the weight still has an impact on your grooming capabilities, as the lightweight models are much easier to handle and give you added versatility.
The only downside to the light clippers is that the dog will feel the vibrations more.
Corded or Cordless? Both are good choices, although many of us tend to favour the cordless clippers a little more.
This is because they are so much more convenient than their corded counterparts and allow you to move around the dog without being restricted by a cable.
However, the downside is that they need to be put back on charge and can lose power as the battery fades.
At least with a corded model, you get consistent power levels and you never need to stop using it because of a low charge.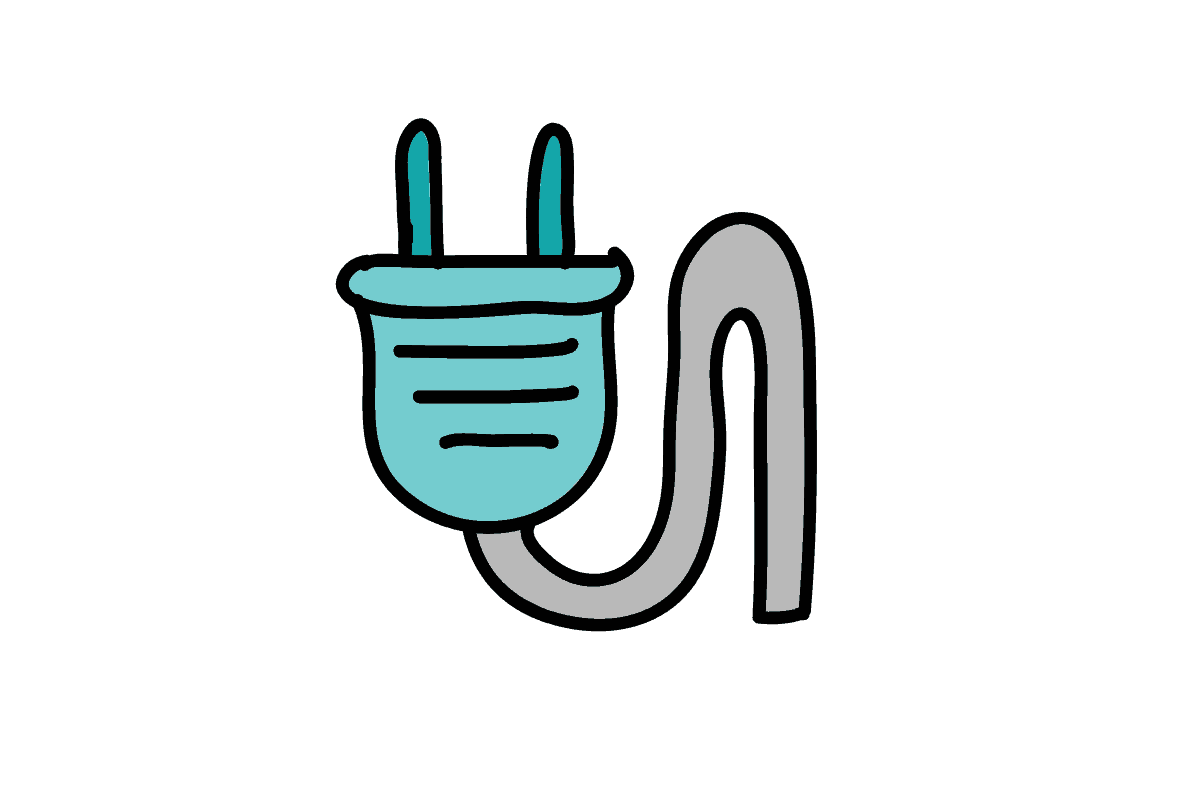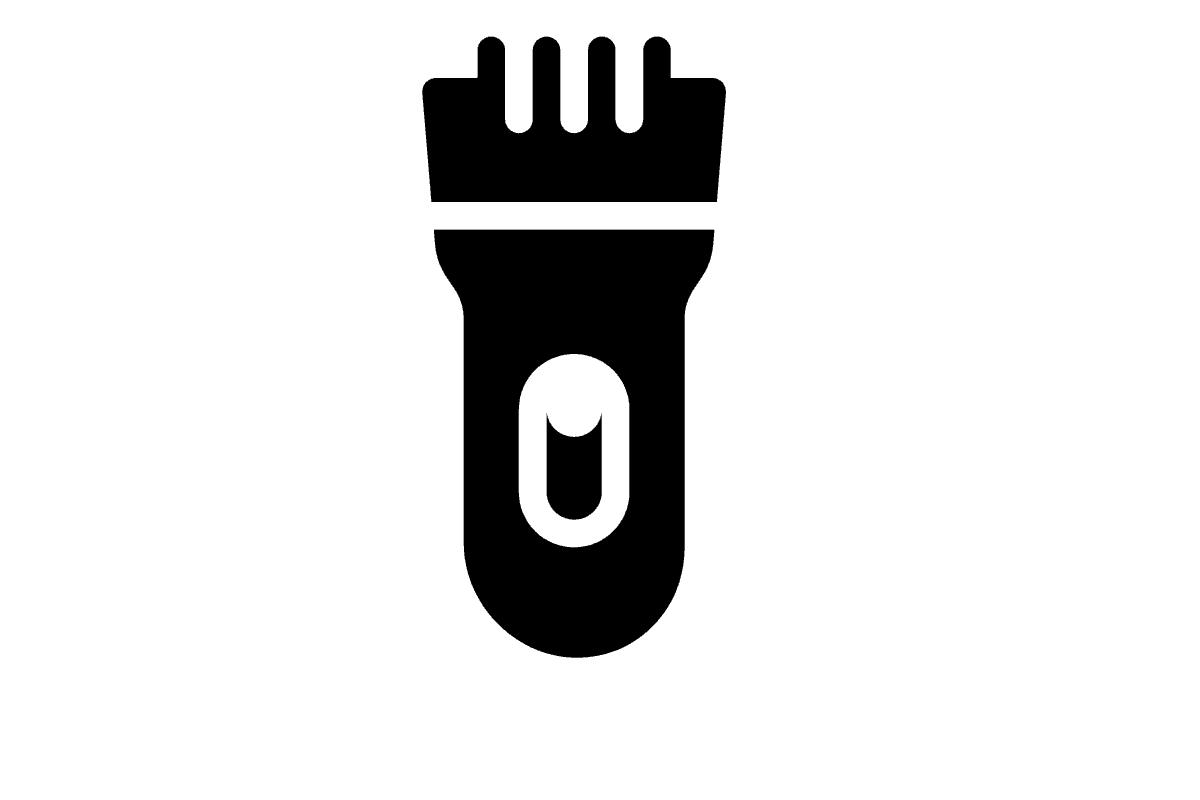 Blades. While metal ones like titanium are good and will do an excellent job, the superior material for blades is ceramic.
These are the most expensive, but they don't get hot and also last the longest out of all of them. Plus, many of the ceramic blades are interchangeable.
Combs. These are there to help you provide an even trim across the entirety of the dog's body, many kits come with a selection of them that can be attached to the clippers.
You probably won't use all of the combs that you get with your clippers, but they are good to have to hand just in case.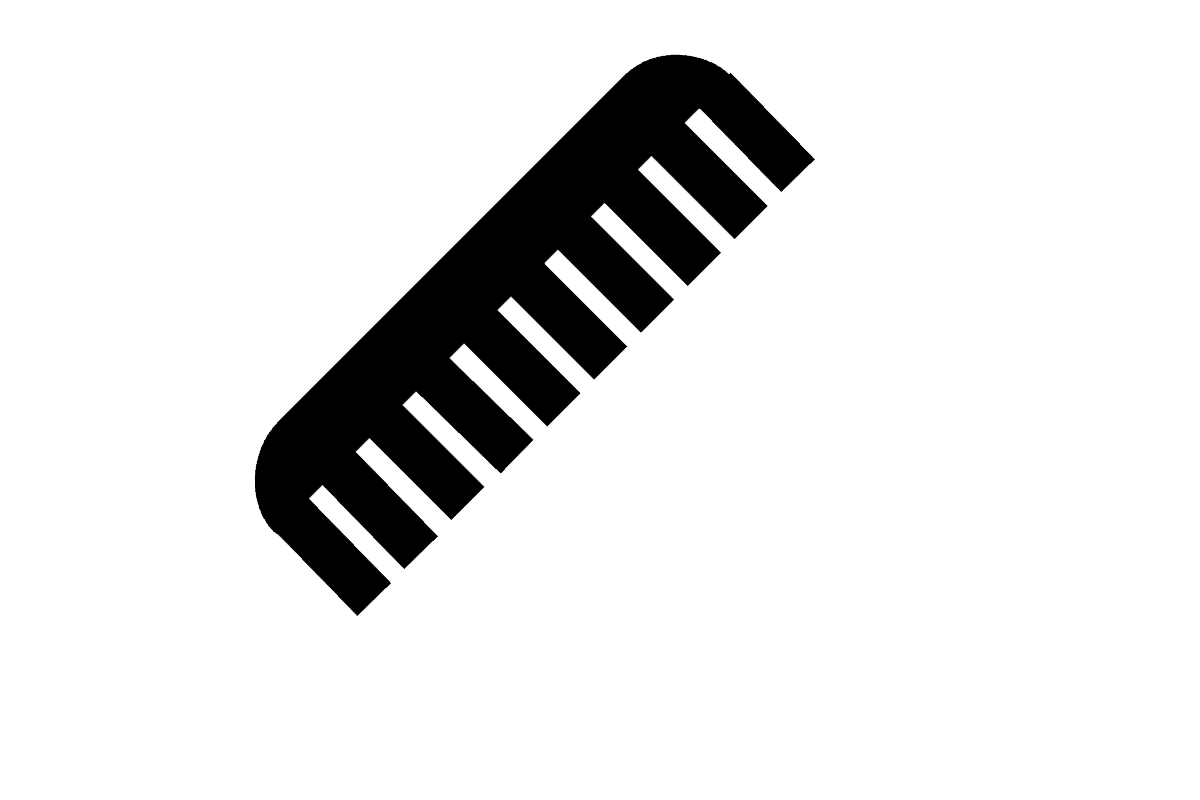 FAQ's
---
Final Thoughts
We can't all get to a professional dog groomer, and there is a lot to be said for doing it at home yourself. That's why I made sure to pick the best quality clippers so that your dog's fur looks fantastic afterwards and you feel confident in the process.
However, there is one clear winner out of all the models I selected.
The Andis Ultraedge really has an edge (I'm so sorry) over the competition. It's sleek, quick, and has the perfect number of speeds for a quick job as well as dealing with coats that are usually a little tricky.
What did you think of my guide to the best dog clippers?
Have you tried out one of the models I chose, or are there others you would have recommended? Make sure you leave a comment below, I love hearing from you.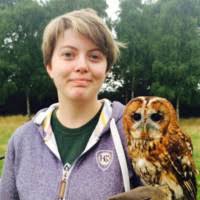 For over a decade, Adrienne has been a freelance content writer and blogger who's passion lies in anything related to dogs. Growing up, dogs were a very important part of family life in the Hardwick household. Now, Adrienne is the proud parent to two Swedish Vallhunds called Moose and Pumpkin.