Article Last Updated November, 2023
Some dogs are noisy, some are quiet, and we all have a preference. Not everyone minds if their dogs like to bark at the door for no reason at all, whereas others cannot stand any form of it.
and that's where an anti-bark collar comes in.
We spent nearly 30 hours analysing 20 of the most popular no-bark collars available in the UK to try and find the best model we could.
For both big and small dog breeds alike.
We considered design, quality, weight, brand reputation, price
and, of course, FIRST HAND experience.
Below you will see which anti-barking collars ticked all the boxes (And a couple to avoid)
Ultimately, the Animigo Anti Bark Collar earned our editor's choice award, scoring highly in all areas that we looked for when choosing a no-bark collar.
But if you are more price-conscious and looking for something effective around the £20 mark, then the Dog Rook collar is certainly a consideration. More on this model later.
And if our editors and budget pick are not for you? Don't worry; we've picked an assortment of Anit-Bark Collars to suit all needs and budgets
| | Animigo | DogRook | Soyao |
| --- | --- | --- | --- |
| Type | Vibrate/Sound | Vibrate/Sound | Spray/Vibration/Sound/Light |
| Waterproof | Yes | Yes | Yes |
| Rechargeable | Yes | Yes | Yes |
| Pet Size | All Size Dogs | All Size Dogs | All Size Dogs |
| Battery Life | 10-15 Days | 14 Days | 30 Days |
| Price | ££ | £ | £££ |
Best Anti-Bark Collar Reviews (In Order)
1. Animigo Anti Bark Collar
Editor's Pick
The great thing is that an anti-barking collar like this is completely humane and safe for your dog. Gone are the days of using electric shocks and cruel methods to train excessive barking out of your dog. Our editor's pick delivers exceptional results without causing any harm to your pup.
The Good
This anti-bark collar uses a gentle system of buzzes and beeps so that you can train your dog safely and in a way that isn't going to cause them distress.
The control system also means that you can adjust the settings according to your dog's training needs, which we absolutely loved, allowing for varying levels of stimulation so that you can find just the right balance to help teach your dog quickly.
The collar is also incredibly lightweight, meaning that your dog won't feel it around their neck so there will be no shaking or scratching to try and get it off.
The inner padding on the collar also ensures their comfort while they are wearing it, and the waterproof design means it's safe to take on rainy adventures. With clear instructions, it has never been easier to start training.
The Not So Good
It can be a little fiddly when you're tweaking the settings initially
Our View
For the money, this is one of the best anti-bark collars on the market. The detailed instructions show you exactly how to get things started in a way that will be gradual and comfortable for you and your dog.
The fact that it has been designed for the dog's comfort first is always reassuring, and it has proven to be highly efficient and speedy when getting through the training process.
---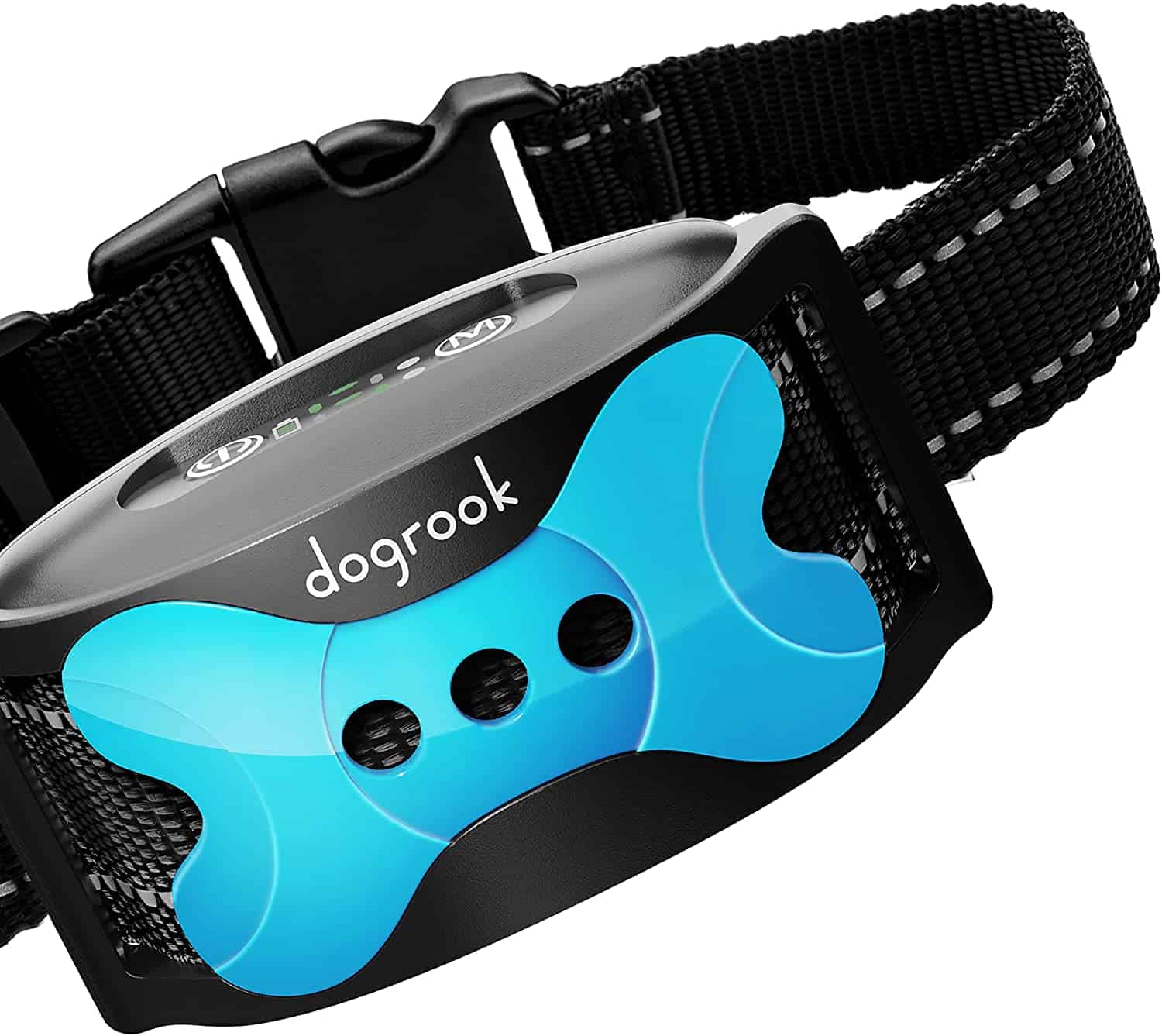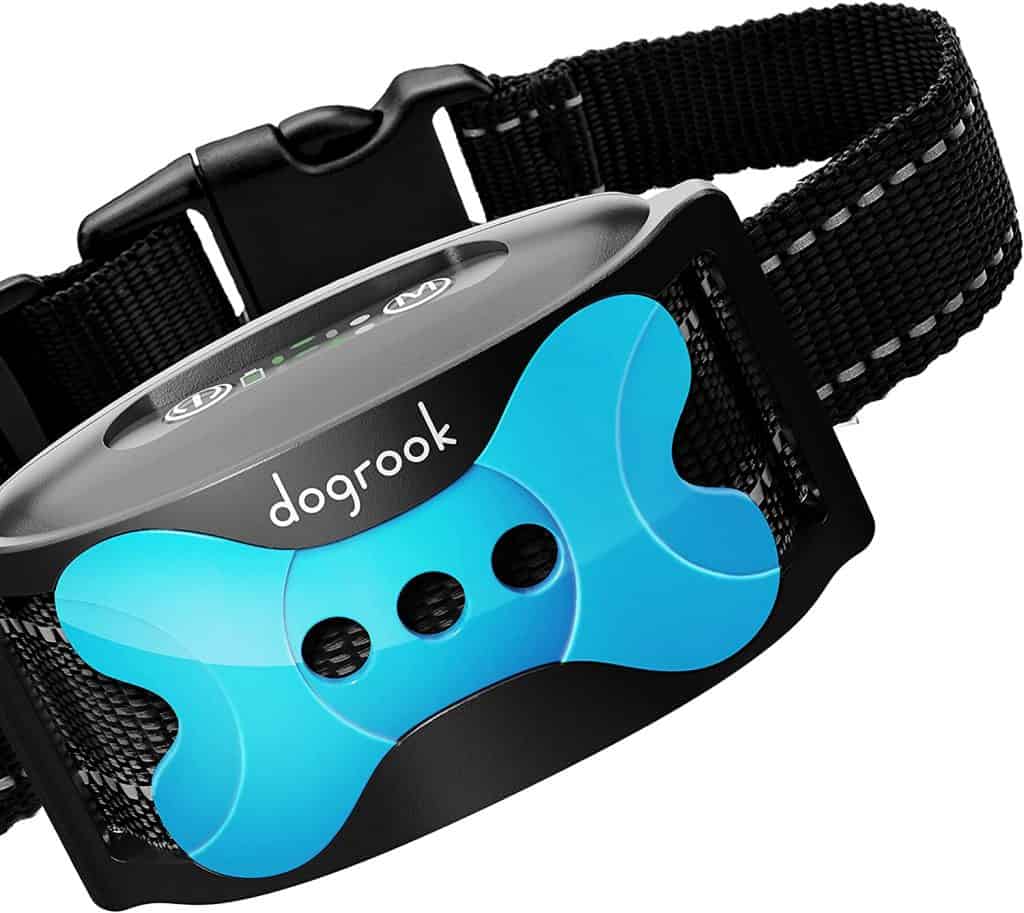 2. DogRook Dog Bark Collar
Anti-Bark Collar for Small Dogs
We don't all have the cash to splash on the priciest anti-barking collar, and that's where the affordable options come in and shine. With this collar, you can get started on that much-needed training without having to worry about breaking the bank.
The Good
This anti-bark collar comes in two fantastic colours, allowing your pup to strut their stuff in style with a cute bone design during training sessions.
We loved that it has five sensitivity levels, meaning that you can adjust the settings according to the needs of you and your pup to maximise training. There is no need for a remote either as it automatically detects the barking and corrects it.
The intensity of the vibration increases with every bark, but it remains a completely safe and harmless method of training for your best friend.
It is an excellent anti-bark collar for small dogs because of how lightweight the box is and the adjustability of the collar itself. The battery lasts for 14 days and can be charged via a provided USB, making it highly efficient.
The Not So Good
On the highest setting, it can sometimes pick up the barking from other dogs.
Our View
This anti-bark collar is fantastically affordable, which is brilliant if you need an efficient training method but you're on a tight budget. It works well, ensuring that excessive barking is corrected quickly and efficiently without causing your dog harm or distress.
It can be quite a sensitive collar, but this means that training is often easier when you have dedicated sessions.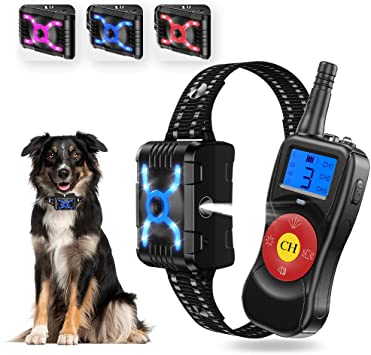 3. SOYAO Professional Anti-Barking Dog Collar
Best Mid-Priced Anti-Bark Collar
An expensive anti dog bark collar doesn't always mean you're getting the best quality, and there is a lot to be said for the mid-range priced models. This particular collar has an affordable price tag while also maintaining its position as a fantastic and reliable model that will help with training.
The Good
This anti-bark collar is one of the most snazzy and sophisticated models we have seen, offering training in the form of vibrations, sounds, lights, and citronella spray so that you can find the method that works best for your furry friend.
We thought this was a fantastic addition and one that really maximises training. This sensitive, anti dog barking collar does so much more than stop excessive barking, it can be used for all forms of training.
The collar is controlled via a remote which has an excellent distance of 2700ft, allowing you full control when you are in training sessions. It's completely safe, and your dog will not be harmed or distressed when this collar is used.
The lightweight build also means that your dog will barely notice it on their neck, and it has a battery life of 30 days working and 60 days standby.
The Not So Good
You have to buy the citronella spray separately.
Our View
Price isn't everything, and this collar really demonstrates that. It offers exceptional training capabilities with a range of settings and methods that can be adjusted easily so that you find the one that works for your pup.
The remote makes things even easier, and the whole process has been made simple and affordable so that you don't have to worry about training being a hassle.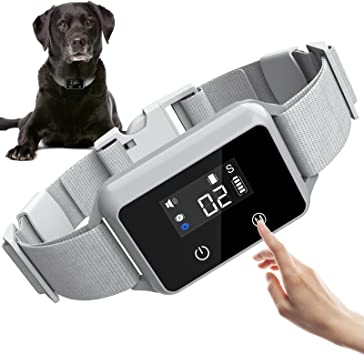 4. Smart Anti Barking Dog Collars
Anti-Bark with Smart Tech
Anti-barking collars can benefit from modern technology just as much as any other gadget. With the implementation of smart tech, this anti-bark collar has become quite a nice addition to our selection. It's unique, efficient, and also remains affordable so that your budget can fit it.
The Good
This anti-bark collar has been specially designed to automatically detect barking and begin the correction process as well as block outside triggers that might falsely trigger a reaction.
The screen can even be locked to prevent kids or other pets from beginning training modes outside of the dog barking, we loved this because it helps keep your dog safe and happy. It's completely safe and humane so no harm will come to your pooch.
It comes with two different modes and six settings, allowing you to choose the right model to suit your dog and your training needs.
The actual anti-barking box is very lightweight, so your dog will barely feel it on their neck, and it is also completely waterproof for those rainy or snowy walks. It remains fairly comfortable, and it is completely automatic so you don't need to use a remote.
The Not So Good
The material for the strap is a little thin, especially on the dog's neck.
Our View
This is a brilliant anti-bark collar if you want something with a little more tech and pizzazz. Not only does it have flashy settings, but it also remains one of the best options for an efficient and high-quality training collar.
It won't break the bank, it's comfortable for the dog, and it is completely safe so that you don't have to worry about any harm coming to your dog.
---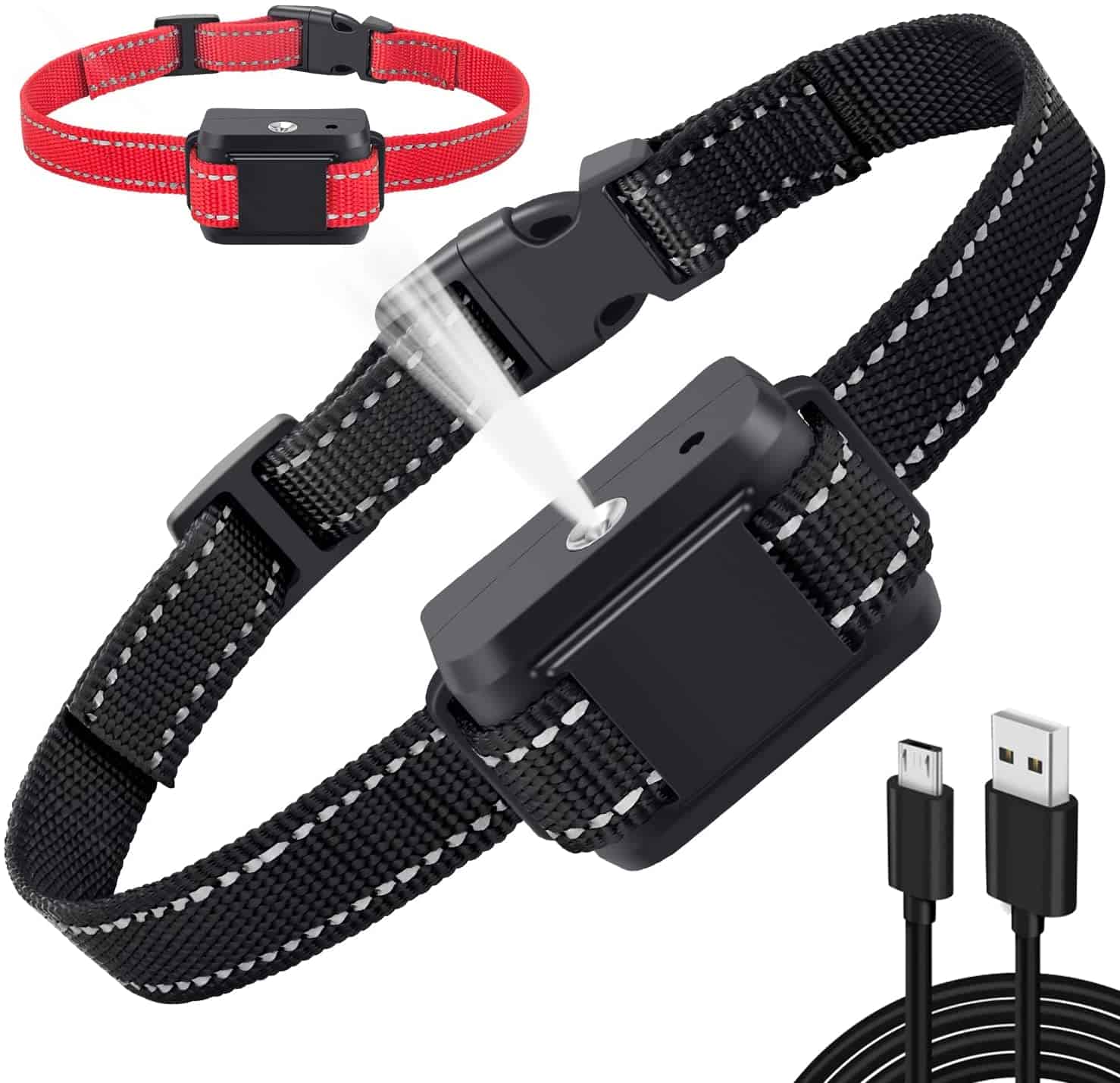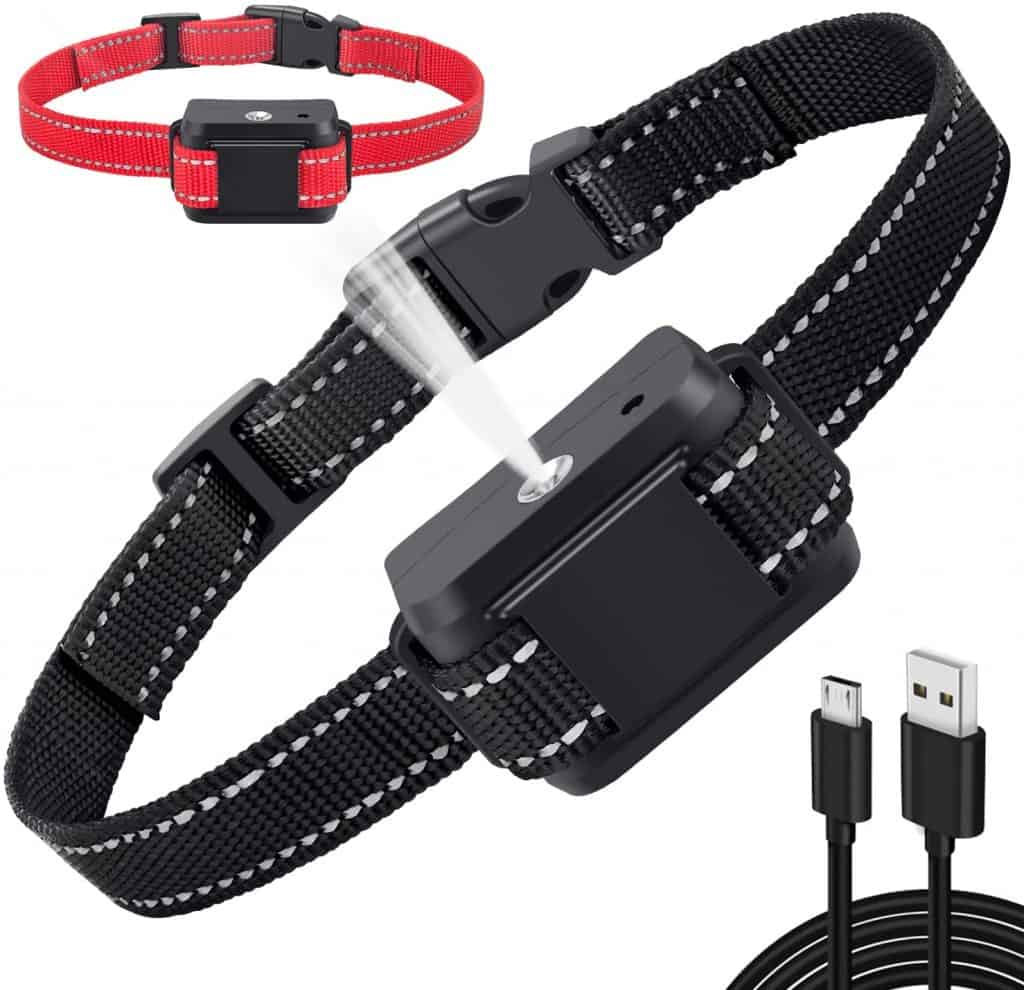 5. SOYAO Anti Barking Dog Collars
Best Humane Anti-Bark Collar
Making sure that you have a humane anti-barking collar is the most important thing because you don't want to cause your dog pain or distress during training sessions. Every model here is completely humane, but here is one of our top choices for a safe and friendly anti-bark collar.
The Good
This anti-bark collar will recognise that your dog is barking right away, correcting the behaviour quickly and helping to ease excessive barking. It uses a citronella spray which is completely safe and also highly effective because dogs hate the smell. We love this feature and the fact that it's completely canine-friendly.
You barely need to do anything in order to get it working, making it one of the easiest training collars to use.
You can adjust the sensitivity of the collar as well as the level of spray so that you find the right setting for your dog. The collar itself is lightweight to ensure there is no discomfort when the collar is being worn.
It is also fully waterproof so that you can continue on your rainy adventures. It is also rechargeable with an excellent battery life, so you can keep training on the move.
The Not So Good
There is no padding on the inside of the collar.
Our View
This is a brilliant anti-bark collar when you want to ensure you are being completely safe and humane. There are no sounds, no vibrations, just a quick spray that will cause absolutely no harm to your dog.
It is an affordable and reliable option that takes very little effort to set up and will provide you with fantastic results and help prevent excessive dog barking.
---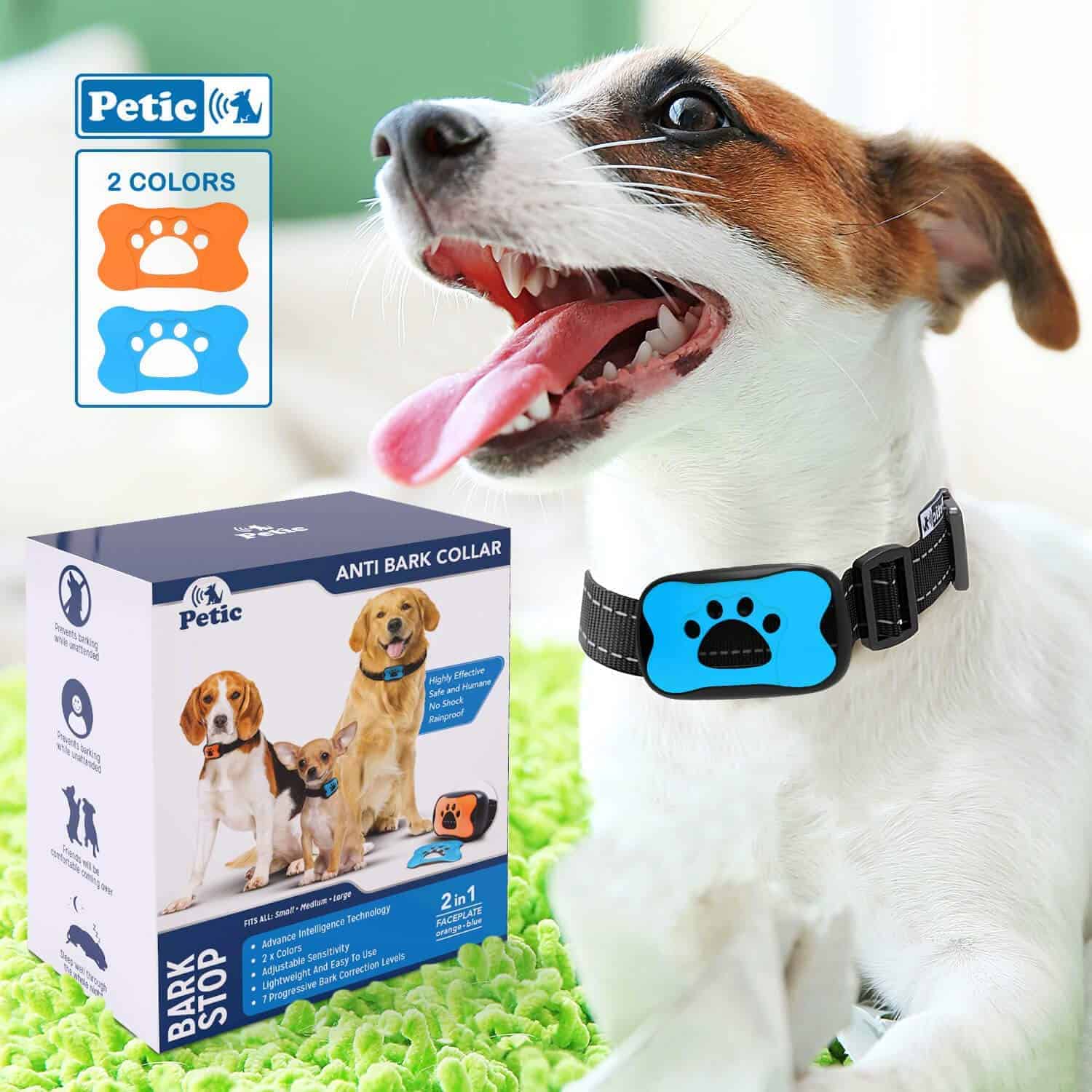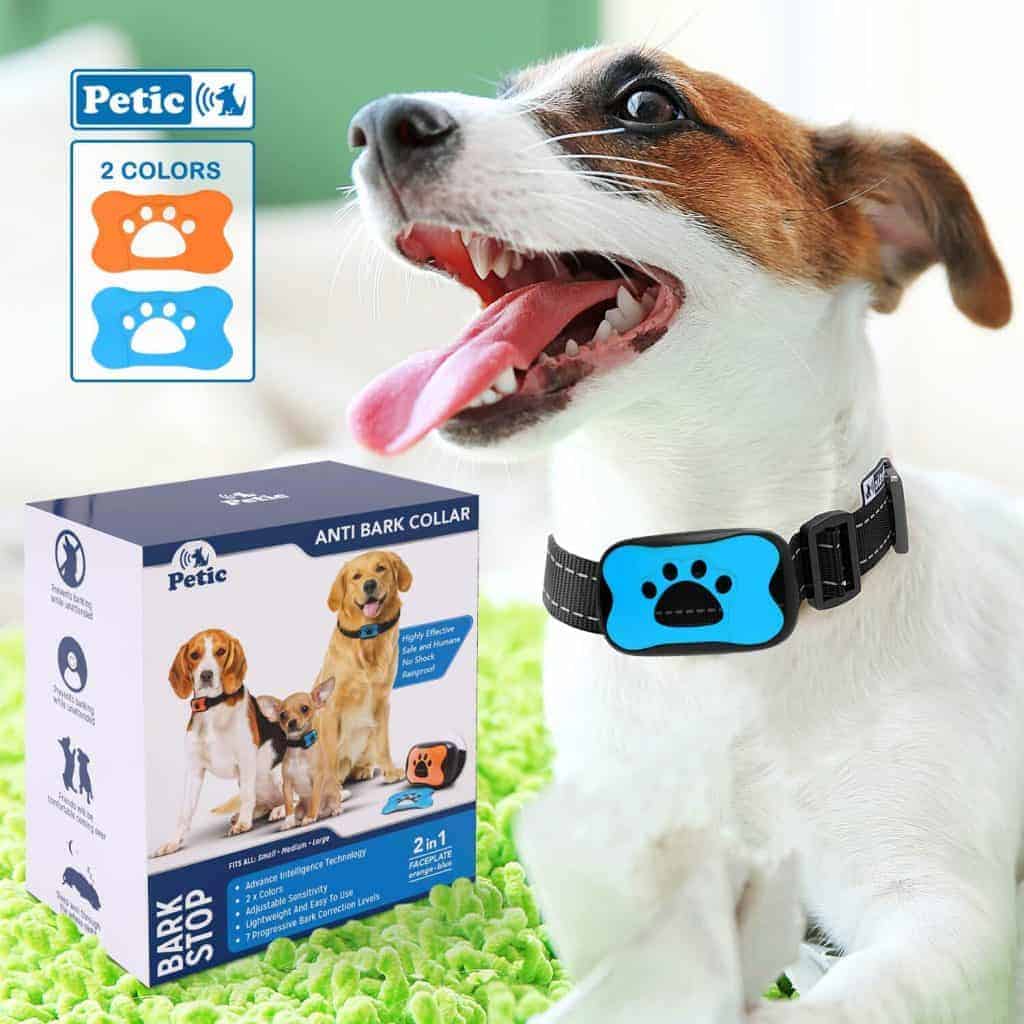 6. Petic Anti-Bark Collar

Best Sensitive Anti-Bark Collar
If you are looking for a solution for your dog barking too much, this could be the humane collar you need. If you are searching for a good quality anti-bark collar, why not read a little more about this model?
The Good
This collar uses safe and kind ways to get your dog to stop barking – vibrations and sound. Neither of these will hurt your dog, but they will give them a surprise when they start barking.
Over time, they will start to associate the vibrations and sound with barking, and this will stop them from doing it. Every dog is different, but the results tend to be quite fast.
It has seven different vibration levels, allowing you to get your dog used to the training and also to reinforce good behaviour. The collar itself also has an adjustable strap so that it can fit absolutely any dog.
There is also a choice between front plates so that you can choose the colour you like. Lightweight, waterproof, and with leading tech, it's sure to help your dog stay quiet.
The Not So Good
It can be a little bulky, and there is no switch to turn it off which some have found a little inconvenient.
Our View
This bark control collar is very affordable, with a low price that pretty much everyone can afford. Despite this, it remains a good and reliable piece of kit that will help train your dog to be quieter and calmer.
While it can be a little bulky, your dog won't notice it around their neck. As for the power switch, you can remove the collar when you don't want to use it. Overall, it provides great value for money.
---
Previously Featured Models –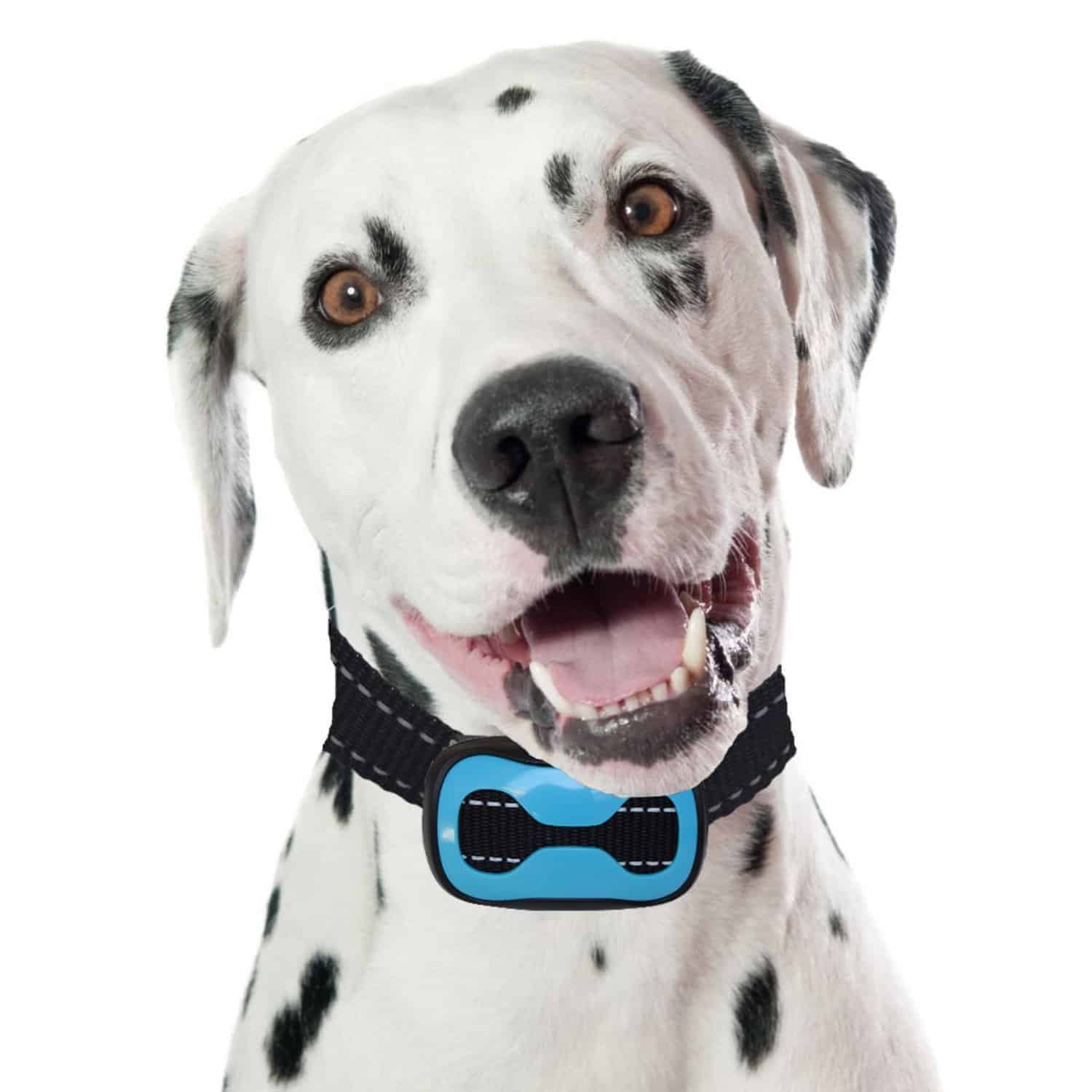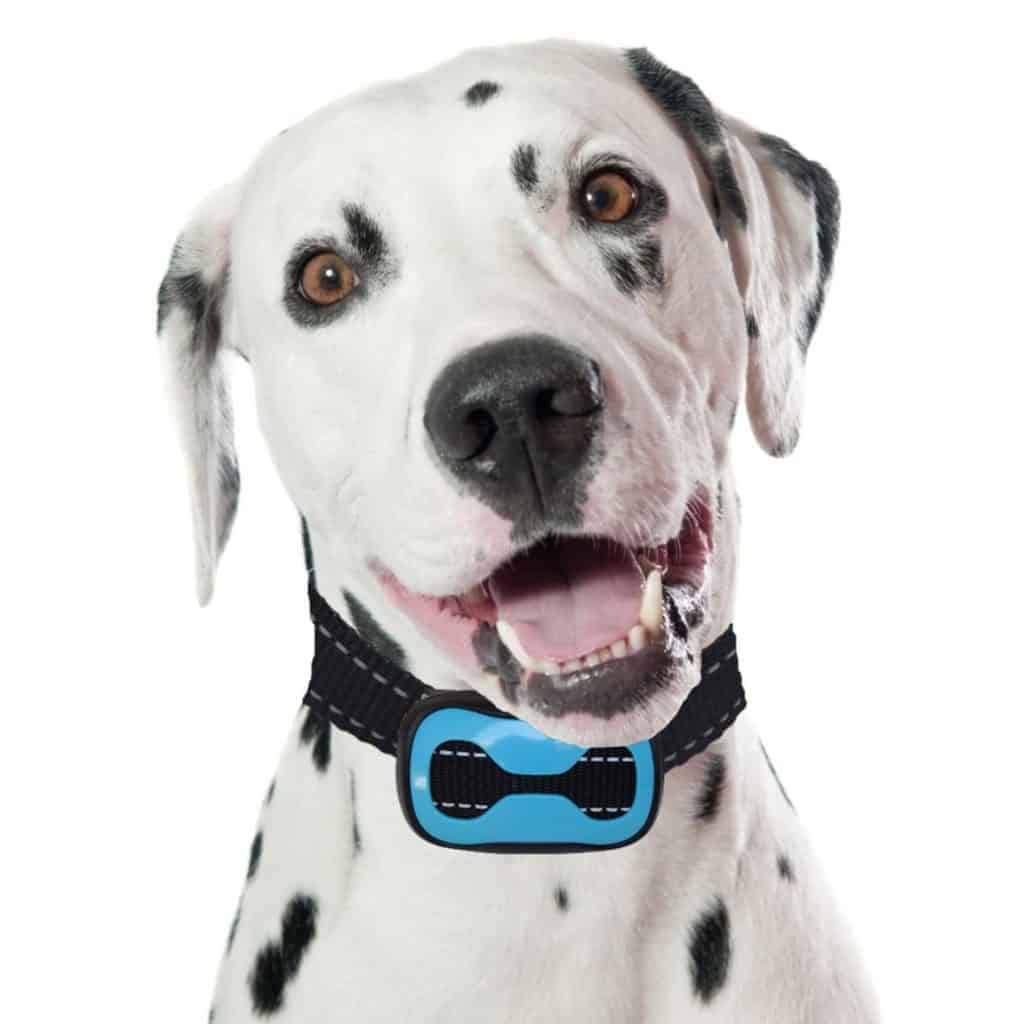 7. Petsol Anti-Bark Collars
Best Anti-Bark Collars for Large Dogs
There are plenty of large dogs that like to be vocal too, which can also be quite dependent on their breed. If you have a big dog that just loves to talk all the time, you might have considered training to get them to stop.
If that's the case, this could be the perfect collar for your noise reduction needs.
The Good
This anti-bark collar comes in blue, and can be adjusted to fit any breed with comfort. So, whether you have a Labrador or a Bernese Mountain Dog, this collar is going to fit them.
The strap is also very comfortable for them to wear as it is made from soft nylon that is still able to retain its durability with extensive use. It even has reflective webbing to help keep them safe during evening outings.
This particular model has nodes on the back of the box on the collar, and there are two sizes included keeping things pleasant for your dog. The nodes don't hurt at all, and they help with the vibration that occurs when your dog barks, as well as the sound.

There are eight levels of training for you to access as well, ensuring that you can both work on barking at a pace that suits each of you.
The Not So Good
Some customers feel that it can become a little loose when worn by dogs that like to run and move around a lot.
Our View
This anti-bark collar comes at a great price that most will be able to afford comfortably in order to train the barking out of their dogs. While there are some who feel it becomes quite loose after extensive use when dogs are very active, it still manages to do the trick and prevent them from barking excessively, and often completely.
If your big dog is giving you a headache with their noise, this could be the perfect collar to keep them trained and fully under control – all in a humane way that doesn't cause them any harm.
---
Anti Barking Collar Buyers Guide
Benefits of using an anti-bark collar
Anti-barking collars are a great way to manage out-of-control barking, but they should NEVER replace proper training. You must still take the time to educate your dog on when it is acceptable for them to bark and when it isn't.
And no, never barking is not a realistic option; it's a bit like expecting your partner never to talk again when you're watching your favourite TV program……It would be nice though!
Anti-bark collars SHOULD NOT be used as a form of punishment but rather to provide positive reinforcement in order to help modify your dog's behaviour.
And when used correctly and consistently with other forms of training, these collars can be very effective at reducing nuisance barking.
Also, think about this for a minute – An anti-bark collar can be instrumental in fostering a healthy bond between your pup and you.
If you keep the excessive barking to a minimum, you are less likely to become agitated or angry with them- giving rise to more positive interactions that promote an ENJOYABLE RELATIONSHIP all around.
A win-win right?
Finally, the most crucial rationale for investing in an anti-bark collar (at least it would be in my house) is that removing the INCESSANT YAPPING keeps everyone in your home, along with all the neighbours happy 🙂
Types of anti-bark collar
So, there are three main types collars to help reduce dog's barking
First up, we've got Vibration collars. If you haven't seen these before, these collars work by sending out a vibration when the device detects your pup barking, and it's not intended to hurt them – just to get their attention so that they stop.
Next, we have the Ultrasonic collar which uses only sound to disrupt your dog's barking. It's like an annoying high-pitched noise that can only be heard by dogs
And believe me; THEY DON'T LIKE IT!
Now, these ones don't have as much research done on them compared to the other type of collars, but they still do the job okay if used correctly.
Lastly, the Citronella collar – this is probably one of the most effective anti-barking formulas.
They come equipped with a small microphone which will detect any barking and then release a plant-based citronella spray near their nose; kind of like an unpleasant perfume for humans. (Think 80's Charlie for the ladies and Brut for the men)
With enough consistent use, your dog will soon learn( at least that's the idea) that his/her pesky barking comes with REALLY bad odours, and so over time, they should stop.
What to look for when buying your anti bark collar
Here are some of the things you should be keeping an eye out for when you buy an anti-bark collar for your dog:
Good quality strap and design
They have passed safety tests
Reputable brand
Check the size will be comfortable for your dog
Look at customer reviews
Be prepared to test a few types to find what works for your dog
Frequently Asked Questions
Will a bark control collar hurt my dog?
No, a bark control collar will not hurt your dog. In the UK, electric shock collars are not allowed. Instead, they use sounds and vibrations to correct the dog's behaviour. While this does not cause the dog any pain, the frequency is uncomfortable for them which is why it stops them from barking. Some collars may also use a citronella spray, which is also harmless and there for the surprise factor.
At what age can a dog wear a bark collar?
They should not be used on a dog before they are six months of age. Puppies are much more fragile than older dogs, and the vibrations can be a little too strong for some breeds. Even six months old is considered too young by some experts, and it is recommended that you wait until they are eight or nine months by these trainers.
Either way, the general consensus is that anything under six months is too young. Of course, you can put the collar on them when they are younger to get them used to it as long as it is inactive.
How long should you leave a bark collar on?
You should never have the collar on for more than 12 hours a day, and this is the absolute maximum. Ideally, they should be given a break for the day after eight hours of use. While the collar is on, you should take the time to readjust it every one to two hours to ensure that it is still comfortable for them.
You should also check to make sure that there is not too much pressure on their necks from the collar. Never leave it on for 24 hours because this can cause the dog severe distress as well as discomfort.
How tight should a bark collar be?
As with all collars, there is a rule to test the tightness of a collar. You should always be able to fit two fingers comfortably under the collar while it is on your dog. If you cannot, the collar is way too tight and needs to be adjusted. If you can but there is a lot of space, you should tighten is a little. Bark collars follow this same rule, so make sure you test the tightness before you let your dog walk around.
To Conclude
Hopefully, this guide has helped you to find the best anti-bark collar, and the anti-bark collar reviews have given you some guidance it comes to figuring out which one is going to help you train your dog to stop them from barking. There are loads to choose from as well.

We understand that training is not always the easiest task, and it can be hard to know exactly what you need or what will work for you and your dog. That is why we have gathered a good selection of anti-bark collars for you to try out, each of which has different advantages when it comes to training.

There are some that are perfect for big dogs, some for small dogs, and others that will fit them all regardless of the breed or size. Plus, we have ensured that there is a good selection of prices so that you don't have to break the bank in order to get one.

What did you think of our anti-bark collar guide? Are there any that you would have liked to see or recommended? We love hearing from you, so make sure to leave us a message in the comments below.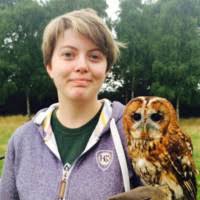 For over a decade, Adrienne has been a freelance content writer and blogger who's passion lies in anything related to dogs. Growing up, dogs were a very important part of family life in the Hardwick household. Now, Adrienne is the proud parent to two Swedish Vallhunds called Moose and Pumpkin.